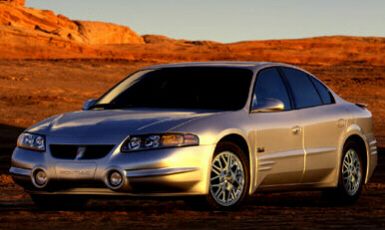 SAN FRANCISCO: General Motors, makers of several brands of cars, carefully designs its models to appeal to different consumer groups. For example, Buick targets traditional older buyers, Chevrolet is the value brand and Cadillac sells luxury cars. Pontiac gets to be the sporty division.
Pontiac has aimed its redesigned 2000 Bonneville directly at baby boomers, around 50 years old, 60 percent male, 45 percent college grads, 40 percent professional, with a household income of about $70,000. The flagship Bonneville SSEi is devised for 45-year olds with $25,000 more income, a 70/30 male/female ratio, and a higher likelihood of a college degree or a profession. Or, it could be perfect for a Pontiac enthusiast in his forties whose kids have just outgrown the back seat of his Trans Am.
Bonnevilles come as four-door sedans only, in three ascending models-SE, SLE and SSEi. All feature power steering, air conditioning, power locks, power windows, power mirrors, cruise control, foglamps, and a new stereo sound system. All Bonnevilles are loaded with safety equipment too, including four-wheel antilock brakes, four front airbags, an antitheft system, and front seatbelts integrated into the seats.
Sophisticated electronics inform the driver about various conditions such as oil life, battery charge, and changes of tire pressure. Also, Bonneville owners can personally configure numerous aspects of the car, from seat and mirror position to climate control choices to radio presets. Two drivers can maintain their own settings through their individual keys. A driver's information center dispenses information on fuel economy, distance to empty and other useful facts through a pushbutton display. It's all very high tech.
Styling is classic Pontiac, with the split grille, "coke-bottle" fenders, cat's eye headlamps, and "aggressive" lower panel styling, particularly in the upper models. The slashed lower half of the car is wilder than the smooth upper half, though.
Inside, doughy shapes prevail, smoothly integrating the doors, dash and console. Soft, "catcher's mitt" seats hold you like a safe, contented baseball. The steering wheel obscures the odometer and trip odometer and the climate controls are rather low, but otherwise everything is easy to find and use.
The Bonneville sports a head-up display. This technology, originated in fighter jets, projects information up onto the windshield, so drivers do not need to take their eyes off the road to know their speed, see their turn signals flash, or know where their sound system is set.
The new Bonneville employs GM's venerable 3.8-liter V6, the 3800 Series II, which generates 205 horsepower and 230 lb-ft of torque. The SSEi adds a supercharger, which boosts power to a V8-like 240 horsepower and 280 lb-ft of torque at a reasonable 3600 rpm. Both versions use GM's electronic four-speed automatic.
My SSEi with the supercharger posted EPA mileage figures of 18 city, 27 highway; I averaged 18.6 mpg. The standard engine drinks regular, but the supercharged one demands premium.
Minimal road and wind noise doesn't intrude upon the exquisite Bose eight-speaker sound system, standard in the SSEi. Convenient steering-wheel controls make tuning it a dream. My test car also had the optional 12-disc CD changer in the trunk.
The Bonneville's standard Automatic Level Control prevents the car from diving during stops and from squatting during acceleration. The SSEi gets Magnetic Speed Variable Assist power steering, a front and rear performance suspension and a 2.93 final drive axle ratio.
For enhanced safety, traction control senses when a wheel is losing traction and regulates wheel spin by managing the engine power, transmission and brakes. The StabiliTrak system employs body motion sensors and a computer to help prevent skids and spin outs on slippery surfaces. Both systems are standard on the SSEi and optional on the other models.
My few complaints include rear windows that go down only halfway and a rain leak when the trunk is opened, but that's about it. Overall quality and fit-and-finish are good on GM products today.
My SSEi, with optional power sunroof ($980), chrome-plated 17-inch alloy wheels ($595), CD changer ($595) and heated seats ($195) came to $34,615. That puts the Bonneville up against some pretty fine cars, but few can touch this combination of size, power and personalization. By Steve Schaefer © AutoWire.Net - San Francisco

Byline: By Steve Schaefer © AutoWire.Net - San Francisco
Column Name: Pontiac - GM's Sporty Division
Topic: The 2000 Pontiac Bonneville SSEi
Word Count: 696
Photo Caption: The 2000 Pontiac Bonneville SSEi Sport Sedan
Photo Credits: Pontiac PR
Series #: 2000 - 5
Download the Microsoft Word version here: 2000 Pontiac Bonneville SSEi
Download the original image file here: 2000 Pontiac Bonneville SSEi 83k