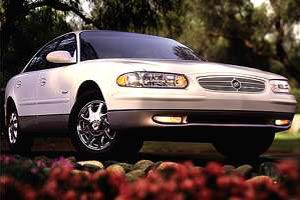 SAN FRANCISCO: This week, we drive the mid-size 2000 Buick Regal GS. Before we get into the driving impressions, let's take a look at why this model is situated in a "tough sell" zone from the word go, and how Buick's performance related marketing has helped solidify its popularity through the years.
Of all the categories in automobile land, "mid-size" is perhaps the most difficult to impact and, subsequently, stay successful in. Dominated by Ford Taurus, Toyota Camry, Honda Accord, Chevy Malibu/Lumina and Nissan Maxima, mid-size car sales account for the largest piece of the auto sales pie. Car companies, meanwhile, must impact this segment positively to stay profitable, with many offering more than one mid-size car in a specific family.
Herein lies the concern. Auto builders whose legacies center on luxury and sophistication find the mid-size sale a bit more challenging. Examples include Cadillac (Catera), Mercury (Sable), Lincoln (LS), Olds (Intrigue), and Chrysler/Dodge (Sebring/Cirrus/Stratus). Buick's Regal is situated in this same "mid-size" class, and its larger platform heritage automatically delivers upscale buyers who walk into Buick dealerships with a larger car purchase already on their mind.
Early on, Buick buyers were conditioned to fashionable thinking. From the spectacular Centurys, Specials, Limiteds and Roadmasters of the 1930s and 1940s to the Invictas, LeSabres, Electras, Skylarks & Wildcats of the Fifties and Sixties, the Buick name and discreet opulence have been synonymous.
Later, Riviera and Reatta joined the fray, helping evolve the Buick brand name in areas previously unexplored. The "GS" nomenclature stands for "Gran Sport," first appearing in the high-performance era of 1965. That's when Buick, unknown for "hotrod" style speed and power, introduced its popular GS line to an unsuspecting performance minded "Happy Days" crowd of baby boomers.
Competing along side notables like Chevelle SS 396, Plymouth GTX, Dodge RT, Pontiac GTO, Mustang Cobra Jet and Olds 442, Buick from 1965 through 1970 solidified itself as a "player" in high performance, surprising many a Plymouth, Chevy or Ford owner with stoplight to stoplight performance. The success of the mid-Sixties Skylark Gran Sport spawned many Buick aftermarket high performance company pieces, which made the cars even faster. (Ask hot rodders from years back just how fast that Stage I 455 Gran Sports really was!)
On the corporate side of the GS expansion, Buick took the lead in stock block V-6 engine research and development. To this day, it's Regal Turbocharged Gran Nationals, from 1984 through 1987 (especially the '87 GNX which goes for about $35,000 nowadays) are sought after performance collectibles and some of the most unique high performance cars ever produced.
On the nation's major league speedways, Buick Regals took drivers like Darrell Waltrip and Bobby Allison to NASCAR championship seasons in the Eighties, while on the NHRA drag strips, Buick bodied funny cars carried Kenny Bernstein to several World Championships and Dale Pulde to drag racing immortality, the latter known for driving one of the most beautiful funny cars ever to grace a quarter-mile.
While NASCAR and NHRA fans enjoyed Buick corporate involvement, more serious (and costly) Buick efforts were taking place at Indy's famed "Brickyard," where Turbocharged Buick V-6 engines were developed to the optimum from 1985 through 1996. The result found Buick powered Indy cars circumnavigating the famous 2.5-mile Indianapolis Speedway at average speeds above 230-mph.
The Buick design engine won the pole position four times for the "greatest Spectacle in Racing," made up the front row twice, and recorded the fastest four-lap averages, which includes non-pole day qualifying, five times. Although the engine never found its way to Indy's victory lane, the Buick design is regarded as the fastest and most powerful V-6 "stock block" engine ever to grace the famous 2.5-mile oval.
Unexpectedly, Buick pulled all of its corporate racing monies after the 1992 season, concentrating on limited forms of road racing. In the midst of continued Indy car engine development, car owner John Menard, of the famous Menard's home improvement centers, single handedly took on the continued development of the V-6 Buick Indy Turbo engine. Menard cars set track records in the process, and could have won Indy several times with a little luck. Al Unser Sr. scored Buick's highest ever finish with a third place in 1992 in a Conseco sponsored Lola/Buick.
Now, on to the present. Buick's reputation for quality built automobiles is still intact. Most recently, the J.D. Power Initial Quality Study (IQS) of 1999 IQS ranked Buick as the top domestic model, and then scored it second behind Jaguar while ranking 37 international marquees. That' some fine company.
The 2000 Regal GS, meanwhile, is a prime example of Buick's overall abilities in car craftsmanship. Our bright white Regal drove very well, offering excellent performance when called on. The 3.8-liter supercharged V6 puts out 240 horsepower and runs on premium-unleaded fuel. It accelerates to 60-mph in about 6.8 seconds, offers fine interior appointments and the expected Buick quality build, which means perfect fit, no squeaks and that "solid" Buick feeling. The car handles better than average for its size (3,543 pounds on a 109.0-inch wheelbase) and takes corners with authority thanks to the GS stiffer Gran Touring suspension and P225/60R16 tires.
As for other GS notables, front passenger side and front air bags, traction control and a heavy-duty 4-speed automatic transmission are standard. The good looks fit the Century/Regal/LeSabre mold, as all three are not mistaken for anything but a Buick.
Since we spent so much of this column on the history of Buick, we'll condense the test drive to "very good." Priced at the higher end of mid-size offerings at $27,540 delivered, the powerful GS returns EPA numbers of 18 city and 27 highway, with its final assembly taking place in Canada.
We like Buick Regal GS, just as the notable J.D. Power associates do. If you are shopping in this market, the Regal GS deserves an extra look & a test drive. By Greg Zyla © AutoWire.Net - San Francisco

Byline: By Greg Zyla © AutoWire.Net - San Francisco
Column Name: "The Extra Mile"
Topic: 2000 Buick Regal GS - Past & Present
Word Count: 992
Photo Caption: 2000 Buick Regal GS
Photo Credits: Buick Media
Series #: 2000 - 19
Download the Microsoft Word version here: 2000 Buick Regal GS
Download the original image file here: 2000 Buick Regal GS 25k