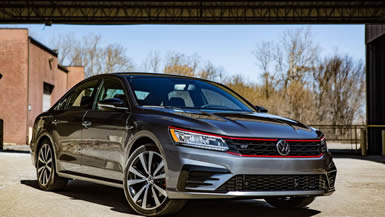 The 2018 Volkswagen Passat GT Review: It's easy to imagine many of Volkswagen's cars on the streets of their close-to-home markets in Europe. That's part of their charm.
The compact Golf, zippy Jetta and nostalgic Beetle have global appeal, but seem to unabashedly draw their spirit from German roots. The big Passat, in contrast, with its gigantic cabin, syrupy ride and wide-swinging doors, feels like it's built not just for Americans, but for an outsized caricature of Americans with our Big Gulp drinks, cowboy hats and beer bellies.

It's interesting, then, to see that after collecting new data from actual Americans, not cartoon stereotypes of us, Volkswagen is delivering a Passat that looks and feels more like its Europe-focused models. The special-edition Passat GT was designed in Tennessee "based on extensive feedback from U.S. customers and dealers," VW says.

And what did we Americans demand? Basically, a roomier version of the Golf GTI.
With a lowered suspension, V6 power and aggressive body styling including a blacked-out roof, mirrors and trim, plus bright red accents ripped straight from the GTI history books, the GT feels like the most German flavor yet wrought from the current, highly Americanized generation of Passat.

The Passat GT starts with the sporty R-Line trim and takes it a step further. It includes standard LED headlights, a honeycomb grille and low-slung stance that makes it look much leaner and meaner than the ordinary Passat.

Inside, it continues the sporty, blacked-out theme. A shiny piano black center stack, black headliner, aluminum badges and carbon-style trim give it a cool, contemporary feel.
My favorite thing about driving it for a week was the engine. With a 280-horsepower V6 under the hood, something becoming rare these days as sedans, including luxury models, switch to turbocharged four-cylinder power plants, the Passat GT feels potent at all times, whether launching from a full stop or passing on the freeway.

My least favorite thing? Realizing how spectacular this car could be, but isn't.

Years ago, the Passat felt like a slightly toned-down Audi, complete with a supple cabin and engaging, sparkling handling. Even with the GT's suspension improvements, it never handles like a true sports sedan, and its cabin is minimalistic to the point of being dull. Straight horizontal lines and so-so materials make it feel like a roomy VW instead of the pseudo-Audi that it could be.

Then again, a pseudo-Audi would almost certainly have to be more expensive than this.
The Passat feels downright luxuriously spacious inside, especially for the price. It starts around $25,000 and offers ample hip, knee and head room.

Volkswagen sweetens the value proposition even further with its standard warranty. It offers what it calls "America's best bumper-to-bumper new vehicle limited warranty" for six years or 72,000 miles.
What was tested? The 2018 Volkswagen Passat GT V6 with a base price of $29,145. Options on the test car: None. The total MSRP price as tested including the $850 destination charge came to: $29,995.

Wheelbase: 110.4 in.
Length: 191.9 in.
Width: 72.2 in.
Height: 58.5 in.
Engine: 3.6-liter V6 (280 hp, 258 ft. lbs.)
Transmission: Six-speed DSG automatic
Fuel economy: 19 city, 28 highway
Why buy it? A roomy trunk and spacious cabin make the Passat impressively practical. A new GT trim adds a more European look and feel to the equation. It's a lot of car for the money. By Derek Price © AutoWire.Net - San Francisco
The 2018 Volkswagen Passat GT Bottom Line Review provided by:
Tony Leopardo © AutoWire.Net
The Bottom Line: The 2018 Volkswagen Passat GT V6 sedan adds a new GT Model based on Americans' feedback. Now it boasts a lowered suspension, blacked-out trim, black roof and GTI-like red stripe that make the new Passat GT stand out visually.

The Passat starts around $25,000, and my tester, with its handsome looks, roomy cabin, V6 power, 6.3-inch touchscreen, blind-spot sensors and autonomous emergency braking, still rang up under $30,000. It's a whole lot of car for the money.
And maybe, just for those reasons alone, you should "Drive one, Buy one, Today ©".
This Bottom Line Review is provided by: Tony Leopardo © AutoWire.Net
"Tony the Car Guy" is an automotive writer, editor and publisher in the San Francisco Bay Area. If you have a question or comment for Tony send it to TonyLeo@pacbell.net or visit AutoWire.Net at www.autowire.net - And remember: "You Are What You Drive ©"

Column Name: The new Passat Gets Sportier
Topic: The 2018 Volkswagen Passat GT V6
Word Count: 784
Photo Caption: The 2018 Volkswagen Passat GT V6
Photo Credits: Volkswagen Internet Media
Series #: 2018 - 31
Download the Microsoft Word version here: 2018 Volkswagen Passat GT
Download the Original Image File here: 2018 Volkswagen Passat GT