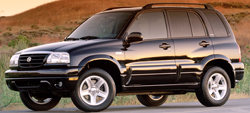 SAN FRANCISCO: Way back, when Suzuki just about created the mini-SUV market when they introduced their Samurai, the 4WD world laughed. The Samurai was tiny, even when compared to the old AMC Jeep CJ. And the Samurai only came with a minuscule 4-cylinder engine. There was just no way the Samurai, or any mini-SUV, would ever be considered a real off-road 4WD vehicle. Flash forward to 2001.
The mini-SUV field today is crowded and still growing. No one laughs at small SUVs anymore. The rough 'n' tumble Samurai has been retired. Now Suzuki has the more sophisticated and modern Vitara and Grand Vitara. Instead of the two original Samurai vehicles offered (hard top and soft top), the Vitara and Grand Vitara are available in 30 different versions! AutoWire.Net drove the top of the line Grand Vitara 4WD Limited model.
How did it drive? Very well, thank you. With a curb weight of just under 3,200 lb., the 2.5-liter, DOHC, 155 hp, V6 motivates the Grand Vitara Limited very well indeed. The 4-speed automatic transmission (the only transmission available in the Limited, a 5-speed manual is available in other models) does its job just fine, always finding the right gear with no extra "hunting". This combination also has an EPA fuel economy rating of 18/20-mpg city/highway with 4WD.
According to Suzuki, the Grand Vitara Limited has seating for five. I'm sure you can do it, but four adults would be much more comfortable on a long trip. The Grand Vitara Limited is also a four-door, so getting in and out is a breeze for everyone too.
Underneath, the Grand Vitara Limited is built to take the punishment you might find off-road. There is a separate full-ladder frame, complete with a series of impact guards to protect sensitive drivetrain components. And if you think that the Grand Vitara Limited might be a poseur and not suited for real off-roading, think again. It's got a 2-speed (High & Low) transfer case that operates in 2WD, high range for normal driving. Then, just like the big guys for when you want to go off-road crawling, you can shift into low or high range 4WD.
The suspension was firm without being harsh on the road. I suspect that the independent front suspension (MacPherson struts) and solid rear axle suspended with coil springs is tuned more for the smooth road than the off-road. Even so I would not hesitate to hit the fire trails in search of some hidden trout stream.
Though it is off-road rugged where it counts, the Grand Vitara Limited is all luxury inside. Just about everything you could think of is standard - keyless remote entry system, privacy glass, halogen headlamps, air conditioning with micron filter, sunroof, power windows and door locks, leather seats, AM/FM stereo with CD and cassette players, automatic lights (they turn on when it gets dark), tilt steering wheel, and cruise control. Then there's the safety stuff like air bags and anti-lock brakes.
Even on some fairly rough west coast roads (I know they're nothing like the winter ravaged highways and byways of the east, but they're all we've got) the Grand Vitara Limited felt rock solid. For such a lightweight it didn't get blown around by our Pacific coastal winds either.
All in all, I liked the Suzuki Grand Vitara Limited. It felt well built and rugged, yet it was comfortable and very hospitable. And unlike much of its competition, Suzuki offers either a Vitara or a Grand Vitara model for just about everyone. A base Vitara (1.6-liter, 4-cylinder with 5-speed manual transmission) costs only $15,599. And the top of the line Grand Vitara 4WD Limited, with automatic transmission, lists for just $22,999. And there are another 28 models in-between, so you can pick an SUV that's right in your price bracket. By Bruce Hotchkiss © AutoWire.Net - San Francisco

Byline: By Bruce Hotchkiss © AutoWire.Net - San Francisco
Column Name: "Suzuki just about created the mini-SUV market"
Topic: 2001 Suzuki Grand Vitara Limited
Word Count: 705
Photo Caption: 2001 Suzuki Grand Vitara Limited
Photo Credits: 2001 Suzuki Internet Media
Series #: 2001 - 3
Download the Microsoft Word version here: 2001 Suzuki Grand Vitara LTD
Download the original image file here: 2001 Suzuki Grand Vitara LTD 12k