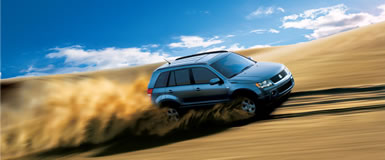 Suzuki Grand Vitara Review: Most of today's compact SUVs aren't SUVs at all. Instead they're car-based crossover vehicles, which actually are nothing but taller, hormone-injected versions of regular four-door sedans. Like the Honda CR-V, for example, is really just a Civic with facial hair.
This is a good thing if you like your SUV to drive like a car, with the kind of smooth ride that won't jolt your cappuccino on the way to Bed, Bath & Beyond. If you actually need to drive off-road in a crossover vehicle you're out of luck. That's where the Suzuki Grand Vitara comes in.
Unlike the vast majority of today's small SUVs, the Grand Vitara is actually designed for driving off-road. It has a unibody shell, like a car, that rides on top of a ladder-type frame, like a truck. The result is a vehicle that feels like the love child of a Jeep and a commuter car.
You can tell the Grand Vitara has an off-road backbone because of its rough, bouncy ride. It's not as awful as, say, a Jeep Wrangler, but it's not nearly as comfy as a crossover. The overall feeling is heavy, tough and truck-like.
The Grand Vitara offers two engines for 2009, neither of which get particularly good gas mileage. A 3.2-liter V6 is massaged this year to produce 230 horsepower, which is plenty for a vehicle this size. With four-wheel drive and an automatic transmission, it's rated for 17 mpg in the city and 23 on the highway.
Unfortunately, the four-cylinder engine isn't much more efficient. It makes 160 horsepower and only gets 19 mpg in town and 23 at highway speeds, when equipped with the automatic and 4WD.
On the bright side Suzuki follows in Land Rover's footsteps by trying to combine luxury and off-road capability in the same vehicle. Features like the SmartPass keyless entry system, which has a small transmitter that lets you start the car while the key is still in your pocket, make it feel more luxurious than you'd expect in a low-cost compact SUV.
As a whole, the Grand Vitara is an interesting species, with off-road capability and a decent stab at on-road comfort. If you like that, you'd better act fast, because this species is rapidly going extinct.
What was tested? The 2009 Suzuki Grand Vitara XSport V6 with a base price of $22,999. Options on the test car: None. Price as tested including the $750 destination charge is $23,749.
Why avoid it? It doesn't get great gas mileage, even with a four-cylinder engine. And the off-road suspension isn't as comfy as the kind you'll find in a modern crossover.
Why buy it? It's one of the few remaining SUVs actually designed for off-road driving. It feels tough and rugged, and it is.
Bottom Line: The Suzuki Grand Vitara has a truck-like ladder frame and a tough suspension designed for off-road driving, and the interior of the Suzuki Grand Vitara has improved dramatically in recent years. It has soft-touch materials and precise build quality, which is especially impressive given its off-road capability.
By Derek Price © AutoWire.Net - San Francisco
Suzuki Review provided by Tony Leopardo ©AutoWire.Net

Column Name: Suzuki Grand Vitara has real off-road cred
Topic: The 2009 Suzuki Grand Vitara
Word Count: 582
Photo Caption: The 2009 Suzuki Grand Vitara
Photo Credits: Suzuki Grand Vitara Internet Media
Series #: 2009 - 46
Download the Microsoft Word version here: 2009 Suzuki Grand Vitara
Download the Original Image File here: 2009 Suzuki Grand Vitara