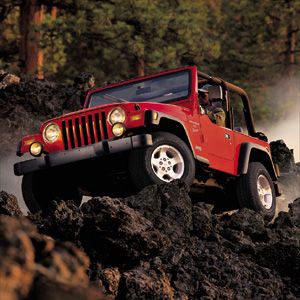 SAN FRANCISCO: In a time when cars are fine-tuned to the level of a quietly running appliance, the Jeep Wrangler shows you what real driving can be like. Too tall & rugged to qualify as a true sports car, the soft-top Wrangler feeds back road and wind information and presents a rich sampling of surrounding sounds and aromas, just like the original Jeeps.
The Wrangler's power steering leaves in plenty of road feel. The long handled five-speed shift lever slides gently into each gear like in a well-greased truck. And with a short, 93.4-inch wheelbase, the Jeep darts nimbly through traffic, performing effortless U-turns.
The Wrangler is the descendant of the original Jeep, which earned its rock solid reputation through faithful service in World War II. Postwar, the little Jeep was marketed by Kaiser Motors and then by American Motors Corporation. In 1987, when Chrysler bought AMC, they upgraded the Wrangler a little, adding rectangular headlamps alongside the famous slatted grille. That upset the hardy band of Jeep enthusiasts & happily, in a 1997 makeover, the headlights reverted to their original round shape (hooray!).
The 2000 Wrangler is much like the 1997 except for the availability of screaming yellow paint. That 1997 remodeling subtly revised the body shape, but the big changes were made inside. The old Jeep had a flat, plain metal dashboard that AMC had padded. The 1997 restyle introduced a complete new dash in matte black plastic & attractive shapes similar to the Jeep Cherokee sport utility vehicle. The instrument panel now contains full gauges and the protruding center dash locates radio and climate controls high and handy. A locking glove box sits below a passenger-side airbag. The feel is utilitarian but stylish. The flat sheet of windshield glass remains as original.
The 2000 Wrangler is all Jeep. It's a tall step up to enter, and the high lower doorsill could trip the unwary. The generous ride height and abundant headroom are welcome, but the feeling is much like sitting in an old-fashioned phone booth. The blocky shape generates substantial wind noise, so listening to your favorite CDs is compromised. And hidden storage space is minimal. My car's optional "Add-A-Trunk" wouldn't hold much more than a couple of bags of groceries and a few jackets.
Then, there's the soft top. It worked fine, but it took me fifteen minutes to unhook, unzip, unvelcro and fold down, and another fifteen minutes to restore it. Don't attempt this at a red light. The enjoyment of driving the Jeep sans top is well worth it, though.
Wranglers come in three models, the SE, Sport and Sahara. My SE tester had a standard 2.5-liter four-cylinder engine and manual five-speed. The 120-horsepower engine has lots of torque, so it pulls with authority once it gets going, and earns 18 city, 20 highway mileage numbers. A 181-horsepower, 4.0-liter, inline six-cylinder engine is standard in the Sport and Sahara models, and a three-speed automatic is optional on all models.
The Command-Trac four-wheel-drive system engages with an easy-to-operate floor shift lever. I stayed on road however - it's tough to find unpaved places to drive the Jeep in major metropolitan areas.
At $15,020, the basic Wrangler is inexpensive, and my SE tester, in Patriot Blue Pearl Coat paint, came to only $18,035 with options. These included Customer Preferred Package 23N (sound system, folding rear seat, rear carpeting and rear Sport Bar -- $1,310) and the Convenience Group (floor console, courtesy lamps and under hood lamp -- $165). Rounding out the list were full metal doors with roll-up windows ($125), air conditioning ($895), the Add-A-Trunk ($125), CD player upgrade ($125) and a full-size rear mounted spare tire ($115).
Besides having the bigger standard engine, the Sport adds an AM/FM radio, full-face steel wheels, and a folding rear seat. The full-boat Sahara also includes 16-inch alloy wheels with meaty mud/snow tires, a heavy-duty electrical package, AM/FM/CD with four speakers, and large fog lamps. The Sport has a base price of $19,175 and the Sahara tops out at $21,105.
The stubby little Jeep is a better road car than I expected. It cruises smoothly on the freeway and around town, thanks in part to the Quadra-coil suspension introduced in 1997. For a rugged off-road vehicle, the experience is downright pleasant. As a Jeep, there's only one & it's the Real Thing. By Steve Schaefer © AutoWire.Net - San Francisco

Byline: By Steve Schaefer © AutoWire.Net - San Francisco
Column Name: "Jeep - It's the Real Thing"
Topic: 2000 Jeep Wrangler
Word Count: 730
Photo Caption: 2000 Jeep Wrangler
Photo Credits: Jeep Media
Series #: 2000 - 18
Download the Microsoft Word version here: 2000 Jeep Wrangler
Download the original image file here: 2000 Jeep Wrangler 64k