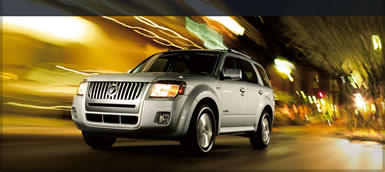 Hybrid Review: A growing number of people today are sensitive to the amount of fuel they consume, thanks to higher gas prices. Many of these folks are also becoming more aware of the environmental impact of driving, and want to create a smaller "carbon footprint" on the earth. But they are left cold by the Toyota Prius and want a small, compact SUV.
If you're one of those individuals, you probably have discovered that there's not much out there for you. But, the Ford Motor Company offers you two Hybrid choices, the Ford Escape and its more stylish sister, the Mercury Mariner. I tested a Black Clearcoat 2008 Mariner Hybrid recently and am here to tell the tale.
Before delving into the environment-saving technology, I do need to mention that the Mariner, introduced as a 2006 model, has been substantially restyled inside and out for the 2008 model year. The Mercury logo is bigger, and there is more of the bright work that is meant to read "upscale" in buyer's minds. The front and rear lights give a high-tech, complex touch. It seems like just yesterday that headlamps and tail lamps were flat, translucent forms. Now they are elaborate jewel cases.
The interior employs Mercury touches, including exclusive textures and stretches of flat plastic, to convey a more luxurious appearance than the essentially identical Ford. The tan shades and silvery sections are mood-lifting and make for pleasant commuting.
The goal of a hybrid vehicle is to reduce fuel consumption but retain the feel and driving experience of a standard car. The Mariner is successful there. At low speeds, up to 25 mph depending on road conditions and angle, you are using pure electricity, which is re-generated during braking. During driving, the electric motor produces 70 kW of electricity, which is enough to add 22 horsepower to the modest 2.3-liter, 133-horsepower four-cylinder gas engine. The engine turns off at stoplights - the ultimate gas saver.
The car seems to have enough power for climbing hills and passing maneuvers, although on extended upgrades, the engine routinely ran at more than 4,000 rpm to keep up to speed. This is a function of the continuously variable automatic transmission, which finds the best ratio for the driving conditions.
Hybrids are fuel savers, but if there's any disappointment here, it's that the Mariner Hybrid isn't much better at it. Granted, it must haul 3,659 pounds of mass, plus passengers, with less horsepower and torque than a V6, but the EPA fuel economy numbers are 34 City, 30 Highway for the two-wheel-drive model and 29 and 27 for the four-wheel-drive version.
Adding to my frustration, the fuel economy computer that is standard in Priuses is an option on the Mariner - and my tester didn't have it. So I can't give you my exact mileage, which is always lower than the EPA's official figures. I can say that the EPA numbers for the non-hybrid model with the four-cylinder engine are 23 City, 26 Highway, so there is definitely some notable improvement with the hybrid power train, even if it's not quite as dramatic as it could be.
One very happy note - the Mariner Hybrid earns fantastic EPA Green Vehicle numbers. My two-wheel-drive tester got a 9.5 on the Air Pollution scale and an 8 on the Greenhouse Gases scale. That puts it in the top ten vehicles sold in the U.S.
The Mercury folks know they've got a hot commodity here, so the Hybrid comes loaded with lots of good things. Your main choice is between two-wheel drive or four-wheel drive and which color you like. Standards include things like four-wheel disc brakes with antilock; power windows, locks and mirrors; remote keyless entry; dual automatic temperature control; automatic headlamps; and an AM/FM/MP3-ready/single CD audio system.
Thoughtful touches abound, like side repeater turn-signal lamps in the mirrors, compass and temperature display, an audio input jack, and a reverse sensing system. And there's much more.
If you want to upgrade, Mercury is there to help. My tester had the Hybrid Premium Package, with a navigation system and leather trim, surrounded by nice items such as power heated mirrors, heated front seats, and a retractable cargo cover (a very important option for security!). The Hybrid Moon and Tune Package (sounds like an IHOP menu item) added a sunroof and Sirius satellite radio.
My car also had a 110-volt outlet for … I don't know, exactly. I always picture plugging in a desk lamp or a pencil sharpener in the dash someday.
The base price for the two-wheel-drive Mariner Hybrid is $25,955, plus $665 delivery charge. Add $1,010 for all-wheel drive. My tester, with the listed options, came to exactly $31,000. For reference, the base, non-hybrid Mariner starts at $20,920 plus $665 for destination charges.
At this point, the Mariner Hybrid is a great way to be environmentally sensitive while still enjoying the SUV style, utility, and driving experience. By Steve Schaefer © AutoWire.Net - San Francisco

Byline: Hybrid Review provided by Tony Leopardo © AutoWire.Net
Column Name: A great environmentally sensitive compact SUV
Topic: The 2008 Mercury Mariner Hybrid
Word Count: 889
Photo Caption: The 2008 Mercury Mariner Hybrid
Photo Credits: Mercury Mariner Hybrid Internet Media
Series #: 2008 - 02

Download the Microsoft Word version here: 2008 Mercury Mariner Hybrid
Download the Original Image File here: 2008 Mercury Mariner Hybrid