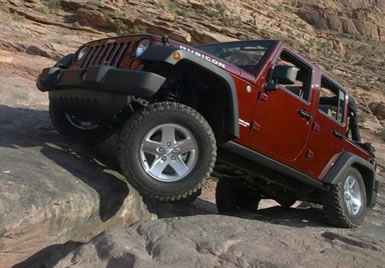 San Francisco:
I drove the King of 4WD vehicles recently. Not a big SUV built for carrying suburbanites over vast stretches of asphalt and concrete, but a real off-road vehicle built to handle some of the roughest, toughest, off-roading out there. I am talking about the latest offspring of the original Jeep, the 2007 Jeep Wrangler Rubicon.
The Rubicon is a variant of the basic Wrangler, the fabric topped, Spartan, go anywhere vehicle that traces its roots way back to WW II. Okay the Wrangler is not all that Spartan anymore, but everything else is true.
For a 4WD vehicle with a fabric top, huge LT255/75R17 BFG Mud Terrain tires, short wheelbase (95.4 inches), and 10 plus inches of ground clearance it was not bad on paved roads. Make no mistake though, the Rubicon is not a sports car; increasing ground clearance decreases cornering ability. I was impressed with the Rubicon's road manners. Just be aware that you cannot throw this thing into the corners at full tilt & throttle.
Under the hood is a fuel-injected, 3.8-liter, OHV V6 that makes 202-hp @ 5,000 rpm and 237 lb-ft of torque @ 4,000 rpm. Although this engine is smooth and relatively quiet I would have liked something with a bit more low-end grunt. My test vehicle had a six-speed manual transmission. The Rubicon uses a 4.10 final drive ratio that hopefully makes up for the lack of grunt when off-roading. The Wrangler X and Sahara manual transmission models have a higher 3.21 final drive.
A four-speed automatic transmission is available, as well as two different transfer cases for the four-wheel-drive; the standard Command-Trac with a 2.72:1 low range, and the appropriately named Rock-Trac heavy duty unit with a 4.0:1 rock crawling low range. Both transfer cases offers 2WD, Hi-4WD, and Low-4WD for crawling
The Rubicon, like every Wrangler, and all the MJís and CJís that preceded them, uses solid axles front and rear. The only changes made to this rugged, tried and true suspension design is in the use of coil springs instead of leaf. Live axles may seem like a throwback to some but their simplicity is their virtue when truly off-road.
Every now and then you might see a Jeep towing a trailer. The maximum recommended trailer weight for a 2-door Wrangler is 2,000 lbs., the 4-door has a maximum rating of 3,500 lbs., and it all depends on the optional towing equipment ordered when new.
The Rubicon is, in fact every 2007 Jeep Wrangler is, rated at 17-mpg city and 19-mpg highway. Not bad fuel economy numbers, not great either, so itís just right for a Wrangler.
The Wrangler seats four; two up front very comfortably and two in the back less so. I found the Rubicon a strange combination of rough and tumble, modern technology, and creature comforts.
Electronic stability control, anti-lock brakes (four-wheel discs), electronic roll mitigation, dual-stage air bags, and seat mounted side air bags are some of the high tech goodies you will find. There is an optional navigational system (I wonder if it works in the wildís?), a 368-watt sound system (that should wake up the wild life), and all the usual power options.
I would be remiss if I did not mention the climate control system. I drove the Rubicon during a normal San Francisco area winter, which means it might have gone all the way down to chilly. I have driven other, older fabric top Jeeps and the heaters struggled to match the heat loss of the fabric. Not so with the 2007 Rubicon. Toasty is a good word that you can use to describe the cabin on a chilly day.
If you want to go just a touch more mainstream you can opt for the all-new, four-door Wrangler. That's right, they've stretched the Wranglers wheelbase to 116 inches to create enough rear seat room for a real person to fit. This may sound sacrilegious to true Jeep aficionados, but those extra twenty inches make the Wrangler a more civilized vehicle, with the extra storage area in back and more stability on the paved roads.
You should be able to find a Wrangler that suits you to a tee. There are three basic Wrangler models; Wrangler X, Sahara, and Rubicon, dozens of different top, door, and windshield combinations, nine exterior colors and three different wheel sizes, 16", 17" and 18".
The base 4-door X and Sahara price is for 2WD; the Rubicon is a 4WD. The Wrangler X starts at $19,145 for the 2-door, the Sahara at $23,960, and the Rubicon at $27,255 for 2-doors. Four door models start at $20,890 (X), $25,265 (Sahara), and $29,500 (Rubicon). To price out you own Jeep Wrangler click on www-5.jeep.com. By Bruce Hotchkiss © AutoWire.Net - San Francisco

Byline: Syndicated content provided by Tony Leopardo © AutoWire.Net
Column Name: The King of 4WD vehicles
Topic: The 2007 Jeep Wrangler Rubicon
Word Count: 851
Photo Caption: The 2007 Jeep Wrangler Rubicon
Photo Credits: Jeep Internet Media
Series #: 2007 - 29

Download the Microsoft Word version here: 2007 Jeep Wrangler Rubicon
Download the Original Image File here: 2007 Jeep Wrangler Rubicon