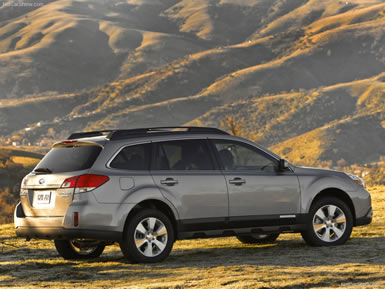 Subaru Outback Review: Subaru had a good sales year in 2009, unlike nearly every other car company. Why? Maybe it's because they had fresh versions of the kinds of cars people wanted to buy. One of them was the new, fourth-generation, Subaru Outback.
The first Outback was Subaru's response to the booming popularity of SUVs in the early 1990's. While Ford, GM and Chrysler had truck platforms on which to build their models, Subaru didn't, so they based the Outback on their Legacy car, thereby inventing the "World's First Sport Utility Wagon®."
With slightly higher ground clearance, handsome lower body cladding, a useful roof rack, and importantly, all-wheel-drive, the Outback was a hit when it debuted in 1995. In the intervening years, Subaru has capitalized on its signature product, introducing the smaller, but taller Forester, and the Outback Sport version based the compact Impreza. And, they declared that all Subaru's sold in America would have standard all-wheel drive.
I recently sampled the 2010 Outback. Resplendent in its rich Cypress Green Metallic, it looked bigger than previous Outback's, and it is. Its all-new chassis has a 2.8-inch longer wheelbase but is slightly shorter overall, with smaller overhangs. There is nearly four inches of additional rear legroom, and at 2 inches wider, more passenger hip room. The 2.3 inch-taller 2010 models offer more headroom too.
Maximum cargo capacity (with the rear seatbacks folded) increases by 6 cubic feet to 71.3 cu. ft. Even ground clearance is up to 8.7 inches and the fuel tank is enlarged to 18.5 gallons. The car's weight is up less than 100 pounds thanks to some clever engineering and greater use of high-tensile strength steel.
All-wheel-drive is standard, as promised. My test car came with a six-speed manual transmission, a rarity in cars of this type and size in the U.S. market. I enjoyed using it, although it made an odd clicking sound in the 4 to 5 gear change.
Subaru offers two engines in the Outback, reflecting the two performance levels, a 2.5i and 3.6R. My 2.5i tester had the revised 2.5-liter four-cylinder boxer engine, which puts out 170 horsepower and a matching 170 lb.-ft. of maximum torque. Especially with manual shifting, the 3,428-pound car moved quickly and enjoyably along.
A new continuously variable automatic transmission (CVT) is offered in the 2.5i. With CVTs, the computer assesses driving conditions and selects the best transmission ratio at every moment. You get better fuel economy than with the manual, the Lineartronic CVT earns 22 City, 29 Highway per the EPA. The six-speed manual gets a 19/27 rating and I averaged 25.5 mpg.
Environmentally, the midsized Outback gets high average scores from the EPA, with 6 on the Air Pollution score and a 6 (manual) or 7 (CVT) on Greenhouse Gas. However, if you live in a state that uses California's higher emission standards you can buy the PZEV (partial zero emissions vehicle) model, which scores a hybrid like 9.5 on the Air Pollution score.
For a PZEV car, additional catalytic material inside the converter "scrubs" the exhaust gas more than a standard vehicle, eliminating more hydrocarbon emissions. The additional material (generally platinum or palladium) requires a recalibration of the engine and the electronic control unit, which determines the amount of fuel, ignition timing and other parameters the engine needs to keep running smoothly.
The other engine option is a new 3.6-liter six-cylinder, also in the boxer configuration. That means that the engine is flat, with the cylinders opposing each other rather than going up and down inside the engine block to turn the crankshaft. It keeps the center of gravity low and minimizes vibration.
Subaru's have not been especially known for their luxurious accommodations. But now, with three trim levels, Base, Premium and Limited, you can make your car about as nice as you want.
The base model 2.5i has steering-wheel-mounted audio and cruise controls, an AM/FM/CD audio system with auxiliary input, air conditioning, trip computer, cruise control and power locks, mirrors and windows.
Step up to the Premium edition and you get a 10-way power driver's seat, 17-inch alloy wheels, a leather-wrapped steering wheel, cargo area cover, and more.
The Limited is distinguished by leather seating, heated up front, the CVT transmission as standard, plus dual-zone climate control and a harmon/kardon 440-watt premium audio system. The levels are similar for the 3.6R except that some items are already standard on the base 3.6R.
Prices start at $23,690 including shipping for the 2.5i with manual six-speed. The 3.6R Limited, the top model, starts at $31,690. My 2.5i Premium, which included the all-weather package, audio system upgrade and moonroof, came to a total MSRP price of $27,780. Priced right in the middle of the pack. By Steve Schaefer © AutoWire.Net - San Francisco
The Bottom Line: The 2010 Subaru Outback is a stand out model in the crossover market place these days. It has standard all wheel drive, a boxer engine, gets good gas mileage and is pretty versatile in size, for people or cargo. Add in the choices of engines, transmission's, trim levels and price points and the Outback seems to have a place on everyone's automotive check list. The crossover market is filled with competition for the Outback today, but it still remains unique, and one of the most desirable Subaru's.
Bottom Line Review provided by: Tony Leopardo © AutoWire.Net
"Tony the Car Guy" is an automotive writer, editor and publisher in the San Francisco Bay Area. If you have a question or comment for Tony send it to TonyLeo@pacbell.net or visit AutoWire.Net at www.autowire.net
And remember: " You Are What You Drive "

Column Name: The Subaru Outback still remains unique
Topic: The 2010 Subaru Outback
Word Count: 985
Photo Caption: The 2010 Subaru Outback
Photo Credits: Subaru Outback Internet Media
Series #: 2010 - 12
Download the Microsoft Word version here: 2010 Subaru Outback
Download the Original Image File here: 2010 Subaru Outback