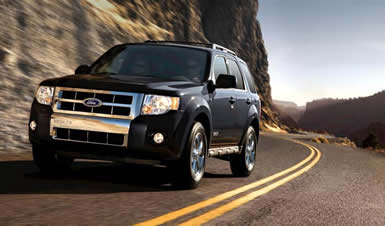 SUV Review: When Fordís Escape compact SUV debuted at the turn of the millennium, it was an immediate hit. Why? Following in the wake of its groundbreaking big brother, the Explorer, the Escape offered a more compact, car like SUV with better fuel economy.
After a typical modest freshening for the 2005 model year, the 2008 Escape stands redone. Ford design appears to be separating the tough from the soft, with new crossovers like the Edge taking on the role of tall family cars while the trucks evolve more and more toward Tonka Toy Truck chunkiness.
The new Escape joins the F-150, Explorer, and Expedition in the latter category, with an upright window greenhouse, bulging wheel wells, and now, a rugged boxy face worthy of a military rescue vehicle. Four rectangular accents run below the doors to emphasize the point. The sharp-edged hood rises from the bold grille, emphasizing the virile posture of the little beast. Step inside, though, and youíll find all the comfort you want.
My Black Clearcoat tester sported a matching black interior with supportive leather seats and plenty of creature comforts. The proportions, while forthright and angular, show careful attention to surface treatments and provide a comfortably logical arrangement.
The heat and air conditioning knobs are easy to find and use. Basic information, such as internal and external temperature and radio settings, is accessible at the center dash top in Fordís new ice blue lighting. The metallic plastic on the console looks upscale. The turn signals tick like a Westclox alarm clock, but itís otherwise serene in the Escape.
Part of that quiet comes from major efforts by Ford to reduce noise, vibration, and harshness (NVH). Ford discovered ways to hush many sources of sound, such as using a quieter cooling fan and moving the alternator to the side of the engine away from the passenger compartment. They tweaked airflow on the roof, windshield molding, mirrors, and wipers.
Then, they shut out sound intrusion with thicker glass, better quality insulation, and more effective carpet and headliner materials.
The Escape introduces seat fabric that is made from 100 percent post-industrial waste. Besides reducing contributions to landfills, this saves substantial amounts of water and electricity and reduces CO2 emissions, all worthy environmental achievements. I couldnít test this material, though. My sample car came with soft leather chairs, made, presumably, from recycled cows.
The Escape offers optional all-wheel drive, but you can go with front-wheel drive if you donít live in snow and ice country. Regardless of your choice, you get standard AdvanceTrac with RSC (Roll Stability Control) to protect you. The system monitors vehicle speed, throttle position, and steering wheel angle and if it senses wheel slip or traction loss, automatically applies braking to correct it. Brakes are antilock with front wheels discs.
The Escape offers a choice of two engines. The base engine is the 2.3-liter Duratec 23 four-cylinder, which puts out 153 horsepower and 152 lb.-ft. of torque. It can be had with a five-speed manual or four-speed automatic.
My tester carried Fordís Duratec 30 3.0-liter V6 under its sculpted hood, good for 200 horsepower and 193 lb.-ft. of torque. This optional powerplant, hooked up to a four-speed automatic transmission and feels up to the job of moving the nearly 3,500-pound Escape without strain.
The front-wheel-drive Escape with the four-cylinder engine and manual transmission weighs about 270 pounds less than the all-wheel-drive V6-equipped model and delivers fuel mileage of 22 City, 28 Highway versus 17/22 for the V6. The all-wheel-drive vehicle I tested averaged 17.6 mpg.
The EPAís Green Vehicle Guide gives the V6-powered Escape a score of 6 for Air Pollution and a 5 for Greenhouse Gases, which makes it just a little better than average. A four-cylinder Escape with manual transmission pushes those scores to 7 and 7. If you want to improve those numbers substantially, consider the Escape Hybrid, which moves the scores to a stellar 9.5 and 9 respectively for two-wheel-drive models and 9.5 and 8 for the all-wheel-drive version.
With the Ford Escape you can select from XLS, XLT, or Limited models. An XLS with manual transmission starts at $18,770. My loaded Escape Limited with V6 and all-wheel drive had a list price of $25,330.

But, of course, it carried some handy options.
The 17-inch chrome wheels ($695) were just for show, but the upgraded audio system with navigation added $2,395 and trailer towing package another $345. With a few other goodies, plus destination charges, the price tag hit $30,910.
As gas prices flirt with the $4.00 mark, many people are stepping away from big SUVs. That makes vehicles like the Escape look pretty attractive. Retaining the SUV look and utility, but with less thirst and bulk, it should continue to sell well in a very crowded market segment. By Steve Schaefer © AutoWire.Net - San Francisco

Byline: SUV Review provided by Tony Leopardo © AutoWire.Net
Column Name: The new Escape looks pretty attractive
Topic: The 2008 Ford Escape
Word Count: 863
Photo Caption: The 2008 Ford Escape
Photo Credits: Ford Escape Internet Media
Series #: 2008 - 01

Download the Microsoft Word version here: 2008 Ford Escape
Download the Original Image File here: 2008 Ford Escape