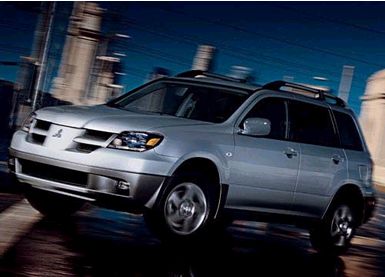 SAN FRANCISCO: Mitsubishi is the latest automaker to enter the already crowded entry-level, crossover, SUV market segment. Like most of its competitors, the new Mitsubishi is more at home hauling families on paved roads than trashing over rugged trails. Indeed, the name Outlander might be a bit of a stretch.
The five-door Outlander comes in two drive configurations, front-wheel-drive (FWD) and all-wheel-drive (AWD). In each, there are two trim levels, base LS and upgraded XLS.
Like many other small SUVs today, the new Outlander features quite distinctive styling highlighted by a very aggressive front end followed by a tall station wagon body and ending with a tail with oversized taillights. The styling offers good forward visibility and ease of entry/exit without the high climb height found in some larger SUVs. Even so, the Outlander has a very respectable 8.3 inches of ground clearance. Also respectable for a tall wagon is the 0.43 drag coefficient. The Outlander won't be easily mistaken for another model.
Only one powerplant is offered, a single-overhead-camshaft (SOHC), 16-valve, 4-cylinder engine. The 2.4-liter engine is rated at 140-horsepower at 5000 rpm and 157 lb-ft at 2500 rpm. Likewise, only a single transmission is available, a four-speed Sportronic automatic. While I found the engine quite adequate when traveling alone in the flatlands of Southern California, I am afraid it might have to struggle when carrying a full load of passengers and their stuff especially in hill country or towing 1500 pounds when properly equipped.
The Outlander is not exactly a lightweight weighing in at over the ton-and-a-half mark (3240-pounds for the 2WD version and 3461 pounds with AWD) unloaded. Sportronic's manual mode can be used to select the right gear to eke out maximum power from the smallish engine. The EPA numbers are 21 mpg city/26 mpg highway with FWD and 20 mpg /25 mpg for AWD. The fuel tank holds 15.7 gallons.
With AWD, a fully automatic center differential splits power 50/50 between the front and rear wheels under normal conditions. It redirects power to those wheels with the most traction under slippery conditions via a viscous limited-slip device. Anti-locking braking is a $500 option only on the XLS model. Drum brakes are still used on the rear wheels and there are disc brakes up front.
The Outlander is based on the excellent Mitsubishi Lancer platform with a 103.3-inch wheelbase that was introduced in 2002. Besides quite rigid unit body construction, the Outlander gets the Lancer's stiff chassis, four-wheel independent suspension, very precise steering with low effort and good feedback and excellent overall handling characteristics. Though definitely not a sports sedan, the Outlander handles more like a car than the typical SUV with an overall taut and solid feel.
Despite the smallish outside dimensions there is ample space inside. Those up front have plenty of head and legroom. Those in the second row have lots of headroom, but just adequate legroom.
While power seats are not offered, both of the front seats have seat height adjusters and adjustable lumbar support. The three-dial climate controls are very user friendly, but the radio knobs are too small, so you often have to take your eyes off the road to use them. As expected in an SUV, there are lots of cup holders.
Cargo capacity is a bit less than some competitors. Even with the 60/40 split rear seats folded down, there is just 60 cubic feet. With five people aboard, there is 24 cubic feet of luggage capacity in back. The cargo floor is quite high because of the space taken up by the multilink rear suspension.
The base LS model listing for $17,997 for 2WD and $19,297 with AWD comes quite well equipped. As expected today, there is power windows, locks and mirrors; AM/FM/CD stereo; air conditioning; tilt steering wheel; and cruise control. An optional Convenience package ($500) includes keyless entry, roof rails, floor mats and a cargo cover. The Appearance package ($500) adds 16-inch alloy wheels and rear privacy glass. XLS editions of the two versions list at $19,490 and $20,790 respectively. They add a two-tone color scheme, white-faced instruments, an auto-dimming rearview mirror and upgraded cloth upholstery. Leather upholstery is a $900 option on the XLS only. Other option packages for the XLS are the Sun and Sound package ($1,150) with a sunroof and an Infinity audio system, and the Luxury Package ($1,450) featuring heated mirrors, leather upholstery with heated seats, side airbags, a compass and an outside temperature gauge.
This all adds up to a very practical and very affordable SUV that's fun to drive and looks like it should cost a whole lot more than it does. Nice work Mitsubishi! By Bill Siuru © AutoWire.Net - San Francisco

Mitsubishi Home Page
Byline: Syndicated content provided by Tony Leopardo © AutoWire.Net
Column Name: Nice work Mitsubishi!
Topic: 2003 Mitsubishi Outlander
Word Count: 833
Photo Caption: The 2003 Mitsubishi Outlander
Photo Credits: Mitsubishi Internet Media
Series #: 2002 - 33
Download the Microsoft Word version here: 2003 Mitsubishi Outlander
Download the original image file here: 2003 Mitsubishi Outlander