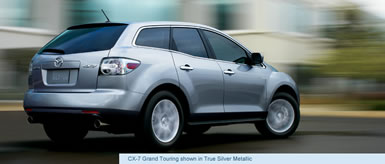 Crossover Review: Mazda's fun-to-drive CX-7 is roomy enough on the inside, has room for five people and eschews the typical Kleenex-box styling on mid-size crossovers in favor of a cleaner, sexier, curvier look. And I was beginning to think Mazda's sales pitch was wearing thin. Can every Mazda have the soul of a sports car? Really?
When I saw the company touting the Tribute, a fairly run-of-the-mill SUV, as sporty enough to race, I suspected things had gone too far. And when I saw them introducing their dull-as-grits minivan at the Laguna Seca raceway, I knew the whole marketing department needed psychological help.
If Mazda sold a dump truck, you can bet they'd call it the "dump truck with the soul of a sports car" and show it on TV zipping through the Utah desert beside a topless MX-5. "Zoom Zoom" - Whatever. When I saw Mazda's same cheesy ads for the CX-7, I took them with a giant-economy-size dose of skepticism.
Mid-size crossovers and true sports cars go together like Heather Mills and Paul McCartney. You can combine the two if you have enough money, but if you cut cash out of the equation you can't possibly stay happy.
Then I drove the CX-7 and threw that whole theory out the window.
If ever a car deserved the "soul of a sports car" label, this is it. In the past few months I've driven several crossovers that their makers are trying to sell as "sporty", but none of them came close to driving like a real sports car. This one did. This is the kind of vehicle that telegraphs its intentions through your underpants. It's very predictable, very responsive, and very fun.
As soon as you drive this thing, you can tell Mazda took a lot of care to make it feel like a sports car. It's actually built like a sports car in many ways, with a vibration-free chassis, fully independent suspension and disc brakes at all four wheels. I thought the suspension, brakes and steering were so well tuned that I wished for a CX-7 with a manual transmission so I could take it on a blast through the mountains. It's really, truly, that good.
It also has a sports-car-like engine taken straight from the Mazdaspeed 6. It's a relatively small and efficient engine at 2.3 liters, but a turbocharger gives it a huge boost. It makes 244 horsepower and still gets 23 mpg in combined city & highway driving. It's also typical of Mazda engines because it feels like it wants to be pushed. It seems to love revving high and driving fast, letting out a squeal of joy at the top end of its rev range.
It also looks surprisingly good. It has big fender flares and sweeping curves more evocative of a sexy coupe, than a typical boxy van, making it look better than many more expensive vehicles.
Personally, I fell in love with this crossover after driving it for a week. Yes, I'd rather drive the Mazda because it feels lighter and more tossable, not to mention a heck of a lot cheaper then some other vehicles in this category.
Still, I realize not everyone is like me. There are several reasons to dislike the CX-7, including - well - it feels like a sports car. There are plenty of people who will think it rides too rough and has an engine that's too noisy.
And it also only seats five people, the same as a normal sedan. If you only need seating for five and want a super-sporty vehicle, you and your wallet might be happier with a sporty car rather than a sporty crossover.
What Was Tested: The 2008 Mazda CX-7 Sport ($24,310). Price as tested: $24,310
Why Avoid It: It only seats five people and gives Mazda another reason to run its gosh-awful "soul of a sports car" ads.
Why Buy It: If you care about driving satisfaction, it's the best crossover for the money, hands down. It feels like the Miata after visiting BALCO in Burlingame.
By Derek Price © AutoWire.Net - San Francisco

Byline: Crossover Review provided by Tony Leopardo © AutoWire.Net
Column Name: It's very predictable, very responsive, and very fun
Topic: The 2008 Mazda CX-7 Sport
Word Count: 749
Photo Caption: The 2008 Mazda CX-7 Sport
Photo Credits: Mazda CX-7 Internet Media
Series #: 2008 - 16
Download the Microsoft Word version here: 2008 Mazda CX-7
Download the Original Image File here: 2008 Mazda CX-7