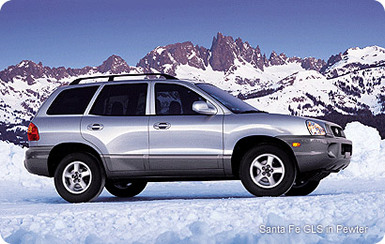 SAN FRANCISCO: Korea's Hyundai has entered the sport utility market with its new Santa Fe. Recognizing an uphill battle to be competitive in this already crowded market segment, Hyundai is offering an SUV with many premium features at a very affordable price. For starters, the styling has an upscale, yet aggressive look, than many will mistake for a luxury SUV if they don't look closely at the Hyundai emblems. As the name might imply, the Santa Fe was designed specifically for sale in North America.
The Santa Fe is available in several versions and with either two-or four-wheel drive. These include GL, GLS and LX. Two engines are available, a four-cylinder only in the base GL 2WD and a V6 in all other 2WD and 4WD models. The 2.4 liter, four-cylinder produces only 149-horsepower at 5500 rpm and 156 ft-lb of torque at 3000 rpm. This engine is really not sufficient for a vehicle that approaches the two-ton mark especially with the optional automatic transmission. The GL 2WD is the only Santa Fe available with a five-speed manual transmission. The 2.7 liter V6 is a dual overhead camshaft (DOHC) design with 24 valves and is rated at 181 horsepower at 6000 rpm and 177 ft-lb at 4000 rpm.
The V6 provides adequate, but not breathtaking performance. All V6 Santa Fes use a four-speed electronically controlled Shiftronic automatic transmission that is of the type used in much more expensive vehicles, and can be used in a clutchless manual mode.
The EPA numbers are:
City MPG Highway MPG
Four-cylinder Engine:
Manual 21 28
Automatic 20 27
V-6 Cylinder Engine:
2WD Automatic 19 26
4WD Automatic 19 23
The full tank holds 17.2 gallons. The very close fuel economy for the four-cylinder and V6 with the automatic transmission points out the false economy of choosing too small an engine in a particular vehicle.
In keeping with the goal of offering premium features for a low price, all Santa Fes come rather well equipped. Standard equipment includes air conditioning, power windows, 16-inch alloy wheels, 225/70R-16 BF Goodrich Long Trail T/A tires, a roof rack, privacy glass, premium-quality cloth seats, and an AM/FM/CD stereo. With the GLS you get an AM/FM/Cassette/CD stereo, power door locks, remote keyless entry and alarm, fog lights, cruise control, and heated power exterior mirrors. The top-of-the-line LX features leather upholstery, a limited-slip differential and chrome door handles. Anti-lock braking and traction control is an $890 option. Also in "going first class", Hyundai turned to recognized 4WD experts, Steyr-Puch in Austria, for the full-time four-wheel-drive system. Like many SUVs that are not meant for serious off-road duty, there is no low range in the transfer case.
The Santa Fe has a more-expensive-than-it-is feel and high quality materials are used throughout. Ride is very car-like because the Santa Fe shares mechanics with the Hyundai Sonata sedans. Handling is good, though the steering is a bit heavy and sluggish feeling. Wind noise was low, but the tires were on the noisy side. The instrument panel and controls are especially noteworthy with all but the somewhat tiny radio controls being too small for an SUV.
In good SUV fashion, visibility is great and the mirrors are very good. You get the impression that you are behind the wheel of a luxury SUV, rather than one whose base price starts at $16,934, and even a loaded Santa Fe will come in at under $23,000. There are nice touches in all versions like floor and overhead consoles, tilt steering wheel, ignition key on the dashboard and three power outlets. All Santa Fes will carry four passengers in comfort, and five people for short distances.
If the experience with other Hyundai's holds true, the Santa Fe may depreciate faster than SUVs of other brands because of the Hyundai's less than stellar repudiation. In all fairness, part of the reliability problem came because their low price brought buyers who could barely make the monthly payment, let alone afford preventative maintenance. If they lavished the attention Corvette and Mustang owners give their investments, it probably would be a different outcome. Helping here is Hyundai's outstanding warranty policy. The Santa Fe comes with a 10-year/100,000-mile powertrain warranty in addition a 5-year/60,000-mile bumper-to-bumper warranty. There also is roadside assistance for five years. And this is a "Best in the Industry" Warranty. By Bill Siuru and Andrea Stewart © AutoWire.Net - San Francisco

Byline: By Bill Siuru and Andrea Stewart © AutoWire.Net - San Francisco
Column Name: "Built in Korea for North America"
Topic: 2001 Hyundai Santa Fe
Word Count: 794
Photo Caption: 2001 Hyundai Santa Fe
Photo Credits: Hyundai Internet Media
Series #: 2001 - 17
Download the Microsoft Word version here: 2001 Hyundai Santa Fe
Download the original image file here: 2001 Hyundai Santa Fe 50k