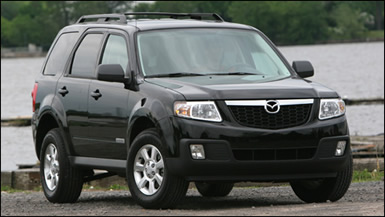 SUV Review: There comes a point in every person's life when they realize they're no longer young. For me that moment came when I heard a Nirvana song playing as background music at Wal-Mart. Hearing Kurt Cobain wailing while people shopped for their deodorant and ground beef, I instantly knew I was on my way to becoming an old man.
But pop culture isn't the only way to tell. Some new cars do the exact same thing. When the Ford Escape first came out around eight years ago, I remember being absolutely amazed at how quiet and smooth it drove. It was one of the first car-based SUVs on the market, and compared to the traditional truck-frame SUVs, it was like heaven on wheels.
The Escape's refinement made it such a success that car, truck and SUV buyers snapped it up, and suddenly every other carmaker had their own car-based SUV to compete with it. That's the problem.
Today I'm driving a Mazda Tribute, essentially a clone of the Ford Escape, and instead of thinking it's smooth and quiet, I think it's rough, bouncy and noisy. It's not that the Tribute has gotten worse; it's that all its competitors have simply gotten better.
Mazda is trying to eke out a few more drops of life from this mini-SUV by giving it a new skin, but its guts remain essentially the same. The new body and interior styling both look nice and should draw some more interest to its aging, yet still respectable, basic design.
Compared to Mazda's newer, award-winning SUVs, the CX-7 and CX-9, the Tribute looks more boxy and traditional, which isn't bad. It definitely looks tougher than those bulbous Mazda's and would seem more at home in the woods than in the city.
It feels tougher, too. While it's not designed for serious off-road driving, the Tribute still has the meaty, hefty feel and high, upright driving position of an SUV. While newer crossover designs are certainly more light and car-like in their driving feel, which makes me happy, other people may like the Tribute's classic SUV grunt. It's a matter of taste.
In addition to the restyled body and slick new interior, the Tribute gets some new standard safety features including side-impact air bags and curtains, stability control, traction control and a tire pressure monitoring system.
Mazda also streamlined the trim options for 2008. Now you have three simple choices: the basic Sport model at $19,495, the mid-level Touring Edition for $21,090, and the luxurious Grand Touring for $23,280. And if you want a V6 engine, that will cost roughly $1,500 more depending on the trim. Another option will soon be the Tribute Hybrid, which is expected to cost around $3,000 more and get about 35 MPG Highway.
All Tributes come with a well-thought-out interior. While it's not particularly roomy, there are lots of little places to store things, including four within reach of the driver and five within reach of the front passenger. A center console is big enough to store a laptop and there's plenty of cargo space in back.
One word of caution: Mazda likes to pretend all its vehicles are worthy of the racetrack, even its minivans, but don't believe it about the Tribute. It drives like a run-of-the-mill SUV, and even if you were to try to have fun in it, the traction control kicks in far too early to enjoy yourself.
Overall, I think the Tribute is a fine vehicle for people who want the style and driving position of a traditional SUV. For those of us who prefer the smooth, silent, sleek crossovers, and there are a lot of us, I hope Mazda and Ford bring the next generation Tribute to market quickly. After all, I'm not getting any younger.
What was tested? The 2008 Mazda Tribute S Sport with a base price of $21,555. Options on test vehicle: None.
Total MSRP Price as tested: $21,555.
Why avoid it? It's clearly still based on an old design that's bumpier and noisier than its more recently designed competitors.
Why buy it? It looks like a traditional off-road SUV, with a high seating position and a beefy driving feel. It has a new, good-looking and well-designed interior. The Mazda Tribute has a new body that looks fresh without losing its traditional, muscular shape. And an all-new interior looks nice with its contrasting color scheme and modern style. It's also well designed with lots of storage nooks.
By Derek Price © AutoWire.Net - San Francisco
Byline: Car Review provided by Tony Leopardo © AutoWire.Net

Column Name: Mazda Tribute feeling its age
Topic: The 2008 Mazda Tribute SUV
Word Count: 810
Photo Caption: The 2008 Mazda Tribute SUV
Photo Credits: Mazda Tribute Internet Media
Series #: 2008 - 52
Download the Microsoft Word version here: 2008 Mazda Tribute
Download the Original Image File here: 2008 Mazda Tribute