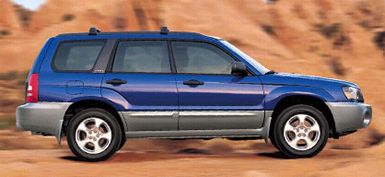 SAN FRANCISCO: Sport utility vehicles are an important and growing segment of the American automotive marketplace. Every year, more choices arrive, with each manufacturer hoping to lure buyers away from the competition. New for 2003, Subaru has redesigned their Forester SUV Station Wagon.
Subaru entered the SUV market in the 1970s by offering all-wheel-drive on its wagon models. These rugged vehicles quickly became the favorites of skiers and folks living in snowy climes. Subaru even became the official sponsor of the U.S. Olympic Ski Team. Back then Subaru wagons pretty much had the all-wheel-drive car market to themselves. They predated today's small SUVs by Toyota, Honda, Ford, and others.
After years of successfully selling all-wheel-drive Outback models in the 1990s, Subaru decided to produce a wagon that looked more like a sport utility vehicle. They cleverly placed the more upright Forester body on the small Impreza wagon platform. The main differences between the Forester and the Impreza are the Forester's higher seating point and roofline, as well as its ability to haul lots of gear. The Forester, which debuted in 1997, has become one of Subaru's most popular models.
But after more than a decade of SUV madness, two things have become very clear. Most people don't ever travel offroad with their SUV and many people want their SUV to drive like a car, not a truck.
For 2003, the Forester is completely redesigned, with more integrated styling, a beautiful new interior, and more standard equipment. And with all that, the weight of the car has dropped and the prices have changed very little from the previous model. The new car comes in two renamed model lines, the 2.5 X and the upgraded 2.5 XS. Subaru stirred most of the good stuff into the basic recipe of the 2.5 X model and made the XS a lavishly equipped cruiser. For true sybaritic luxury, a Premium Package is available with the XS.
No matter which model you buy, you get the same tried-and-true horizontally opposed flat-four engine. These days this powerplant puts out 165 horsepower at 5,600 rpm and 166 lb.-ft. of torque at 4,000 rpm. The flat "boxer" engine keeps the center of gravity nice and low, and although it sounds a little different from a standard inline four as you wind it out, it pulls the 3,100-pound wagon along nicely.
With the standard five-speed manual, Subaru has brought back its famous Hill Holder clutch technology. This handy device holds the car on a hill when you press in the clutch and release it. It lets you start up again without sliding back into the guy behind you. This proved useful on the steep grade of Wyndale Avenue in Castro Valley, a street that would feel familiar in San Francisco.
The Forester feels light and agile as you drive it, while still providing gobs of usable cargo space, all within a relatively short footprint. With the precise-shifting manual transmission and four-wheel independent suspension, the car actually feels sporty. Subaru has traditionally provided solid, attractive interiors, especially recently, but this one is downright pretty. A fat, leather-wrapped steering wheel sits in front of a compact binnacle with three circles of gauges. A silvery center console has the natural, clean layout of a Volvo. Smooth, simple lines on the bucket seats and door panels give a touch of elegance. Net pockets in the doors provide a more spacious feel than the typical plastic slots. The upper dash is dark against a lighter shade below, and this two-tone motif is echoed along the doors as well, forming a ring around the occupants that looks and feels protective.
Subarus are safe cars. The Forester uses Subaru's Ring-Shaped Reinforcement Frame structure for a lightweight but strong backbone. All Foresters get bigger front disc brake rotors this year, and four-channel, four-sensor anti-lock brakes are standard across the model lines. The XS model adds Electronic Brake Force Distribution to balance braking between front and rear and provide extra stability.
It's the all-wheel-drive system that really shines though. The compact unit sends power to all four wheels all the time and distributes engine torque to where it is needed, all without any driver intervention. In manual transmission-equipped models, Continuous All-Wheel Drive uses a viscous-coupling center differential to divide engine power equally front and rear until wheel slippage sends power to the wheels that have a better grip.
Automatic-equipped cars use Subaru's Active All-Wheel Drive, which uses an electronically managed continuously variable transfer clutch. This system evaluates information from sensors to determine how weight transfer affects the amount of traction that the car has available at any given time.
Prices start at $20,545 for the 2.5 X with a manual transmission and range up to $25,445 for the 2.5 XS with automatic transmission and the Premium Package. The Premium Package includes one of the largest sunroofs I have ever seen in a car. The price of the XS without the Premium Package is about halfway between those numbers.
With the high level of equipment, driving enjoyment, and peace of mind the Forester provides, any model is a great deal. Neither too big nor too small, it combines SUV practicality with passenger car comfort and driving pleasure.
By Steve Schaefer © AutoWire.Net - San Francisco

Subaru Home Page
Byline: Syndicated content provided by Tony Leopardo © AutoWire.Net
Column Name: A new Subaru Forester SUV Station Wagon
Topic: The 2003 Subaru Forester
Word Count: 931
Photo Caption: The 2003 Subaru Forester
Photo Credits: Subaru Internet Media
Series #: 2002 - 38
Download the Microsoft Word version here: 2003 Subaru Forester
Download the original image file here: 2003 Subaru Forester