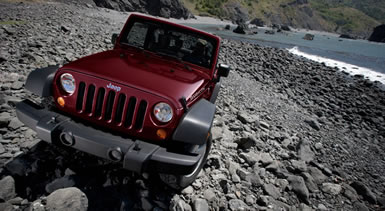 Jeep Wrangler Review: The Jeep Wrangler claims ancestry with the World War II simple device, complete with its round headlamps, seven-slot grille, straight sides, separate front fenders, and folding windshield. The Wrangler Unlimited, introduced for 2004, added 20 inches and two rear doors, making it a five-passenger model. For 2010 the Wrangler goes upscale with the Unlimited models.
Like its ancestors, this vehicle truly goes off road as much as you want. Sticking to the traditional body-on-frame, heavy-duty structure, short front and rear overhangs, and a driver-operated four-wheel-drive lever, the four-wheel-drive Wrangler will climb anywhere.
It's amazing how pleasant my Black Clearcoat 2010 Wrangler Sahara was in town and on the interstate. The longer wheelbase is a factor, but my tester also had the optional Freedom Top, a removable hardtop that is well sealed against the elements. Removing it takes time, but can be done, and then the standard soft top takes over. The Freedom Top option has two sections in front that can be removed separately, making the Wrangler a T-Top sunshine machine.
My 2010 Wrangler had the "old" dashboard design. Things have come a long way since the painted metal panel of the old CJ Jeeps, so the all-new 2011 interior is a real thing of beauty. The more upright, angular one in my car did convey stripped-down muscularity, and even in the 2011 model the windshield remains flat as the windows in your house, with the ability to fold down and lay flat on the hood.
Wrangler Unlimiteds come in Sport, Sahara and Rubicon models. Sport is the entry level, and you can even buy a two-wheel-drive version if you want it for the looks and feel of a 4-wheel drive Jeep, but don't need the off- road capability. The two-wheel-drive version is couple of hundred pounds lighter too.
My tester was the popular midrange Sahara model, with more equipment and style. The Rubicon version is specially set up for rugged offroad use.
Sport and Sahara four-wheel-drive models use the Command-Trac system with 2WD high, 4WD high and 4WD low plus neutral, and a 2.72:1 low drive ratio. The Rubicon's special heavy-duty Rock-Trac system has a 4.0:1 low drive ratio, giving it extra ability to work its way slowly across boulders, crevices and dusty inclines with grace.
All Wrangler Unlimiteds employ a 3.8-liter V6 that puts out 202 horsepower and 237 lb.-ft. of torque. Through the optional four-speed automatic it worked capably, but my tester was slow to take off unless I really stomped on the accelerator in traffic. Moving 4,300 pounds with 202 horsepower is not an instant experience.
Fuel economy is officially listed by the EPA at 15 City, 19 Highway, with an average of 17. I averaged 17.1 MPG. Now the EPA is pretty close with their estimates these days. The EPA's Green Vehicle Guide gives the Wrangler Unlimited a praiseworthy 7 on the Air Pollution score but only a 3 for Greenhouse Gas.
Like most people I spent my test week on public roads, and frankly, I would hesitate to take a good-looking, well-equipped vehicle like my tester offroad, especially if I didn't own it. My car was a poster child for the options list, containing many chrome extras, including the grille, mirrors, taillamp guards, fuel filler door and exhaust tips. These all glistened nicely against the all-black car body.
Also in chrome was the set of tubular side steps, with their black plastic tops with rugged crossbars that resembled the slip-resistant metal access doors in a sidewalk. The automatic transmission added $825 that I probably wouldn't have spend on my own Wrangler.
The Trailer Tow Group would be great for pulling your boat to the lake. With a 3.73 or 4.10 rear axle ratio, you can tow up to 3,500 pounds. The rear seats fold, so you could carry nearly 87 cubic feet of stuff before resorting to adding a U-haul trailer.
The Sahara model is full of pleasantness, from a 368-watt, seven-speaker Infinity Stereo; power windows and locks; remote keyless entry; air conditioning and much more. For safety, four-wheel antilock disc brakes with brake assist and traction control stop you effectively.
Electronic Roll Mitigation helps keep the vehicle upright, although the government safety ratings give this tall, narrow vehicle just three stars for Rollover. The crash scores, however, are perfect five-star ratings, and there are plenty of multi-stage airbags to help in an accident.
Prices start at $24,160 for a Sport with two-wheel-drive with a manual transmission. My Sahara four-wheel-drive model with the automatic trans began at $28,905, and with all the options and the destination charge came to an MSRP sticker price of $36,430.
So, why buy one? If you're truly serious about offroading, the Jeep is made for it, and the Rubicon model is the one for you. Onroad, there's a certain old-fashioned style and feel that is filtered out in most other SUVs, even in Jeep's luxurious new Grand Cherokee. For today, the Toledo, Ohio built Wrangler soldiers on, getting better and better with each year.
By Steve Schaefer © AutoWire.Net - San Francisco
The Bottom Line: The 2010 Jeep Wrangler Unlimited is Jeep's way of saying "thank you" for supporting the Jeep brand for over 60 years now.
Since WW II, jeep has been the go-to vehicle for off-road ventures. Now with the new 4-door Wrangler Unlimited models, pleasure is added to the ruggedness formula of style, grace and fortitude. Jeep just knows how to get the job done. Drive one, Buy one, Today©.
Bottom Line Review provided by: Tony Leopardo © AutoWire.Net
The 2010 Jeep Wrangler Unlimited Review provided by:
Tony Leopardo © AutoWire.Net
"Tony the Car Guy" is an automotive writer, editor and publisher in the San Francisco Bay Area. If you have a question or comment for Tony send it to TonyLeo@pacbell.net or visit AutoWire.Net at www.autowire.net - And remember: " You Are What You Drive "

Column Name: Jeep just knows how to get the job done
Topic: The 2010 Jeep Wrangler Unlimited
Word Count: 1,040
Photo Caption: The 2010 Jeep Wrangler Unlimited
Photo Credits: Jeep Wrangler Internet Media
Series #: 2010 - 49
Download the Microsoft Word version here: 2010 Jeep Wrangler

Download the Original Image File here: 2010 Jeep Wrangler