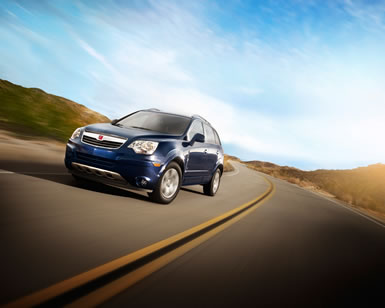 SUV Review: Saturn, the car brand, not the ringed planet, has always been a mystery to me. On one hand itís the most lovable branch of General Motors, one that keeps its buyers sublimely happy.
Saturn buyers are among the most loyal a dealer could wish for, largely because they rate their buying experience so high. Itís the no-hassle dealerships they love, not necessarily the cars themselves.
And thatís no surprise. When you drive the vehicles Saturn produced before this year, youíll find theyíre mainly garbage, nothing but puffed-up Power Wheels toys covered in plastic bodies and driven by chain-saw engines.
Starting recently, though, Saturn began rapidly dumping its geriatric lineup in favor of new, fresh, decent vehicles, oneís people might want to buy even if the companyís dealerships were staffed entirely by angry, drunk midgets.
The Sky is one of those. This two-seat convertible sports car is not only fun to drive, but absolutely gorgeous. Saturnís bread-and-butter SUVs are joining the improvement party, too.
The Vue, introduced in 2004 as a low-cost but otherwise lackluster Crossover, is totally new for 2008. The cretaceous-period design of the old Vue is replaced by, believe it or not, a newish European car called the Opel Antara.
The Saturn Vueís cabin is roomy for a compact SUV, allowing plenty of
space for knees and hips, even in the back seat. While I normally think badge engineering is stupid, in this case it did Saturn a lot of good. The Opel-based Vue is as handsome on the outside and as comfortable on the inside, with a stylish cabin and smooth ride.
The ride is actually softer and squishier than in most SUVs, especially the new ones that try to be sporty. The whole vehicle dips and dives quite a bit when you stop or accelerate, but it has a nice feeling of levitation on the highway, if you like that sort of thing.
Another strong point comes at the engine buffet. You have three tasty choices, ranging from a fuel-thrifty 2.4-liter four-cylinder to a powerful 3.6-liter V6.
Acceleration with the biggest engine is almost V8-like. On the downside, so is its gas mileage. It only gets 16 miles per gallon in town, according to the federal government. Another drawback is the higher price.
While the original Vue was a dirt-cheap SUV, the new one starts at $21,400 for the base model and more than $31,000 for a fully loaded all-wheel-drive version. Thatís a lot of money for a Saturn, even if it is a great vehicle.
What was tested? The 2008 Saturn Vue XR AWD with a base price of $26,270. Options: Premium trim package for $1,075, a convenience package for $505, a navigation system for $2,145, the trailer towing package for $350 and an advanced audio system for $325. The total MSRP price as tested, including the $625 destination charge, is $31,295.
Why avoid it? It can get expensive for a Saturn, especially considering its budget-minded predecessor, and has a soft, squishy ride some people wonít like.
Why buy it? It looks nice, drives well and is very comfortable on the road. Itís a vast improvement over the previous Vue and shows how Saturn is committed to selling better vehicles than in the past.
By Derek Price © AutoWire.Net - San Francisco

Byline: SUV Review provided by Tony Leopardo © AutoWire.Net
Column Name: Saturn taps European brand for all-new SUV
Topic: The 2008 Saturn Vue XR AWD SUV
Word Count: 617
Photo Caption: The 2008 Saturn Vue XR AWD SUV
Photo Credits: Saturn Vue Internet Media
Series #: 2008 - 08

Download the Microsoft Word version here: 2008 Saturn Vue
Download the Original Image File here: 2008 Saturn Vue