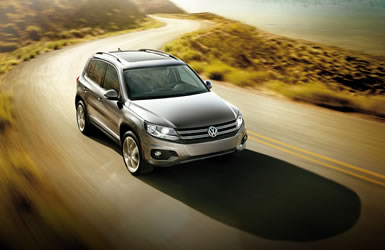 The 2014 Volkswagen Tiguan Review: If you want to know what sets the Volkswagen Tiguan apart from the other gazillion crossover vehicles on the market, it's one word: fun. That's a hard thing to quantify, but the Tiguan seems to have it in spades. It's sporty like the Mazda CX-5 and spunky like the Kia Soul, but it combines those traits in a unique way that only VeeDub can do.
Part of the fun comes from the Tiguan's base engine, a turbocharged 2.0-liter four-cylinder that makes 200 horsepower and 207 pound-feet of torque. That's a good amount of power for this size crossover and helps contribute to a fast, zippy vibe, even in the $22,995 base model.
But even more than that, the Tiguan has a sense of German precision that's rare to find in this price class. It has a nicely tuned suspension, doors that shut with a quality "thud," and dials that click with the delicacy of a mechanical watch movement. It just feels like it's got more engineering thought and originality to it than many cars in this class.
One example: the switch for the climate control system doesn't have just a few limited options for blowing air on your feet, at your head or on the windshield via the defroster. It's got a knob with an almost infinite amount of variation, letting you pick the exact mixture of air that you want. If you're the kind of picky person who wants just a little air blowing on your feet and a lot on your face, or vice versa, that's an important thing.
The Tiguan's changes for 2014 are mainly about value, taking popular features and expanding them to trim lines at lower prices. The Fender Premium Audio System, for example, is now available on more affordable lines.
Volkswagen is also adding a sport-focused R-Line package to the Tiguan this year, topping the lineup at $36,535. It adds leather seats, 19-inch wheels, a firmer suspension setup and a long list of luxury add-ons as standard equipment.
Finally, Volkswagen is offering its VW Car-Net system on the Tiguan for the first time, available on SE trim and above. It includes a six-month free trial for its digital features, including Automatic Crash Notification, Roadside Assistance and stolen vehicle location assistance.
My test car was a mid-range SE, priced from $26,995. Even though it didn't have the fancy R-Line setup, it still had some of the same spirit as Volkswagen's iconic, fun-to-drive GTI, with which it shares an engine.
It's a tossable car, one that delights in taking corners, but it also comes with the inherent practicality of a crossover vehicle. it comes with tie-down hooks and a 12-volt outlet in the cargo area, plus a strong roof rack for carrying bike racks or kayaks.
What was tested? The 2014 Volkswagen Tiguan SE with a base price of $26,995. Options on the test car: A set of Monster Mats for $235 and a first aid kit for $35. The total MSRP price as tested including the $865 destination charge came to: $28,130.
Wheelbase: 102.5 in.
Length: 174.5 in.
Width: 71.2 in.
Height: 67.1 in.
Engine: 2.0L inline four cylinder, 16V, turbocharged/intercooled, TSI (200 hp, 207 lb.-ft.)
Transmission: Six-speed automatic with Tiptronic® manual shifting, Sport mode, and
Dynamic Shift Program (DSP)
EPA Mileage: 21 city / 26 highway
Why buy it? It actually has some personality to it, which is rare for a mid-size crossover. It's a practical family car that's also enjoyable to drive. And if you've got to have a practical family car, you might as well have some fun with it. And that's what the Tiguan is all about.
By Derek Price © AutoWire.Net - San Francisco
The 2014 Volkswagen Tiguan Bottom Line Review provided by:
Tony Leopardo © AutoWire.Net
The Bottom Line: The Volkswagen Tiguan's cabin has a sporty, driver-centered look, matching its personality as a fun driver's car. The new for 2014 R-Line trim package adds leather seats, 19" sport wheels and a firmer suspension, with a loaded cabin to go along with its sport-themed styling.
What's cool about the Tiguan is it's pure German enjoyment with turbo power and maybe that's why you should "Drive one, Buy one, Today ©" Bottom Line Review provided by: Tony Leopardo © AutoWire.Net
"Tony the Car Guy" is an automotive writer, editor and publisher in the San Francisco Bay Area. If you have a question or comment for Tony send it to TonyLeo@pacbell.net or visit AutoWire.Net at www.autowire.net - And remember: " You Are What You Drive © "

Column Name: VW Tiguan has turbo power, unique feeling
Topic: The 2014 Volkswagen Tiguan
Word Count: 809
Photo Caption: The 2014 Volkswagen Tiguan
Photo Credits: Volkswagen Tiguan Internet Media
Series #: 2014- 07
Download the Microsoft Word version here: 2014 VW Tiguan
Download the Original Image File here: 2014 VW Tiguan