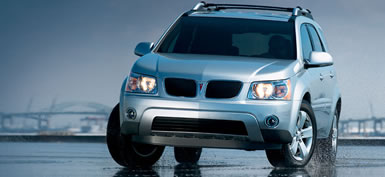 Crossover Review: Pontiac has spent decades telling us its cars are about excitement. That makes sense when you think about all the hot Pontiacs through out the years, like the GTO, Firebird and Trans Am. Those cars were worthy of the "Building Excitement" advertising slogan.
Looking at the brand's lineup today though, and you have to wonder if it should change the tagline to "Pontiac: A Way for GM to Sell More Chevys."
OK, perhaps that's a bit harsh. There's still a true sports car, the Pontiac Solstice and a sporty, stylish coupe called the G6, but adrenaline pumps like the Firebird and GTO have been dropped. Plus with a couple of wagons in the stable, the Torrent and the Vibe, it leaves the brand vulnerable to some criticism; that it's strayed from its performance-based roots.
Thus, the 2008 Torrent GXP is born.
Those three initials mean Pontiac has added some spice to the Torrent, a crossover vehicle that's like a tall station wagon. While the normal Torrent is essentially a Chevy Equinox wearing a Pontiac mask, the GXP version comes with a lowered suspension, 18-inch wheels and a 3.6-liter, 263-horsepower V6 engine. That's 78 horses more than the base Torrent and enough ponies to reach 60 mph in 6.9 seconds.
That zero-to-60 time may seem like an eternity for a sports car, but for a big, SUV-like vehicle it's actually quite impressive.
The Torrent can comfortably seat five. Pontiac's signature red back lighting in the instrument pod seems especially fitting in this modern-looking interior. And a sculpted hood and revised face are the biggest giveaways that this is not just a Torrent, but a sporty Torrent GXP.
It also means the Torrent GXP has joined a new class of crossovers that put more emphasis on sport and less on utility in the SUV equation. Vehicles like the Mazda CX-7 all aim to provide driving satisfaction in addition to the comfortable, family-friendly layout of a traditional SUV.
Does the Pontiac competitor succeed? Yes and no.
Certainly compared to the blandness and so-so performance of low-priced crossovers, the souped-up Torrent is fun to drive. It's a little more controllable, balanced and sensitive to driver input than a normal family hauler. Plus the 263 horses give it a nice kick when you step on the gas, and that's what Pontiac is all about.
What Was Tested: The 2008 Pontiac Torrent GXP with a base price of $29,995. Price as tested: $29,995
Why Avoid It: New Torrent GXP is powerful but still a station wagon.
How much fun can that be?
Why Buy It: It's more fun to drive than a typical, dull crossover SUV.
The Torrent GXP starts around $28,000 for front-wheel drive or $30,000 with all-wheel drive. It comes with plenty of whistles and bells at that price, including a six-speed automatic transmission, a lot of advanced air bags, remote keyless entry, power everything, and a nice-sounding stereo with an auxiliary jack for your MP3 player.
By Derek Price © AutoWire.Net - San Francisco

Byline: Crossover Review provided by Tony Leopardo © AutoWire.Net
Column Name: Pontiac adds excitement to their crossover
Topic: The 2008 Pontiac Torrent GXP
Word Count: 563
Photo Caption: The 2008 Pontiac Torrent GXP
Photo Credits: Pontiac Torrent Internet Media
Series #: 2008 - 06

Download the Microsoft Word version here: 2008 Pontiac Torrent GXP
Download the Original Image File here: 2008 Pontiac Torrent GXP