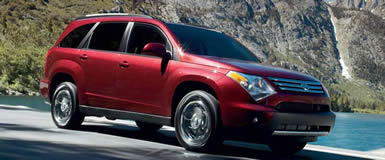 SUV Review: The Suzuki XL7 has a car-like body, but it's not a normal crossover SUV. It also uses traditional frame rails, giving it a combination of car-like solidity and truck-like durability. The interior space is what the XL7 is all about.
For its price, starting around $21,000, it's one of the biggest vehicles you can buy. There are plenty of things I like about this vehicle, the Suzuki XL7. It has a refined drivetrain, lots of space inside and great safety ratings.
There's one reason I wouldn't buy it, but let's start with the good news.
The XL7 is a lot of vehicle for the money. The base model costs around $21,000, the same as a well-equipped compact car, but it has a whole lot more space. It's nearly the size of a full-size SUV but looks like a trendy crossover vehicle with gentle curves and a high beltline.
Its engine and transmission are impressive, too. It feels powerful and smooth when you step on the right pedal, a huge improvement over the sluggish and clunky previous generation XL-7. It only gets 18 miles per gallon in town, but it never feels like it's grunting or straining.
It also has a great warranty, with no deductibles, for 100,000 miles or seven years. And you'll feel safe driving with your family in it thanks to its quadruple five-star crash safety ratings from the federal government.
So what does it lack? - Excitement.
Yes, I realize this is a family-friendly SUV with a low price tag, so it's unreasonable to expect it to be all that thrilling. When you think about spending that much money on one purchase, though, even if it's a bargain, there needs to be something that pushes your emotions over the goal line. Something about it should make you want to dance.
After spending a week driving this SUV, I never found that magic feature, that one awesome gimmick, that would make someone drool over an XL7. It didn't play MP3 discs in the base radio. It didn't get amazing gas mileage. It didn't look stunning. It didn't accelerate like it was being pushed by God. And it certainly didn't have a good suspension.
Driving it felt more like maneuvering a big delivery van as it bounced and hopped down the road. That would be forgivable if it had a smooth, luxurious ride, but the XL7 doesn't. It seems to amplify bumps rather than hide them.
But I do see why people buy this vehicle. It offers an unusual combination of frugality, size, performance and style that many people find attractive.
What was tested? The 2008 Suzuki XL7 Premium SUV with a base price of $23,249. Price as tested: $23,249
Why avoid it? It doesn't have any must-have features to get buyers excited.
Why buy it? It's a bargain for its size, a big SUV without a big price tag. It also has a great warranty and quadruple five-star crash safety ratings.
If Suzuki could find a way to make it a little more exciting, the company could probably find a lot more buyers.
By Derek Price © AutoWire.Net - San Francisco

Byline: SUV Review provided by Tony Leopardo © AutoWire.Net
Column Name: Suzuki XL7 has a low price for a big size SUV
Topic: The 2008 Suzuki XL7 Premium
Word Count: 595
Photo Caption: The 2008 Suzuki XL7 Premium
Photo Credits: Suzuki XL7 Internet Media
Series #: 2008 - 10
Download the Microsoft Word version here: 2008 Suzuki XL7
Download the Original Image File here: 2008 Suzuki XL7