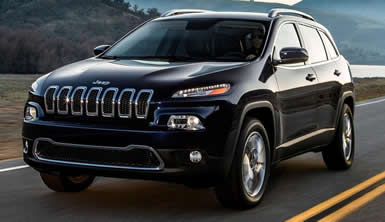 The 2015 Jeep Cherokee Review: The Jeep Cherokee is a look at the future of the Jeep brand. Jeep is nearly 75 years old, dating back to the indestructible little WWII combat units. The CJ model (Civilian Jeep) kept things going postwar, eventually becoming today's Wrangler. However, the other stream of Jeep, from the family-oriented Wagoneer to today's Grand Cherokee, is oriented to serving the needs of families, some of whom may want to go off road, or not.
The Cherokee replaced the Liberty, which served as Jeep's midsize contender from 2002 to 2003. The Liberty itself replaced the original Cherokee, which ran for two decades. A two-box, no-nonsense product, the original Cherokee became obsolescent, but certainly looked like a Jeep. The Liberty was a bit softer, especially the first generation. The 2015 Cherokee is completely new, although the familiar styling cues are there, updated for the 21st Century.
The new Cherokee is based on a platform from parent Fiat. Aimed at being the leader in the 2-million-cars-a-year midsize SUV/crossover segment, it is a very appealing and versatile package. As usual, you can equip it as a basic Jeep, or fill it with comfort or serious off-road features.
Choose from two new engines: the standard 2.4 MultiAir four-cylinder or the 3.2-liter Pentastar V6. The 2.4 generates 184 horsepower and 171 lb.-ft. of torque, and is about 45 percent more efficient than the base Liberty engine it replaces. The V6 ups that substantially, to 271 HP and 239 lb.-ft. of torque respectively.
Both engines run through a nine-speed automatic, the only transmission available, and the first use of the nine-speed in the midsize SUV segment. Benefits of this gearbox are more aggressive launches, smoother power delivery, and greater fuel economy.
It wouldn't be a Jeep without the availability of four-wheel drive, but as has been the case for a long time, you can also get two-wheel drive if you don't need off-road ability. There are three levels of 4WD, including Active Drive I, Active Drive II and Active Drive Lock. Active Drive I has a single power transfer unit, and works without driver intervention, as needed.
This is handy for improved traction in normal driving. Active Drive II adds a driver-selectable low gear, which locks the axles for low-speed power and towing, as well as enhanced climbing ability. Active Drive Lock adds a locking rear differential.
Choose from four ascending levels, Sport, Latitude, Limited, and Trailhawk. My tester was a Latitude model, in Granite Crystal Metallic Clear Coat paint, with the optional V6 engine and Active Drive II. It also contained upgraded interior electronics and a rear-view backup camera. The Sport is your entry point, starting at $23,990, while the Limited offers more luxurious accommodations. My Latitude started at $27,490, but with options came to $31,020. All prices include delivery charges.
The Trailhawk is the Cherokee for serious off-roaders, its even Trail Rated, and gets Active Drive Lock standard. It wears unique styling, with improved approach and departure angles, an extra inch of height, skid plates and tow hooks. This is the one for the Rubicon Trail.
My two-ton test Cherokee had the optional 3.2-liter V6, which made driving effortless and quick. It's the first use of this smaller V6 based on Chrysler's award-winning 3.6-liter V6. I averaged 21.1 mpg, which matches the EPA's 21 Combined rating (19 City, 26 Highway). The 2.4-liter four with two-wheel-drive earns 22 City, 31 Highway and 25 Overall. EPA green numbers are 6 for Smog and 5 for Greenhouse Gas.
My tester had the Selec-Terrain system, a console-mounted dial where you can decide how you want the car to behave on different surfaces. Choose from Snow, Sport or Sand/Mud, or leave it in Auto and let the car decide. There is also a button for engaging the 4WD low gear, and hill descent control, useful when climbing down a hill using that low gear.
The inside of the new Cherokee blends some traditional elements with a softly contoured, high quality design that feels substantial but is very pleasant to look at. It integrates the Fiat Chrysler Auto touch screen, which with the upgraded UConnect 8.4 inch display, makes it easy to control entertainment, climate, and other features with large, colorful buttons and easy-to-read displays.
Offroading, like war, is a serious business, but today, Jeep delivers luxury too. Enjoy its Limited models for pleasant daily motoring, or go for serious offroading with the rugged Cherokee Trailhawk.
There's even some whimsy too, such as the "easter egg" design features. Along the black windshield trim edge, dash center, is a tiny silhouette of a classic Jeep CJ climbing a hill. It, along with the "Since 1941" embossed into the lower steering wheel spoke, reminds you of where Jeep has been, while the fresh Cherokee design and technology tells you where Jeep is going. By Steve Schaefer © AutoWire.Net - San Francisco
The Bottom Line: The 2015 Jeep Cherokee is a rugged, all wheel drive, trail rated Jeep for the next century. Aggressive styling coupled with 4 trim options and three levels of 4WD, enable a Cherokee to go over the Rubicon Trail with ease, and in style. From a basic 2 wheel drive model all the way up a Limited Trailhawk Edition there is now a Jeep Cherokee for everyone. With a brand new year, and with all the economic signs pointing positive, maybe, just for that reason alone, you should "Drive one, and Buy one, Today ©" And remember: " You Are What You Drive ©"
Bottom Line Review provided by: Tony Leopardo © AutoWire.Net
The 2015 Jeep Cherokee Bottom Line Review provided by: Tony Leopardo © AutoWire.Net - "Tony the Car Guy" is an automotive writer, editor and publisher in the San Francisco Bay Area. If you have a question or comment for Tony send it to TonyLeo@pacbell.net or visit AutoWire.Net at www.autowire.net - And remember: " You Are What You Drive © "

Column Name: Today Jeep delivers luxury too
Topic: The 2015 Jeep Cherokee
Word Count: 1,034
Photo Caption: The 2015 Jeep Cherokee
Photo Credits: Jeep Cherokee Internet Media
Series #: 2015 - 04
Download the Microsoft Word version here: 2015 Jeep Cherokee
Download the Original Image File here: 2015 Jeep Cherokee