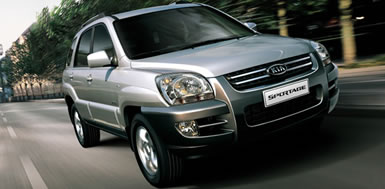 SUV Review: The 2008 Kia Sportage seats five people comfortably and it compares well with other compact SUVs, particularly in terms of price and standard equipment. This vehicle carries the Sportage name, but it's nothing like the cramped, truck-based original Sportage.
If there were a contest for the worst car in history, I'm pretty sure the original Kia Sportage would be somewhere on the list.
Sure, the Renault LeCar, the Cadillac Cimmaron, the Yugo, Chevy Vega, Ford Pinto and anything from AMC, would give it some serious competition. But the first Sportage, introduced in 1993, was a clown car that was built like a pickup, with a body seemingly made from Reynolds aluminum. It sounded like a dump truck, drove like a golf cart and had the exact same horsepower as an electric can opener.
If you parked it in your driveway, it would lower the value of your home by 50 percent, or maybe more.
In a wonderfully merciful move by Kia, the original Sportage disappeared after 2002 and only came back as a completely different, totally unrelated vehicle in 2005. Why Kia decided to revive the Sportage name on this new car is one of the world's great mysteries because - let's be honest - does anyone pine for the emotions they felt when they first drove a 94-horsepower Kia truck?
In any case, today Kia builds a fairly nice SUV that they oddly still choose to call the Sportage. Now it's based on a car and actually competes well with other car-based SUVs when you consider its low price, impressive safety ratings and high level of standard equipment.
It starts at just $16,000 for a stripped-down model, but you probably don't want that one. It has a manual transmission and no air conditioning. Unless you live in the Arctic you'll probably want the one with A/C and an automatic for around $19,500, or one with a V6 and four-wheel drive for $21,345.
It's that top level where the Sportage really looks like a bargain. Where else can you get a loaded V6 SUV with leather and four-wheel drive for the low $20s? This is pretty much your only choice.
Even the LX models aren't too shabby. They come with power everything and cruise control. They also have enough safety features to earn a five-star front- and side-impact safety rating from the government, including things like six air bags, electronic traction control and stability control to help avoid accidents.
Upgrading to the EX models, which aren't much more expensive, will get you a sunroof, keyless entry and better fabric on the seats. If that's not enough, you can add the $1,300 luxury package that comes with leather seats that are heated in front, automatic headlights, an upgraded stereo and built-in garage door opener.
Sadly, the upgraded stereo still can't play MP3 discs, a feature even the cheapest economy cars are starting to add as standard equipment.
And, worst of all, even with the V6 engine it feels slightly sluggish. The V6 only makes 173 horsepower, which would be plenty in a small car but isn't impressive in a heavy SUV. That wouldn't be so bad if it got awesome gas mileage, but it doesn't. It only gets 17 mpg in the city.
Oh well. I suppose Kia had to find some little way to link the latest generation Sportage to the old one.
In case you're nervous about the quality of a Kia - as you should be if you know the company's reputation from the '90s - it backs up its products with a 100,000-mile, 10-year powertrain warranty and a five-year, 60,000-mile basic warranty. Surveys show the quality of Korean carmakers, including Kia, has risen dramatically in the past few years.
Overall, the Sportage offers a lot for the money, especially when you look at the top-end models. If you want a compact SUV with a V6 and leather, it's hard to justify paying thousands more for a Toyota, Ford, Honda or Chevy.
What was tested? The 2008 Kia Sportage EX 4x4 with a base price of $22,895. Options: Luxury package ($1,300). Price as tested including a $625 destination charge: $24,820
Why avoid it? Even with a V6 it doesn't feel very powerful.
Why buy it? It's a bargain priced small SUV. It has five-star crash ratings, decent standard equipment and a very low base price.
By Derek Price © AutoWire.Net - San Francisco

Byline: SUV Review provided by Tony Leopardo © AutoWire.Net
Column Name: A Kia SUV built for bargain hunters
Topic: The 2008 Kia Sportage EX
Word Count: 800
Photo Caption: The 2008 Kia Sportage EX
Photo Credits: Kia Sportage Internet Media
Series #: 2008 - 19

Download the Microsoft Word version here: 2008 Kia Sportage
Download the Original Image File here: 2008 Kia Sportage