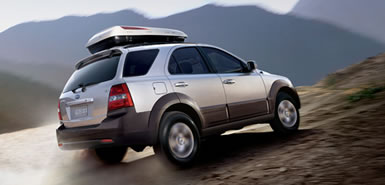 Compact SUV Review: You're looking at what is perhaps the most inoffensive SUV on the planet. It's the Kia Sorento, and while it doesn't excel at a lot of things, it's nearly impossible to find a reason to dislike it.
It's almost like the Kia engineers made a list of reasons people would refuse to buy their SUV, listing quality, price, performance, comfort or style, and then created a vehicle that was just good enough so that no one would have a reason to gripe about it.
Just look at it. The Sorento could never win a beauty contest, but it looks nice enough that no one would dare complain about it. It's a handsome car, in a plain sort of way. Even its basic structure is designed to keep everyone happy.
Do you ever need to drive off-road? Then the Sorento is for you, because it comes with a truck-like frame that you can flog in the woods. Do you do most of your driving in the city? Well, the Sorento also has a car-like body that helps it drive almost like a regular sedan.
Its engine offers a similar compromise. You can choose between two different V6 engines that get 21-22 mpg on the highway, which isn't impressive but also isn't bad enough for the Greenpeace crowd to hate you.
It's like the SUV for everyman.
But there's a serious downside to this effort to appeal to every potential buyer: the Sorento doesn't really shine in any particular area.
If you want awesome off-road performance, you'd be much better off with a Jeep Wrangler. If you want a better highway ride, you'd prefer the Honda CR-V. If you want something stylish, you'd probably like the Volkswagen Tiguan. And if you want something more fun to drive, there's the Mazda CX-7.
Instead, the Sorento tries to hit the bullís-eye in the middle of its mini-SUV competition. It drives far better than the Jeep, has more off-road credentials than the Honda and Mazda, and it's a lot cheaper than the Volkswagen. It's worse than the competition individually, but it seems better collectively.
In fact, there's only one area where it seriously outshines the competition, and it's an important one: the price tag.
It's remarkable that the Sorento is such an inoffensive vehicle for such a low price, starting under $21,500. Usually bargain-priced vehicles give you reasons to hate them, a rough ride, an ugly body, a tacky interior, but not the Sorento. It was clearly designed from the outset to be affordable, but it doesn't feel like that from behind the wheel.
Other upsides include its warranty, a 10 year / 100,000 miles powertrain coverage, and five years / 60,000 miles for everything else warranty, plus its five-star side crash rating from the government.
What was tested? The 2008 Kia Sorento EX 4X4 with a base price of $26,665. Options on the test vehicle included the Luxury package at $3,000. Total MSRP Price as tested including the $700 destination charge: $30,365.
Why avoid it? Kaiís have had a notoriously low resale value and there are a lot of SUVís that can beat it in specific areas, like on-road driving and sporty performance.
Why buy it? It gives you virtually no reason to dislike it. It can drive off-road, looks good and has impressive quality for its bargain price. The Sorento doesn't look particularly unique, but it also doesn't give you a reason to dislike it and the cabin has surprisingly nice materials and construction for its bargain price, starting under $21,500.
By Derek Price © AutoWire.Net - San Francisco
Byline: Compact SUV Review provided by Tony Leopard © AutoWire.Net

Column Name: The Sorento was designed for everyman
Topic: The 2008 Kia Sorento
Word Count: 657
Photo Caption: The 2008 Kia Sorento
Photo Credits: Kia Sorento Internet Media
Series #: 2008 - 65
Download the Microsoft Word version here: 2008 Kia Sorento
Download the Original Image File here: 2008 Kia Sorento