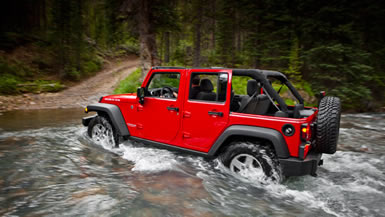 The 2011 Jeep Wrangler Unlimited Review: Through the years, I've been tough on the Jeep Wrangler because it's one of the noisiest, roughest riding, crudest vehicles you can buy. That's not entirely fair, because the Wrangler isn't designed to be quiet, smooth and refined. No, the Wrangler is designed for one thing, traveling off-road where no other vehicles can go, which, in automotive terms, puts it on another planet.
It can't be compared with traditional road cars because it's not one; it's a tool to do a job, like something you'd pick up on Home Depot's "travel the Serengeti" aisle.
I wanted to get a sense for the Wrangler in its natural habitat, so I took it to a friend's horse pasture for a romp through the grass this week. While that's not much of a challenge for the Jeep, it's engineered for much tougher environments than ruts in a field, it still totally changed my perspective about this car.
The cool thing about the Wrangler is that it can take you wherever you want to go. Just point it in the right direction, give it some gas, and it climbs over anything in its path.
It also does so remarkably smoothly. It crawls over logs like they're toothpicks and stays amazingly composed over rough terrain, soaking up big ruts in the field like luxury cars absorb bumps on the highway. You can drive on terrain that would kill ordinary cars, but the Wrangler smiles and says, "More, please."
Then, as you leave your adventure and drive back through civilization, you think "this thing is smooth as glass" as you accelerate to 70 mph on the Interstate. It's remarkable that it can do both jobs so well.
For people who want their Wranglers more refined, Jeep has finally updated the cabin, with a more modern layout and more sound deadening materials to keep it quiet.
Granted, it's still not a road car. All the bolts are exposed so you can easily disassemble the Jeep like an Erector set, but the materials and construction actually make it feel like a modern day car on the inside, not a 1940s Army surplus vehicle. But the Wrangler still pays homage to its military roots with a grab bar that says "Jeep: Since 1941" on the front dash. It should provide some comfort when your passengers are holding on for dear life.
It's also available with a body-color hard top that makes it look more upscale, almost like the Mercedes-Benz G-Class that's so adored by rap stars and professional athletes.
Other features that bring it into the modern era include: Heated seats, automatic temperature control, USB music storage, steering wheel controls, a 115-volt electrical outlet, standard electronic stability control, hill-start assist and trailer sway control.
Of course, there are also a number of drawbacks inherent in any vehicle designed for off-road driving. It's extremely heavy, which means it gets awful gas mileage, 15 mpg in town and 19 on the highway, along with the bouncy ride and top-heavy driving feel.
Finally, the Wrangler is still available in a four-door version that makes it more practical for families. Called the Wrangler Unlimited, it's actually the only four-door convertible on the market today because the top can be removed for wind-in-your-hair fun, just like on the two-door Wrangler.
And really, that's another part of the classic Jeep's appeal. There's just something magical about driving in a Wrangler, with the top down, and rock and roll music blaring on the stereo.
What was tested? The 2011 Jeep Wrangler Unlimited Sahara Edition with a base price of $30,445. Options on the Jeep: Automatic transmission for $825, navigation and stereo upgrades for $1,845, leather seats for $900, a body color hard top for $980, the Freedom Top for $735 and air conditioning with automatic temperature control for $155. The total MSRP price as tested including the $800 destination charge came to: $36,685.
Why avoid it? It has all the drawbacks of a heavy-duty off-road vehicle, including a rough, bouncy ride and gas mileage averaging around 15 mpg in town.
Why buy it? It's Jeep's best vehicle for off-road driving. It has classic American styling and a thoroughly updated interior that makes it more refined than in the past. For many drivers, it's the ultimate off-roader.
By Derek Price © AutoWire.Net - San Francisco
The 2011 Jeep Wrangler Unlimited Bottom Line Review provided by:
Tony Leopardo © AutoWire.Net
The Bottom Line: The 2011 Jeep Wrangler Unlimited is now available in a Sahara model that comes with a body-colored hard top. It makes the Jeep look classier, almost like the uber-expensive Mercedes G-Class. The Wrangler gets a heavily revised interior for 2011, the biggest change to the cabin in more than a decade. The new interior and quieter cabin tame the Wrangler, but just slightly. Now it uses softer materials and has a more modern, well-constructed design. And it's still all Jeep, and it's still a four-wheel-drive fountain of youth. So "Drive one, Buy one, Today ©"
Bottom Line Review provided by: Tony Leopardo © AutoWire.Net
"Tony the Car Guy" is an automotive writer, editor and publisher in the San Francisco Bay Area. If you have a question or comment for Tony send it to TonyLeo@pacbell.net or visit AutoWire.Net at www.autowire.net - And remember: " You Are What You Drive © "

Column Name: Jeep's pure off-roader adds some refinement
Topic: The 2011 Jeep Wrangler Unlimited
Word Count: 941
Photo Caption: The 2011 Jeep Wrangler Unlimited
Photo Credits: Jeep Wrangler Internet Media
Series #: 2011- 23
Download the Microsoft Word version here: 2011 Jeep Wrangler Unlimited
Download the Original Image File here: 2011 Jeep Wrangler Unlimited