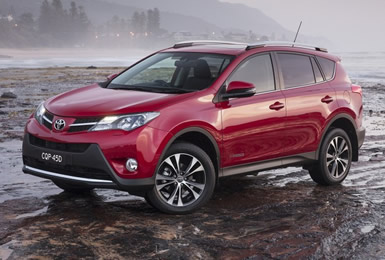 The 2014 Toyota RAV4 Review: The Toyota RAV4 has never screamed for attention, which might be a big reason it's been so successful. In fact, after driving a 2014 RAV4 for a week, I'm struck by the fact that this crossover never makes a fuss about anything. There are no gimmicks, no weirdo styling touches, no funky features to generate headlines. It simply does its job, which is to transport people comfortably while offering more cargo space and flexibility than you can get from a sedan.
Granted, there are plenty of crossovers that can do individual things better than the RAV4 does them. You can get a Mazda CX-5 if you want a sportier suspension and more driving engagement, for example, or you could opt for a turbocharged Volkswagen Tiguan if you want lots of power.
The RAV4, though, shines as a package and is a safe choice in this segment. It's the comfortable pair of blue jeans you wear because they just feel right.
Its strongest point is spaciousness, both in terms of cargo volume and passenger seating.
Some compact crossovers tend to shrink the cargo space until it's almost a joke, forcing you to fold the back seat down to bring home a big load of groceries. But in the RAV4, you get 38.4 cubic feet of space behind the rear seat, which makes it much more comfortable for road trips or hauling bulky items.
Its other big selling point is Toyota's reputation. This Japanese company has spent decades building some of the most reliable cars on the road, and the RAV4 basks in the glow of Toyota's quality halo.
After getting an all-new design for 2013 that gave it a slightly more daring look on the outside, the changes for 2014 are more minor, mainly centered around technology. There is a new Entune Audio lineup this year, along with a new technology package on the Limited grade that offers several important safety features.
On my Limited test car, the optional $725 tech package made it feel like a pricey Volvo with advanced safety features like a blind spot monitor, rear traffic alert, lane departure alert and more. All the beeps and warnings can make it feel like you've got an electronic guardian angel watching your back.
If I could improve one thing on the RAV4 it would be the gas mileage. It's not bad at 31 mpg on the highway, but it's also not that impressive when competitors are hitting 35 mpg these days.
Pricing starts at $23,550 for the base LE model and ranges up to $28,320 for the fancier Limited trim model that I tested.
What was tested? The 2014 Toyota RAV4 Limited AWD with a base price of $29,720. Options on the test car: Premium audio for $785, the technology package for $725, and carpeted floor mats for $225. The total MSRP price as tested including the $860 destination charge came to: $32,315
Engine: 2.5-liter four-cylinder (176 horsepower, 172 lbs.-ft.)
Transmission: 6-speed ECT-i automatic
Estimated Mileage: 24 mpg city, 31 mpg highway
Why buy it? While other crossovers might outshine it in individual areas, it's a fantastic crossover when you look at it as a total package. It's very spacious and has a smooth and comfortable ride.
By Derek Price © AutoWire.Net - San Francisco
The 2014 Toyota RAV4 Bottom Line Review provided by: Tony Leopardo © AutoWire.Net
The Bottom Line: The 2014 Toyota RAV4 crossover offers a very straightforward take on family transit. It feels more spacious than many of its competitors, offering SUV-like versatility in a smaller, compact package.
After a complete redesign for the 2013 model year, the 2014 RAV4 crossover gets a new Entune digital system and a new technology package on Limited models, plus the large, flexible cargo area may be the RAV4's best overall feature. And maybe, just for that reason alone, you should "Drive one, Buy one, Today ©"
Bottom Line Review provided by: Tony Leopardo © AutoWire.Net
"Tony the Car Guy" is an automotive writer, editor and publisher in the San Francisco Bay Area. If you have a question or comment for Tony send it to TonyLeo@pacbell.net or visit AutoWire.Net at www.autowire.net - And remember: " You Are What You Drive © "

Column Name: No gimmicks on new RAV4
Topic: 2014 Toyota RAV4
Word Count: 750
Photo Caption: 2014 Toyota RAV4
Photo Credits: Toyota RAV4 Internet Media
Series #: 2014- 26
Download the Microsoft Word version here: 2014 Toyota RAV4
Download the Original Image File here: 2014 Toyota RAV4