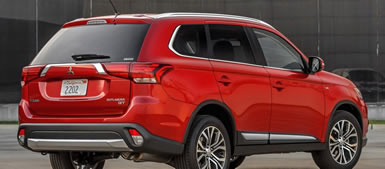 The 2016 Mitsubishi Outlander Sport GT Review: When you turn off the engine in the Mitsubishi Outlander Sport, a digital screen behind the steering wheel doesn't just go blank. It displays the words, "See you." That says a lot about the playful, seemingly youth-oriented attitude that comes from this vehicle. It's a two-row crossover, perhaps the most consistently dry segment of today's automotive market, replacing the white-bread sedan of yesteryear, but Mitsubishi tries to make this one a bit more fun.

My tester came with a big, 10-inch Rockford Fosgate subwoofer that you can hear thumping from the back cargo area. It sounds amazing with pop and rock music but awful with classical. And I think that's the whole point. This isn't a car you'd listen to Brahms in.

On the flip side, if this is a car that Mitsubishi is aiming at young buyers, it must think young folks don't care about refinement. There are a couple of areas that I think still need massaging. One, the driving feel remains strangely jittery over the road. I wish it was a bit quieter and smoother to match the subtle refinements of its competitors' road manners.

And two, the interior still isn't up to par with the industry's best. It's definitely improved this year, with a new leather-wrapped steering wheel design, better seat materials, soft-touch trim on the instrument panel and a more modern design for the air conditioning controls. It's a step up, for sure, but I'd like to see Mitsubishi go farther to make its cabins feel more up to date across the lineup.

After a week of driving it, there were several big pluses in my notebook, too: I love the fresh styling. Mitsubishi revamped the Outlander Sport's body this year to include a new front grille design that looks sleek and contemporary. Its sharp looking.

Acceleration is fantastic with the optional 2.4-liter engine. To me, it feels noticeably faster than most crossovers, with a healthy, grunty push when you first step on the gas pedal. And if I bought this car, I'd want the big, panoramic sunroof that came in my tester. It offers a great view of the sky and can be retracted to let lots of wind in your hair on pretty days.

I didn't mind the continuously variable transmission (CVT) in my test vehicle. I'm usually not a fan of CVTs because they make acceleration seem so rubbery and lifeless, but this one was tuned nicely. Plus, in a practical family hauler like this, I'd choose better gas mileage from a CVT over a better feel from a traditional automatic. It just makes sense.

Speaking of fuel economy, the Outlander Sport is rated for 24 mpg in the city and 31 on the highway with the base, 2.0-liter engine that makes 148 horsepower. The 2.4-liter engine makes an extra 20 horses but also gives you a slight fuel penalty, at 23 in the city and 28 on the highway.

You also can get your Outlander Sport with all-wheel drive, which will reduce the fuel consumption by 1 mpg, according to the government figures, but give you more confidence and capability on wet or slippery roads.

Looking at the pricing, the Outlander Sport represents a good value for the equipment you get. Pricing starts at $19,595 for the base ES model that comes with 18-inch wheels, a color LCD screen, remote keyless entry, cruise control and a tilt and telescoping steering wheel.

Even when you opt for the fanciest all-wheel-drive GT grade that adds the 710-watt Rockford Fosgate sound system, panoramic sunroof, leather seats and push-button start, the price barely tops $27,000. It seems like a screaming deal for all the content you get.
What was tested? The 2016 Mitsubishi Outlander Sport GT 2WD with a base price of $25,995. Options on the test car: None. Total MSRP price as tested including the $895 destination charge came to $26,890

Wheelbase: 105.1 in.
Length: 171.5 in.
Width: 71.3 in.
Height: 64.2 in.
Engine: 2.4-liter inline four-cylinder (168 hp, 167 ft.-lbs. torque)
Transmission: Continuously variable
Estimated Mileage: 23 city, 28 highway

Why buy it? A fresh face and revamped interior are nice improvements, and it seems like a bargain for all the content you get for the money.
By Derek Price © AutoWire.Net - San Francisco
The 2016 Mitsubishi Outlander Sport Bottom Line Review provided by: Tony Leopardo © AutoWire.Net
The Bottom Line: The 2016 Mitsubishi Outlander Sport GT gets an updated body for 2016 that includes a sleek new grille design and HID headlamps that make it look more contemporary. Updates in the cabin include a new steering wheel design, better seat materials and more soft-touch materials on the instrument panel. Add in a loud sound system, the new look and lower pricing, and it keeps the Mitsu Outlander Sport still interesting in the two-row crossover field. And maybe, just for those reasons alone, you should "Drive one, Buy one, Today ©".
This Bottom Line Review is provided by: Tony Leopardo © AutoWire.Net
"Tony the Car Guy" is an automotive writer, editor and publisher in the San Francisco Bay Area. If you have a question or comment for Tony send it to TonyLeo@pacbell.net or visit AutoWire.Net at www.autowire.net - And remember: "You Are What You Drive ©"

Column Name: A youthful bargain in price and content
Topic: The 2016 Mitsubishi Outlander Sport GT
Word Count: 936
Photo Caption: The 2016 Mitsubishi Outlander Sport GT
Photo Credits: Mitsubishi Internet Media
Series #: 2016 - 20
Download the Microsoft Word version here: 2016 Mitsubishi Outlander Sport GT
Download the Original Image File here: 2016 Mitsubishi Outlander Sport GT