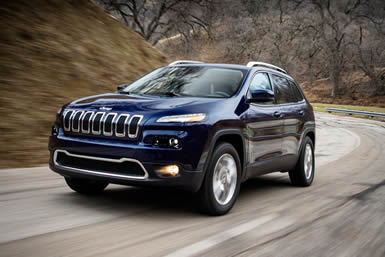 The 2017 Jeep Cherokee Overland Review: If you want a Jeep that's grand, there's an obvious place to turn. It's even in the name: the Grand Cherokee. While high-end versions of the Grand Cherokee can easily top $50,000, there's a new luxury Jeep that's considerably smaller but also doesn't require such a grand bank account. It's a fresh, premium trim level for the smaller 2017 Cherokee called the Overland.
The 2017 Cherokee Overland has two rows of seats; again, not to be confused with the roomy, three-row Grand Cherokee that shares nothing but its Native American name, and has a layer of polished, sumptuous luxury that's usually reserved for more expensive vehicles.

Priced around $35,000, the Cherokee Overland costs nearly $11,000 more than the base Cherokee and $5,000 more than the entry-level Grand Cherokee. It's not cheap. But it justifies that price with premium content, including soft Nappa leather seats that are both heated and ventilated, a dream-car feature in the South.

The interior refinement is better than any Cherokee I've driven before, both from how the materials feel and how quiet it sounds over the road. Acoustic glass in the windshield and front doors helps to keep the wind noise out, too, adding to the upscale impression over the road.

Silver anodized finishes on trim pieces remind me of the sleek look of new Apple phones. Still, the modern bits are overpowered by soft leather on the dash, Berber floor mats under your feet, and a leather and wood steering wheel, all of which leave a hint of the old-world British luxury that Land Rover has long succeeded at leveraging in expensive off-roaders.

Granted, the Overland is not the kind of Jeep I'd pick for serious off-roading. The Trailhawk remains the only beefed-up, trail-ready version of the Cherokee that I'd want to actually take on an expedition through the deep woods. If you'd like, though, you can get your Overland fitted with an optional "heavy duty protection group" that includes skid plates and a full-size spare tire, a must-have item if a sharp rock gives you a puncture when crawling through the middle of nowhere.

You can also opt for a trailer tow prep package that lets you take advantage of its respectable 2,000-pound towing capacity.

Interestingly, the Cherokee Trailhawk also moves more upscale this year with many of the same features the Overland gets, including a power lift gate, remote start, and those sweet heated and ventilated leather seats. What sets them apart, then? It's the suspension and styling.

The Trailhawk is the bad boy of the Cherokee lineup, with aggressive black and red badging, beefy red tow hooks and a taller, tougher, stiffer suspension designed for crawling over rocks. That makes it great for traversing out in the wilderness but also less comfortable and quiet on pavement.

The Overland, in contrast, feels much better on the road, with a soft, reasonably supple suspension and classier looking exterior bits, including 18-inch wheels, chrome trim and body-color moldings.

Yes, you can get an Overland with skid plates, but I think all that chrome would look out of place on the trails. It's much better suited for looking suave in the bright city lights.
As a whole, if you're looking for a luxury SUV but don't want to spend a fortune, the Cherokee Overland could make sense. It's the nicest, plushest Cherokee to date. And most importantly, compared to a traditional, full-size luxury ride, it'll save you a few grand.
What was tested? The 2017 Jeep Cherokee Overland with a base price of $34,695. Options on the test Jeep are: The 3.2-liter V6 engine for $1,745. The total MSRP price as tested including the $995 destination charge came to: $37,435

Wheelbase: 105.26 in.
Length: 182 in.
Width: 73.2 in.
Height: 66.2 in.
Engine: 3.2-liter V6 with 271 hp and 239 ft. lbs. of torque
Transmission: Nine-speed automatic
Fuel economy: 21 city, 29 highway

Why buy it? The new Overland trim offers many of the same luxurious amenities and materials as upscale versions of the Grand Cherokee but in a smaller, more nimble and efficient package. By Derek Price © AutoWire.Net - San Francisco
The 2017 Jeep Cherokee Overland Bottom Line Review provided by: Tony Leopardo © AutoWire.Net
The Bottom Line: The Jeep Cherokee has added a new, more luxurious Overland trim package with a higher grade of materials and a quieter ride, mainly thanks to acoustic glass in the windshield and front doors. The new Overland package moves the popular Jeep Cherokee more upscale for 2017. Heated and ventilated Nappa leather seats are part of the Overland package, along with extensive leather trim on the dash and a gorgeous wood steering wheel. While the Overland option adds about $11,000 to the base $24,000 Cherokee price, the amenities and luxury appointments far out weight the extra cost. The New 2017 Jeep Cherokee Overland is just in a class by itself. And maybe, just for those reasons alone, you should "Drive one, Buy one, Today ©".
This Bottom Line Review is provided by: Tony Leopardo © AutoWire.Net
"Tony the Car Guy" is an automotive writer, editor and publisher in the San Francisco Bay Area. If you have a question or comment for Tony send it to TonyLeo@pacbell.net or visit AutoWire.Net at www.autowire.net - And remember: "You Are What You Drive ©"

Column Name: Cherokee Adds Luxury Trim
Topic: The 2017 Jeep Cherokee Overland
Word Count: 935
Photo Caption: The 2017 Jeep Cherokee Overland
Photo Credits: Jeep Internet Media
Series #: 2017 – 26
Download the Microsoft Word version here: 2017 Jeep Cherokee Overland
Download the Original Image File here: 2017 Jeep Cherokee Overland