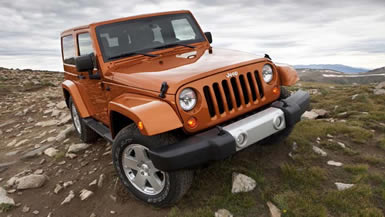 The 2012 Jeep Wrangler Review: The Jeep Wrangler Rubicon is a surprisingly compelling vehicle. You know the look, it's the classic Jeep from WWII and Beetle Bailey, but so much nicer than it ever was for our fighting men and women. For one thing, my car, the top of the line model, came in a beautiful Flame Red Clearcoat paint instead of Army Green.
The seats were leather-covered, and the interior, once again, has been upgraded to premium status. Other than the very upright, flat windshield and shallow dash, it could have been an upscale modern crossover vehicle.
The Wrangler comes in traditional two-door Wrangler form or as the four-door Wrangler Unlimited. Both are available in four models: S, Sport S, Sahara and Rubicon. All are built in the Toledo Supplier Park in Toledo, Ohio, the home of Jeep for many years.
A flat windshield may be a throwback, but it did a great job of reflecting my voice when I sang along with my iPod selections, and that was a real benefit (when I was singing on key).
The hardtop on my tester was air-tight and made riding down the freeway about as quiet as it gets for this Trail Rated four-wheel-drive offroader. Previous test Jeeps with the cloth soft-top provided much less protection from cold and sound. I would definitely want my Wrangler equipped like this, if it was my daily driver.
Not everything is easy. The roof panels over the front seat are removable, but it takes unlatching from the windshield, turning three levers, and unscrewing the side facing the rear before they come free. It's no power sliding sunroof.
My tester had a new 3.6-liter V6 engine, which Jeep says is more fuel efficient, refined and has more power and torque than its predecessor. It puts out 285 horsepower and 260 lb.-ft. of torque; horsepower is up 40 percent and torque is up 10 percent. It's mated to a new 5-speed automatic, which is shared with the upscale Grand Cherokee model. As most people don't worry about a Jeep Wrangler's 0-to-60 time, but the new one does it in 8.4 seconds, which is a 25 percent improvement.
The Wrangler comes with a variety of four-wheel-drive choices, and they have been doing this for over 70 years. The Rubicon, as the top model, features heavy-duty Dana 44 front and rear axles and the Rock-Trac® NV241 two-speed transfer case with a 4.0:1 low-range gear ratio. The Rubicon also includes electric front and rear locking differentials, a disconnecting front sway bar and 32-inch tires, making it the most capable Wrangler you can buy.
I averaged 16.9 miles per gallon, the EPA tests say an average of 18 mpg (17 City, 21 Highway), so that's about right. The EPA's Green Vehicle Guide gives it a 6 for Air Pollution but only a 3 for Greenhouse Gas.
I was surprised at the comfort and utility I got, and enjoyed the quick reflexes of the short wheelbase and the feeling of sitting up high wearing big boots. It was more fun than I expected.
The 2012 model carries over the all-new interior to Wrangler that was introduced with the 2011s. It combines stylish shapes and surfaces, versatility, comfort and improved feature use. Highlights include upgraded materials, automatic temperature controls, heated seats, power mirrors and steering wheel controls for vehicle systems. Larger rear windows are designed to provide greater visibility.
To satisfy today's savvy electronics-using customers, a USB port is there to connect to the media center, 12-volt accessory outlets are located throughout the car and a 115-volt AC outlet is available to power two-pronged home electronics.
The outside wears the classic round headlamps, seven-slot grille, trapezoid wheel flares, removable doors, exposed hinges, a fold-down windshield and innovative removable and convertible tops and half-doors that allow the Wrangler to retain the brand's iconic appearance and function. New for 2012, Wrangler Rubicon models now share a body-color hardtop option with the Sahara model.
The base Rubicon price is $29,995, but my test Jeep also had leather seats, some electrical goodies, including a trip computer, USB port, and Bluetooth connect, and the five-speed automatic transmission. At $34,625, my Rubicon 4x4 was no kid's priced toy. But you can pick up a Wrangler two-door S base model with a six-speed manual transmission starting at about $23,000, including destination charges.
Jeep is one of the hot brands in the car market now, and sales are way up. And, the 2012 Wrangler just won the Four Wheeler of the Year award from Four Wheeler magazine. By Steve Schaefer © AutoWire.Net - San Francisco
The Bottom Line: The 2012 Jeep Wrangler line has been refined to car like ride and interior status over the last few years, and now sales are up over 25%! With 16 models to pick from in 2WD and 4WD there is a Jeep with your name on it. Chose a stick or automatic transmission, take one of 4 trim levels, make it two or four wheel drive, pick a top and doors, then add some options, and you have your own custom built Jeep. Prices start at $23,000 and go over $35 Large, so there most definitely is a Jeep for you. You should "Drive one, Buy one, Today ©"
Bottom Line Review provided by: Tony Leopardo © AutoWire.Net
The 2012 Jeep Wrangler Bottom Line Review provided by: TonyLeopardo © AutoWire.Net - "Tony the Car Guy" is an automotive writer, editor and publisher in the San Francisco Bay Area. If you have a question or comment for Tony send it to TonyLeo@pacbell.net or visit AutoWire.Net at www.autowire.net - And remember: " You Are What You Drive©"

Column Name: Jeep is one of the hot brands in the car market now
Topic: The 2012 Jeep Wrangler
Word Count: 1,004
Photo Caption: The 2012 Jeep Wrangler
Photo Credits: Jeep Wrangler Internet Media
Series #: 2012 - 7
Download the Microsoft Word version here: 2012 Jeep Wrangler
Download the Original Image File here: 2012 Jeep Wrangler