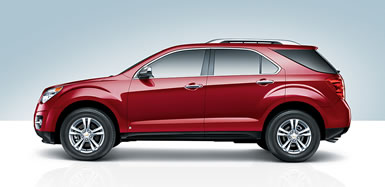 Chevy Equinox Review: There are plenty of boring numbers you might want to know about the new Chevy Equinox, 31.4 cubic feet of cargo space, 1,190 pounds of payload capacity, 40-foot turning radius, but only one number really matters. It's 32.
That's the number of highway miles the Equinox can travel on a single gallon of gas, which is absolutely astounding for a mid-size SUV. It's the kind of number you'd expect on a little economy car, but never a big, roomy, family-friendly sport utility vehicle.
The obvious next question then is, what kind of compromises Chevy had to make to reach that impressive figure? Did they build it with Styrofoam doors and a Swiss cheese chassis? Did they put a Weed Eater engine under the hood? No, no and no.
Surprisingly, Chevy engineered this SUV to get great mileage without making it feel obvious. You get the feeling in some efficient cars, like the new Honda Insight, that they were designed for fuel economy at the expense of everything else, but you don't get that sense in the Equinox. It drives just as well as most of the recently designed crossover SUVs it competes with, providing a quiet ride, solid feeling and spacious cabin.
If you want to get really picky, there's one minor exception, the transmission isn't as quick to downshift as some of its less efficient rivals, but most drivers wouldn't even notice the difference unless they were looking for it.
The great gas mileage starts with a great engine. Chevy's new 2.4-liter four-cylinder engine has direct injection that helps it get better mileage without sacrificing power. It makes 182 horsepower, which provides decent acceleration in town. You can get better performance from a 264-horsepower, 3.0-liter V6, but it only gets 17 mpg in town and 25 on the highway.
Chevy expects the vast majority of its new Equinox buyers to pick the smaller engine, and that's a smart choice. It's a smooth powerplant, delivering power evenly without much fuss, with the kind of grunt that defies its small size.
Inside the Equinox has plenty of space in front and back, but it doesn't quite match the level of GM's best work, the Chevy Malibu and new Buick LaCrosse. Both those cars feel like Lexus-fighters inside, with the kind of materials and construction that make you want to caress them. They're designed with precision and perfection in mind. The cabin is still nice, tough, especially at night when a soft blue glow surrounds the center console.
The new Equinox can be packaged like a luxury SUV, with features including a navigation system, Bluetooth phone connection, DVD player, hard drive for storing music, a power liftgate, and my personal favorite, a rear-view camera that shows up on a display in the rear-view mirror. It's some serious sci-fi tech.
What was tested? The 2010 Chevy Equinox LTZ AWD with a base price of $29,795. Options on the test vehicle: Vehicle Interface Package for $495, power rear liftgate for $495 and a rearview camera for $320. The total MSRP price as tested is $31,105.
Why avoid it? The interior quality standards aren't quite up to GM's best work.
Why buy it? It has the quiet ride and roomy cabin of an SUV with the efficiency of a compact car, getting 32 miles per gallon on the highway.
By Derek Price © AutoWire.Net - San Francisco
The Bottom Line: The new Chevy Equinox, which looks like a smaller version of the Traverse, gets 32 miles per gallon on the highway, an impressive figure for any SUV, and has a nice, roomy interior. Pricing starts at $22,440 for a basic LS model and reaches to just under $30,000 for the luxurious LTZ model with all-wheel drive. The Equinox is a great compact SUV in a crowded field, and it has some of the best MPG numbers to prove it.
Bottom Line Review provided by: Tony Leopardo © AutoWire.Net
"Tony the Car Guy" is an automotive writer, editor and publisher in the San Francisco Bay Area. If you have a question or comment for Tony send it to TonyLeo@pacbell.net or visit www.autowire.net

Column Name: New Chevy SUV has the efficiency of a compact car
Topic: The 2010 Chevy Equinox LTZ AWD
Word Count: 751
Photo Caption: The 2010 Chevy Equinox LTZ AWD
Photo Credits: Chevy Equinox Internet Media
Series #: 2009 - 67
Download the Microsoft Word version here: 2010 Chevy Equinox
Download the Original Image File here: 2010 Chevy Equinox