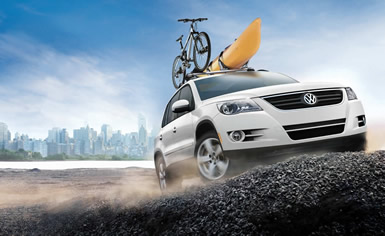 SUV Review: Every automaker these days wants to sell a mini-SUV, and Volkswagen is the latest to join the cute-ute club. The new Volkswagen Tiguan looks like a miniature Touareg, but it feels more like a giant Golf.
The Tiguan's cabin is upscale and well built, as Volkswagen and its luxury arm Audi have become known for. But, like so many things related to VW, the story quickly gets more interesting from there. Volkswagen has decided to sell a small sport utility called the Tiguan, a marketing-inspired word that combines "tiger" with "iguana", that's shockingly endearing, the kind of vehicle that makes your heart flutter. Let me explain.
Personally, I've never liked the concept of small SUVs. They look like the big, tough sport utilities, but they don't have nearly the off-road prowess or towing ability of their giant brothers. And they have about the same size cabin as a passenger car, while they don't drive nearly as well. That doesn't make sense. Now, I realize a lot of people like small SUVs. They just don't work for me personally.
But, for some strange reason, this Volkswagen does. It doesn't drive at all like the Touareg, its fatter sibling, and instead feels like a monster Golf. It's sporty, cute and zippy. Yes, zippy.
You can feel the German roots in the Tiguan, too. When you close the doors, they let out the same Teutonic thud you hear in Mercedes, BMW and Audi luxury cars, like they're filled with concrete. It has a taut suspension that makes you dream of autobahn cruising. It's got the same best-in-class interior treatment that Volkswagen and Audi have perfected. And best of all, it's adorable. The sweet, baby-face Tiguan looks like it wants to cuddle, pudgy fenders and all. The shape just makes you grin.
It also has plenty to show off under the hood, with a 2.0-liter turbocharged four-cylinder engine that makes 200 horsepower. That's ample power for a small SUV like this, and it gets 26 mpg on the highway at the same time.
All things combined, I think this is one of the best mini-SUVs on the market. Unfortunately, it's priced like one.
The Tiguan carries a higher starting price than most of its competitors because of the level of standard equipment and, probably, the awful exchange rate between the euro and the dollar.
My test vehicle cost more than $33,000, yet it didn't come with things like leather and power seats. That's hardly a bargain. To be fair, it did have a navigation system and enormous glass sunroof that was like having a patio door over your head, but I don't think the Tiguan will appeal to people who shop on value alone. Still, it has a lot of appeal to me.
What was tested? The 2009 Volkswagen Tiguan SE 4Motion SUV with a base price of $28,875. Options on the test vehicle: Panorama sunroof at $1,300, navigation system at $1,950, rear side airbags at $350, trailer hitch at $320, alloy wheels at $400. Price as tested: $33,195.
Why buy it? It drives like a monster Golf, fun and sporty, and has a distinctly German feel. It also looks adorable.
Why avoid it? It's fairly pricey compared to other small, five-passenger SUVs. The cheapest model starts at $23,200.
By Derek Price © AutoWire.Net - San Francisco
Byline: SUV Review provided by Tony Leopardo © AutoWire.Net

Column Name: VW makes an endearing SUV
Topic: The 2009 Volkswagen Tiguan SE 4Motion
Word Count: 616
Photo Caption: The 2009 Volkswagen Tiguan SE 4Motion
Photo Credits: Volkswagen Tiguan Internet Media
Series #: 2009 - 06
Download the Microsoft Word version here: 2009 VW Tiguan
Download the Original Image File here: 2009 VW Tiguan