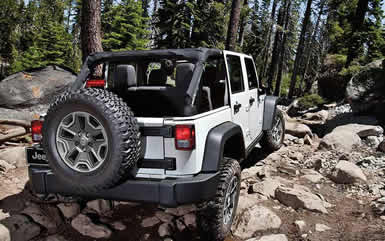 The 2016 Jeep Wrangler Unlimited Sahara Review: Kobe Bryant just retired from playing basketball, prompting all kinds of retrospectives about his famous marathon workout sessions that can start hours before dawn. His work ethic made him one of the best players in the history of the NBA, some say. But you know what people don't say? That he was a gifted painter, an award-winning scientist or a sensation at playing tennis.
The guy did one thing, basketball, and did it well. He was no renaissance man. There's something to be said for laser-beam focus, and few vehicles are more focused on a singular core mission than the Jeep Wrangler. It's the Black Mamba of off-roading.

Sometimes I like to criticize the Wrangler for its obvious weaknesses. It's noisy and bumpy on the highway. It burns too much gas. It doesn't come with Bluetooth (how prehistoric is that?) But that's also like saying Babe Ruth sucked at ice hockey.

The Wrangler puts on a jaw-dropping show of talent on the trails, which is all that matters to its mission. Its all-wheel-drive prowess makes it feel invincible climbing rock inclines or splashing through streams.

I spent a week driving a four-door version of the Wrangler called the Unlimited, and it makes a lot of nods toward practicality. The cabin is far quieter than it used to be, although still one of the noisiest you can buy today, and its dash feels much more modern than it did just a few years ago.

Its ingenious Dual Top option lets you switch between a hard-surface top, a soft cloth top or everyone's favorite way to drive a Jeep: with the top wide open to the wind. The hard top and four-door layout make it surprisingly good at family-car duty, although its 16-mpg city rating make it an expensive alternative to a Honda Civic or Ford Focus at the fuel pump. But again, that's not what it's built for.

A 3.6-liter V6 feels like a good fit, delivering enough low-end grunt to get the heavy Jeep moving at stoplights while also being easy to modulate with the throttle when you need to do rock climbing in 4WD-low. It sounds smoother and more refined than I expected from Jeep's most rugged vehicle, too.

A remote engine starter and 28-gigabyte storage capacity for songs were pleasant surprises on the option list, although the Bluetooth phone connection remains a weird omission in 2016. I suppose where most Jeep drivers go, there's not cell phone coverage anyway.

Jeep has always loved cranking out special editions, and this year it adds another: the Black Bear Edition that adds extra content inside and out, including a "heritage 'Wrangler' hood decal," 17-inch wheels with black spokes and special trim on the inside. It commemorates Black Bear Pass, a popular trail at the annual Jeep Jamboree in Colorado.

The Sahara model gets some refinements as well. A body-color bumper and snazzier 18-inch wheels are among the design changes that make it look sharp on the outside, and olive green leather seats are optional on the inside.
What was tested? The 2016 Jeep Wrangler Unlimited Sahara with a base price of $33,295. Options on the test car: Leather seats for $1,350, connectivity group for $595, dual top group for $2,185, supplemental front side airbags for $495, automatic transmission for $1,350, Trac-Loc rear axle for $395, air conditioning for $395, body color Freedom Top for $1,100, navigation radio system for $1,195, and the remote start system for $495. The total MSRP price as tested including the $995 destination charge came to: $43,845.
Pricing starts at $23,895 for the two-door Wrangler and $27,695 for the four-door Wrangler Unlimited. My Wrangler Unlimited Sahara tester with around $10,000 in options rang up at $43,845.

Wheelbase: 116 in.
Length: 184.9 in.
Width: 73.7 in.
Height: 72.6 in.
Engine: 3.6-liter V6 (285 hp, 260 lb.-ft.)
Transmission: Five-speed automatic
EPA Mileage: 16 city, 20 highway

Why buy it? It's incredibly focused on its core mission of off-road driving. With an optional hard top on the four-door Wrangler Unlimited, it's easier to live with in day-to-day driving on pavement, too. By Derek Price © AutoWire.Net - San Francisco
The 2016 Jeep Wrangler Unlimited Sahara Bottom Line Review provided by: Tony Leopardo © AutoWire.Net
The Bottom Line: The 2016 Jeep Wrangler spends decades being the best at one thing: off-road driving. Very few vehicles have been built around one core mission longer than the Jeep Wrangler. It's a product with a laser-like focus on off-road driving, something unusual at a time when most vehicles seem built for compromises. The new Wrangler's interior has gotten more modern and quiet in recent years, especially if you buy the optional hard top. And with four doors, the Wrangler Unlimited is surprisingly useful for kid-hauling duties and every day driving. And maybe, just for those reasons alone, you should "Drive one, Buy one, Today ©".
Bottom Line Review provided by: Tony Leopardo © AutoWire.Net
"Tony the Car Guy" is an automotive writer, editor and publisher in the San Francisco Bay Area. If you have a question or comment for Tony send it to TonyLeo@pacbell.net or visit AutoWire.Net at www.autowire.net - And remember: "You Are What You Drive ©"

Column Name: Focused on a Mission
Topic: The 2016 Jeep Wrangler Unlimited Sahara
Word Count: 919
Photo Caption: 2016 Jeep Wrangler Unlimited Sahara
Photo Credits: Jeep Internet Media
Series #: 2016 - 13
Download the Microsoft Word version here: 2016 Jeep Wrangler
Download the Original Image File here: 2016 Jeep Wrangler