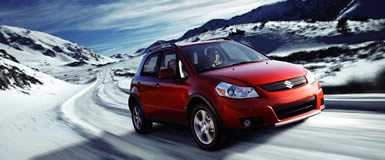 CROSSOVER Review: Suzuki, who builds really fine small SUVs, has been trying to break into the car market for a while now, but their products, although good, just have not caught fire with the car buying public. For 2008 Suzuki is trying another approach, a small vehicle, the SX4, available as either the SX4 Crossover or the SX4 Sport sedan.
I recently tested a SX4 Crossover. Crossovers are hot right now. Crossovers are a blend of mini-vans, station wagons, and SUVs. They come in a variety of sizes. Most are built on car platforms like their mini-van brethren.
The things I liked about the SX4 Crossover were the size, easy to park and easy drive in traffic; the upright seating, four will fit very comfortably, five are okay; the looks; and the sure-footedness of the optional AWD system.
The SX4 Crossover is a relatively small car at just over 13.5 feet in length, which is just slightly longer than the Honda Fit. Although it is relatively narrow at 69.1 inches, it does not have the pinched look of the departed Suzuki Aerio.
SX4s are equipped with a DOHC, 16-valve, 2.0-liter, 143 hp, four-cylinder engine, which gives it a power edge in this class. It does come standard with a 5-speed manual transmission, and a 4-speed automatic is optional.
Front-wheel-drive is standard but every SX4 Crossover is available with what Suzuki calls a "3-Mode Intelligent All-Wheel-Drive" system. This system allows you to select 2WD (front wheels), AWD (the system transfers power to the needed wheels), or 4WD for the really tough going.
The SX4 Crossover has a sassy look to it, a look that says, "I'm fun!" Although the Crossover and the Sport share the same overall style, somehow the Crossover looks like the mischievous kid brother, the one you cannot help but smile at, even after he has hit you with a water balloon.
The SX4 Crossover is available in three trim levels, Base, Convenience, and Touring. And every SX4 Crossover is well equipped with air bags galore, 4-wheel disc brakes with ABS, 16-inch aluminum wheels, 50/50 split tumble and fold rear seat, roof rails, and a good sound system. The Convenience package adds, well, more convenience items, and the Touring package adds even more convenience items.
Handling is to be as expected, nimble. The small overall size coupled with the big wheels and tires (P205/60R16), as well as the AWD system, help keep the SX4 Crossover firmly planted. No, it is no sports car, but dry, wet, or snowy roads will not faze it. The SX4 is not an off-road vehicle. It is a road vehicle that is ready for the nasty stuff life may throw in your way.
The downside with the SX4 Crossover is limited cargo space with the back seats up, at only 16 cubic feet and very little depth from hatch to seatback. If you take the SX4 Crossover on a ski trip with three friends, be prepared to put more than your skis on the roof.
Many people will look at the SX4 and think "economy car" but they would be wrong. If you are looking for a super frugal commuter, this is not it. The fuel economy is good, but not great, at 21-city / 28-highway. This in part can be blamed on a relatively high weight (2,855 lbs with manual transmission and 2,932 lbs with the automatic trans). Do not get me wrong, 28-mpg is decent economy, just not in super commuter territory.
But the big plus is in the pricing. The lowest price SX4 Crossover lists for only $14,270 plus $625 freight, and the highest price is just $15,870 plus freight. The AWD system adds only $500. Clicking every option box could run the price up to $25,000, which puts the SX4 Crossover in with some stiff competition.
Suzuki does not have the most extensive dealer network available, but if you go to www.suzukiauto.com you can find a dealer close to you, and price out your very own 2008 Suzuki SX4 Crossover.
Suzuki has built a reputation for toughness with their original Samurai, and I have heard nothing that makes me think that reputation has changed. Maybe that is one of the reasons they can offer what they say is "America's #1 Warranty".
Bruce Hotchkiss © AutoWire.Net - San Francisco

Byline: CROSSOVER Review provided by Tony Leopardo © AutoWire.Net
Column Name: Crossovers are hot right now
Topic: The 2008 Suzuki SX4 Crossover
Word Count: 776
Photo Caption: The 2008 Suzuki SX4 Crossover
Photo Credits: Suzuki SX4 Internet Media
Series #: 2008 - 13
Download the Microsoft Word version here: 2008 Suzuki SX4
Download the Original Image File here: 2008 Suzuki SX4