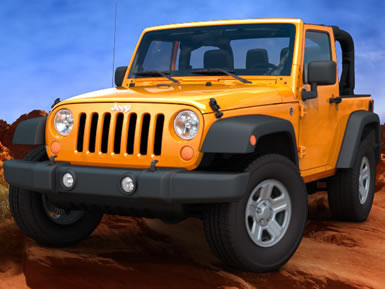 The 2013 Jeep Wrangler Sport Review: Too many of today's cars feel exactly the same. If you're looking at a new crossover vehicle or mid-size sedan, nearly every single one is a slightly different flavor of vanilla. They've all got good brakes, good steering and a good suspension. They're all quiet and relatively smooth riding. The differences between them are so small, so subtle, that it's easy to accuse the auto manufacturers of playing a giant, expensive game of copycat. Then you drive a Jeep Wrangler and realize just how different a vehicle can be.
The Wrangler is a total anachronism, the kind of car that has all but died off as buyers focus on comfort and fuel economy, two things the Wrangler simply doesn't exist to do. But thank God it's still around.
This is the original Jeep, the one with roots dating back to World War
II, and you can feel it all the time. It's like driving a tent on roller skates. There's simply nothing else like it, as anyone who's driven a Jeep knows.
It's become even more of a loner now that the Hummer brand has disappeared, leaving it virtually deserted as the only affordable vehicle that's engineered specifically for off-road driving. Other cars may have boxy bodies and all-wheel drive, but a 4x4 Jeep is the real thing, the one vehicle that's actually meant to spend all day pounding the trails, not just looking the part.
That means it comes with tradeoffs, of course, as it sacrifices comfort at the altar of off-road performance. It's bouncy and rough riding, and also one of the noisiest vehicles at highway speed. At the same time, it's come a long way in terms of livability in just a few short years.
It's still largely a toy, something designed for fun on the weekends, and making you smile throughout the week, but it's also quieter and more modern than it used to be.
The 2013 Wrangler, for instance, comes with thicker, premium cloth material for the soft top that does a better job sealing out wind and road noise. It also comes with new, more comfortable seats and an easy-lift mechanism for helping remove the top.
At its core, though, the Wrangler stays true to the Jeep mission: off-road performance. It's all about tow hooks and roll bars, torque and traction, and it's an absolute blast to drive off the pavement.
To get similar performance in a different car, you've got to pay a whole lot more. Only a few vehicles come close to matching what the Wrangler can do, albeit more luxuriously, including the Range Rover at a cost of $83,500, the Toyota Land Cruiser at $78,255 and the Mercedes-Benz G-Class that starts at $113,000.
Who would actually want to take those expensive cars on the trails? You'd have to be both crazy and wealthy to do it. For those of us who are not wealthy and only slightly crazy, the Jeep Wrangler exists to whet our off-road appetite. It starts at only $22,195 with two doors, or $25,695 for the four-door Wrangler Unlimited.
What was tested? The 2013 Jeep Wrangler Sport with a base price of $22,195. Options on the test Jeep: None. The total MSRP price as tested including the $925 destination charge came to only $23,120.
Why avoid it? You have to make a lot of tradeoffs for this kind of off-road performance, most notably a noisy cabin, a rough ride and poor gas mileage.
Why buy it? It's cool, plain and simple. It's an all-American car designed to go anywhere and do anything.
By Derek Price © AutoWire.Net - San Francisco
The 2013 Jeep Wrangler Sport Bottom Line Review provided by:
Tony Leopardo © AutoWire.Net
The Bottom Line: The 2013 Jeep Wrangler Sport is the classic Jeep, designed strictly for off-road driving with its roots dating back to 1941. This classic Jeep can go anywhere, and do anything in the outback. While the Jeep's driving feel is all about hitting the trails, its cabin has grown more refined and better looking in recent years. And with the ride quality and comfort level at the best it's ever been for Jeep, you should "Drive one, Buy one, Today ©"
Bottom Line Review provided by: Tony Leopardo © AutoWire.Net
"Tony the Car Guy" is an automotive writer, editor and publisher in the San Francisco Bay Area. If you have a question or comment for Tony send it to TonyLeo@pacbell.net or visit AutoWire.Net at www.autowire.net - And remember: " You Are What You Drive ©"

Column Name: Wrangler is pure off-road fun
Topic: The 2013 Jeep Wrangler Sport
Word Count: 808
Photo Caption: The 2013 Jeep Wrangler Sport
Photo Credits: Jeep Wrangler Internet Media

Series #: 2012- 29

Download the Microsoft Word version here: 2013 Jeep Wrangler Sport
Download the Original Image File here: 2013 Jeep Wrangler Sport