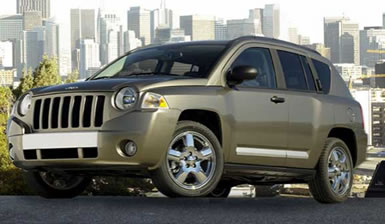 San Francisco:
Jeep has jumped into new territory with the all-new Compass, the compact SUV market segment. Although there have been other compact Jeeps the Compass strikes out in a new direction for Jeep. This is the most car-like Jeep ever produced. The Compass has a transverse engine and in its base 4x2 design is front-wheel-drive, the first ever from Jeep.
The Jeep heritage is largely represented with the signature 7-slot grille. If it were not for the grille you would be hard pressed to distinguish the Compass from many of its competitors. The styling is contemporary-muscular. Jeep has to tread a fine line with the Compass; it does not want to alienate long-time Jeepers who desire angularity, while hopefully attracting compact SUV buyers who have largely bought Japanese vehicles in the past.
Inside the Compass you will find comfortable seating for five, two up front and three in the rear. Even the base Compass has a nice array of amenities; 60/40 fold flat rear seat, stereo with CD player, tilt steering column, 12-volt power outlet, etc. The base is more utilitarian than the upscale models, having a vinyl covered cargo floor for easy cleaning.
Access is good to the seats and the rear cargo area. Like most compact SUVs the seats are right there at butt height (depending on your butt's height of course). My dear old mother used to complain that many "modern" cars had their seats too low, making it very difficult for older folks to get in or out of them. Compact SUVs generally do not have that problem. The cargo area lift-over height is 30.5 inches and the cargo floor is just about at the same level.
There is only one engine available at this time, Chrysler's 2.4-liter, 4-cylinder, "World Engine." The DOHC, 16-valve engine produces 172 bhp and 165 lb.-ft. of torque and drives the front wheels (on 4x2 models) through either a 5-speed manual transmission (standard), or a constant velocity transmission (CVT) that is optional.
Having only one engine may prove to be a negative for the Compass. Many of its immediate competitors have optional V6 engines that offer more power and torque. I felt that the Compass' engine was lacking oomph, especially at lower rpm's.
I drove two different Compasses, a base Sport version and a Limited. Overall they were pleasant vehicles to drive although I would order my Compass differently. I prefer the manual transmission to the CVT; I just cannot get used to CVTs. I would also add certain options that are not there with the base. On the other hand I do not need or want everything that comes on the Limited. With the two models, Sport and Limited, and a large selection of options, there should not be a problem outfitting a Compass exactly as you want one.
The driving dynamics were on par with other compact SUVs. Outside of the higher center of gravity, which by itself is not really an issue, the Compass rides and drives like many sedans. The center of gravity is more of a perceived issue than a real one. Because you sit up high you feel the corners more than the Compass does. Once you get used to driving a Compass you will treat it just like a car.
For those of you who figure every Jeep should have four-wheel-drive, don't despair. The Compass is available with 4WD with an Electronically Controlled Coupling. There is no transfer case though so no Low Range 4WD. The Compass is not intended as a rock-crawler.
You can tow with a Compass but do not expect to tow your boat, unless it's just a little aluminum fishing boat. Maximum gross trailer weight is 2,000 lbs.
2WD or 4WD makes very little difference to fuel economy. A manual transmission 2WD Compass is rated at 26-city and 30-highway, the 4WD drops that to 25 and 29 respectively. Fuel economy actually dips lower with the CVT than it does with 4WD, registering 24/27 with 2WD and 23/26 with 4WD.
Price-wise the Compass is really cost competitive. The base Compass Sport lists for $15,985, fully optioned out I got the Compass Limited up to $26,655. If you are in the market for a compact SUV the new Jeep Compass is definitely worth a good look and a nice test drive. By Bruce Hotchkiss © AutoWire.Net - San Francisco

Byline: Syndicated content provided by Tony Leopardo © AutoWire.Net
Column Name: The Compass is the most car-like Jeep ever produced
Topic: The 2007 Jeep Compass
Word Count: 789
Photo Caption: The 2007 Jeep Compass
Photo Credits: Jeep Internet Media
Series #: 2006 - 61

Download the Microsoft Word version here: 2007 Jeep Compass
Download the Original Image File here: 2007 Jeep Compass