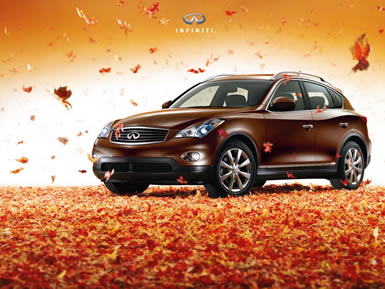 SUV Review: This vehicle is a mystery. Infiniti's new mini SUV, the EX35, is one of the best performing SUVs on the road. Its handling is so precise, its performance on the limit so well balanced, that you'd swear you were driving a great sports sedan and not a whale-butt SUV. On the other hand, this is hardly an SUV at all.
The EX35 looks like one of those vehicles you buy when you just can't drive a minivan, but it's actually based on the awesome G37 sports coupe. That means it has absolutely stunning performance, enough that I'd rather drive this thing than BMW's oft-praised baby ute, the X3.
At the same time, that sports-coupe performance has the unfortunate side effect of sports-coupe impracticality in some ways.
The EX35's back seat, for example, is designed for leprechauns, and its cargo area isn't much better. You'd think such a small vehicle would get great gas mileage too, but no. It makes Exxon executives grin with 24 mpg on the highway and 17 mpg in town. It's also pricey for its small size, starting at $31,300 and easily reaching past $40,000 as you add on the goodies.
And that's where the mystery begins. Most people who are looking at small SUVs would buy them for several reasons, so let's just run down the list.
Is the EX35 cheap? No.
Does it get great gas mileage? No.
Is it as practical as a real SUV? No.
Does it have more room than a mid-size car? No.
That leaves a fairly small customer base that can appreciate the EX35 for what really sets it apart from the crowd: technology and performance.
This vehicle is a showplace for the latest in automotive gadgetry, and what a show it is. There's an available hard drive for storing all your music, a CompactFlash card reader for playing your MP3s, four video cameras that give you a "top down" view of the car when parking, a Bluetooth connection for your cell phone, and even a navigation system that sees traffic jams in real time and automatically re-routes you to avoid them.
And, as I mentioned before, there's the performance.
Aside from its angelic suspension, a 297-horsepower V6 engine always keeps things interesting. Yes, it gets unimpressive gas mileage for such a small SUV, but it produces extremely impressive acceleration. SUVs simply aren't supposed to go this fast.
Styling is also a plus on this car. It looks seductive and slinky, with a sexy nose and sloping coupe-like rear. It looks like a normal SUV in pictures, but in person, thanks to its small size, it's much more intoxicating. It's almost Italian.
I think the EX35 is the latest and greatest in mini SUVs, if only for a year or two, but is that enough for people to flock to it? Probably not if they think like my dad, who said "power windows are just another thing to go wrong." He'd probably have a fit over hard drives, navigation screens and four video cameras in a dadgum car.
But when you combine everything together, the latest tech, the trendiest style, the best performance, into one compact package, how can anyone ignore it?
Based on the awe-inspiring G37 sports coupe platform, the EX35 offers similar driving dynamics in an SUV-like package. This small car looks deceptively big in photos.
Premium materials and the newest gadgets help the small EX35 justify its price. This mini SUV starts around $31,000 but can easily climb over $40,000 as you add options.
What was tested? The 2008 Infiniti EX35 RWD Journey with a base price of $34,850. Options include: Premium package $2,150, luxe style package $1,250, navigation package $2,150. Total MSRP Price as tested including the $815 delivery charge: $41,215.
Why avoid it? It's small, expensive and doesn't get good gas mileage.
Why buy it? It has amazing performance for an SUV and offers the latest in technology. It's pure techie meth.
By Derek Price © AutoWire.Net - San Francisco
Byline: SUV Review provided by Tony Leopardo © AutoWire.Net

Column Name: Good things in a small package
Topic: The 2008 Infiniti EX35
Word Count: 724
Photo Caption: The 2008 Infiniti EX35
Photo Credits: Infiniti EX35 Internet Media
Series #: 2008 - 48
Download the Microsoft Word version here: 2008 Infiniti EX35
Download the Original Image File here: 2008 Infiniti EX35