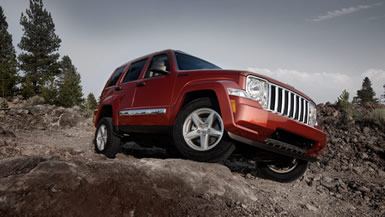 Jeep Liberty Limited Review: There are two main reasons people buy Jeeps. One is that they really need the four-wheel-drive off-road capability of a vehicle with spiritual roots in World War II. They drive deep in the woods, up the rock face of mountains and down snowy hills, places only a Jeep can take them.
But there's another reason people buy a Jeep, and it's probably more important: They want something really fun to drive. Now, normally when people mention a fun-to-drive car, they're talking about something sporty and exciting, the kind of car you fling around corners. But a Jeep, more than other SUVs, is still capable of generating plenty of grins despite the fact that it corners like a steel platypus.
No, Jeeps make you smile for a different reason. They elicit thoughts of sunshine and sand as you drive down the coast with the roof rolled away, the radio cranked up, and a cabin completely devoid of any luxuries. You know, like doors.
It's the classic Wrangler that most people associate with Jeep's fun side, but a lot of buyers want the spirit of a Wrangler in something more sensible. And that's why all the other Jeeps exist.
You can feel a hint of the Wrangler's playful personality in these other pseudo-Jeeps, like the Commander, Compass, Patriot and Grand
Cherokee, but never have I felt such closeness to the Wrangler's mission as this past week behind the wheel of the latest Jeep Liberty.
Unlike the Wrangler, the Liberty is actually comfortable to drive. It has a quiet cabin, four big doors, a roomy back seat and impressive cargo area. Its suspension is still bouncy and rough, as you'd expect in any small off-road vehicle, but it has enough sophistication to smooth everything out. You don't feel deprived behind the wheel.
Best of all, you can press a button to transform the Liberty from suburban grocery-getter to beachside dream car.
The Liberty is available with a huge hole in the roof, covered in thick fabric, that effectively turns it into a convertible. That button makes the fabric top motor away, revealing a gaping sunroof that extends all the way back to the cargo area.
Slide the roof back, roll down the windows, and suddenly you've created the perfect vehicle for enjoying a sunny day. What impresses me the most about this fabric roof, called the Sky Slider, isn't how it works, as it's actually an amazingly simple design.
The surprising part is just how silent the Liberty is when the roof is closed. Seal up the cabin, drive 70 mph, and you'd have no idea that there's anything unusual about the top of your Jeep. It's not like a convertible where there's wind noise when the top is up that makes you wish you'd bought a hardtop come wintertime. It's just perfectly and wonderfully quiet.
The Liberty only gets minor changes for 2010, most of which have to do with upscale features on the Limited model. All Liberties get interactive Decel Fuel Shut Off (iDFSO), which cuts off the fuel supply when you're slowing down, thus improving your fuel economy. A 3.7-liter V6 is standard. It makes 210 horsepower, which is barely enough for a vehicle this heavy.
On the plus side, the Liberty is a handsome vehicle. The latest generation doesn't have the matte plastic body cladding that plagued the earliest models, so it looks classier. It also has that unmistakable Jeep shape, never pretending to be something it's not.
What was tested? The 2010 Jeep Liberty Limited 4x4 with a base price of $28,735. Options on the test car: The paint option for $225, customer preferred package for $545, skid plate group for $225, Selec-Trac II for $445, Sky Slider roof for $1,200 and the Media Center for $1,255. Total MSRP price as tested including the $745 destination charge: $33,375.
Why avoid it? It feels underpowered for a heavy off-road vehicle with its V6 engine.
Why buy it? It has real off-road capability, along with the look and feel of a
classic Jeep. It's also more comfortable than a lot of small 4x4s.
By Derek Price © AutoWire.Net - San Francisco
The Bottom Line: With the 2010 Jeep Liberty Limited there's no mistaking the square shape and upright grille of this Jeep. It has a lot of the Wrangler's personality, including real off-road capability and an optional cloth top that folds all the way back. Inside, the Liberty has decent front-seat legroom, a good size back seat and surprisingly large cargo area for its compact SUV class. It's a Jeep with the fun of a Wrangler, without all the drawbacks.
Bottom Line Review provided by: Tony Leopardo © AutoWire.Net
"Tony the Car Guy" is an automotive writer, editor and publisher in the San Francisco Bay Area. If you have a question or comment for Tony send it to TonyLeo@pacbell.net or visit AutoWire.Net at www.autowire.net
And remember: " You Are what you Drive "

Column Name: The Liberty has Wrangler's fun spirit
Topic: The 2010 Jeep Liberty Limited 4x4
Word Count: 881
Photo Caption: The 2010 Jeep Liberty Limited 4x4
Photo Credits: Jeep Liberty Internet Media
Series #: 2010 - 25
Download the Microsoft Word version here: 2010 Jeep Liberty

Download the Original Image File here: 2010 Jeep liberty