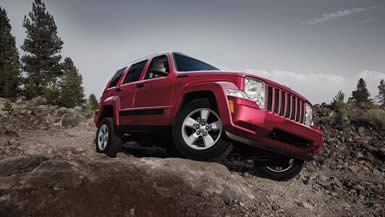 The 2011 Jeep Liberty 70th Anniversary Edition Review: I just spent a week motoring around in the Jeep Liberty 70th Anniversary Edition. It commemorates the debut of the iconic Jeep military four-wheel-drive vehicle, which helped win World War II.
It's a great time to highlight anything positive in the new Chrysler regime. After the trauma of its bankruptcy and subsequent takeover by FIAT, the brand needs all the good vibes it can get, and Jeep is certainly worth celebrating.
The Liberty is a midsize SUV built in Toledo, Ohio. It debuted in 2001 as a 2002 model, replacing the beloved Cherokee. While the Grand Cherokee, recently redone, is the flagship of the brand, the Liberty is the bread and butter model, offering offroadability along with creature comforts and practicality.
It's a far cry from its basic, utilitarian ancestor. For the lives we live today, the Liberty is about right. Roomy, comfortable, even beautiful, in a chiseled way, my Brilliant Black Crystal Clear Coat tester was very pleasant to drive, yet still felt solid on the road. With its upright windshield, shallow dashboard and chair-height seating, it separated itself from common crossover vehicles, which are more like tall cars.
The Liberty now comes in three models: Sport, Renegade and Limited. My tester was a Sport, with the 70th anniversary extras, including special badging, bright doorsills, leather-trimmed bucket seats, leather-wrapped shift knob and grab handle, satin chrome steering wheel spokes, heated seats and various power front seat adjustments. The significant presence of cowhide upgrades the fairly inexpensive interior plastic.
There is also a 70th Anniversary version of the Limited model, which also includes 18-inch alloy wheels and a top-level upgraded audio system with voice command.
A Jet Sport sub model gives some urban chic to the Liberty, offering such things as 20-inch alloy wheels, deep tint glass, bright roof rails, chrome exterior mirror covers, eight amplified speakers with subwoofer, black headlight bezels and a chrome body side molding. A Jet Limited model brings the urban hip look further upscale.
The Sport is the entry-level model and the Limited is the top. The new Renegade model, introduced last year, splits the difference. It's especially aimed at off road use, so it comes with skid plates, tire-pressure monitoring, Hill-start Assist and Hill-descent Control, unique color fender flares, fascia and headlamps. Inside, the instrument panel gets an Electronic Vehicle Information Center and a leather steering wheel with audio controls.
All models come with a 3.7-liter V6, with 210 horsepower and 235 lb.-ft. of torque. That moves the two-ton SUV smoothly and easily through a somewhat old-fashioned four-speed automatic transmission. There's a lever on the center console to shift into Command-Trac II Part-Time four-wheel drive when needed and a 4WD lock button for more serious off-roading.
The four-wheel-drive Liberty gets 15 City, 21 Highway per the EPA, averaging 17 mpg. You can get one more mpg with the 200-pounds-lighter two-wheel-drive model. The EPA Green Vehicle Guide gives the four-wheel-drive model a respectable 6 for Air Pollution, but just a 2 for Greenhouse Gas, and a 3 for the two-wheel-drive version.
When listening to satellite radio, I was invited to mark what I heard for Favorite Artist or Favorite Song. I tried setting a few songs and artists. Later, up popped a window offering me a chance to hear the Grateful Dead, one sample artist, and listed the song. I always had the choice to go to the other station to hear it or to ignore it. I normally said Ignore to these offers because the Dead have their own entire station, but marking a more obscure band or a favorite song might be a better bet.
The First Liberty was very rounded and soft looking and in 2008 they reset the design on the car to look more traditional, with the sharp angles of the original Jeep Cherokee. Jeep's marketers say today's Liberty buyers tend to be young couples, new families and professionals in the 30 to 40 year old age group, and it's about evenly split male and female.
I am not in that demographic group, but found the Liberty easy to like. The solid handling, view over regular cars, and surprisingly comfortable seat and driving position made the car handy for commuting and carrying bulky objects around. The cabin is quiet at speed, and even with only four gears the automatic gets the job done unobtrusively. And I found the unique Jeep chunkiness of the interior charming and fun, rather than old fashioned or confining.
Prices range from the Sport with no options at $23,250 to the Jet Limited 4x4, with its long list of comfort and appearance features, at $29,245.
New, FIAT-based Jeeps are coming, but for now, we can celebrate the all-American seven-slat grille, twin round headlights, and victory on wheels with the midsize Liberty.
By Steve Schaefer © AutoWire.Net - San Francisco
The Bottom Line: The 2011 Jeep Liberty 70th Anniversary Edition is the best of the bunch with new colors, options and interior packages. With three levels, Sport, Renegade and Limited, there is a price point and option package for just about everyone. With 70 years of Heritage, Jeep has a model for urban cowboys, off-roaders and young families who want the prestige, power and looks of a Jeep. The Liberty line just adds more fun to the mix. You should "Drive one, Buy one, Today ©"
Bottom Line Review provided by: Tony Leopardo © AutoWire.Net
The 2011 Jeep Liberty 70th Anniversary Edition Bottom Line Review provided by: TonyLeopardo © AutoWire.Net - "Tony the Car Guy" is an automotive writer, editor and publisher in the San Francisco Bay Area. If you have a question or comment for Tony send it to TonyLeo@pacbell.net or visit AutoWire.Net at www.autowire.net - And remember:
" You Are What You Drive©"

Column Name: The Liberty line adds more fun to the mix
Topic: The 2011 Jeep Liberty 70th Anniversary Edition
Word Count: 1,030
Photo Caption: The 2011 Jeep Liberty 70th Anniversary Edition
Photo Credits: Jeep Liberty Internet Media
Series #: 2011- 35
Download the Microsoft Word version here: 2011 Jeep Liberty
Download the Original Image File here: 2011 Jeep Liberty