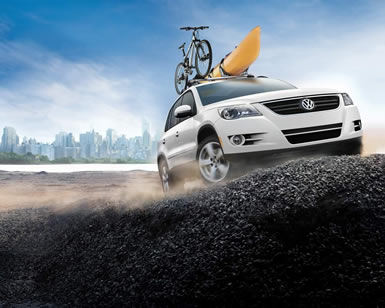 Compact SUV Review: Volkswagen has done it again, they've come up with a model name that thoroughly baffles just about everyone -Tiguan. I am sure that it means something to somebody, but I just cannot find out what. I will leave that mystery for another day.
The Tiguan is VW's entry into the compact sport utility segment, going head to head with the likes of the Ford Escape, Honda CR-V, Toyota RAV4, and others. According to VW, the Tiguan features the "fun to drive" handling and performance expected from a Volkswagen.
From the outside the Tiguan has a European look to it, a combination of formal and sporty. There is a familial resemblance, especially to the Touareg, its larger SUV sibling. To give you an idea of the size of the Tiguan, it is 174.3 inches long compared to the RAV4's length of 178.7 inches.
Compact sport utility vehicles are gaining favor with people over forty for a reason many would never consider, the seat height. As we age (as I am rapidly finding out) it is harder to sit down onto, or get up from, a seat way down there. We like to be able to just sit without having to bend down or climb up. So as the baby boomers ease on into decrepitude, maybe it is fitting that we figurative move from Microbuses to Tiguans.
The Tiguan is a four-door vehicle with a rear hatch. It easily seats five people, even five adults. There is 23.8 cubic feet of cargo room behind the rear seat and a whopping 56.1 with the rear seat folded.
Being a clueless North American, I have a problem with cars that use International symbols on the controls. I have no idea what the little symbols mean, which confuses me, and makes it difficult to master the sound system, climate control, and whatever else I needed to use in the week I had the Tiguan. Others seem to have no problem, so I guess it's me. Once I figured out the switches sufficiently to at least make things work, everything worked very well.
Under the hood is VW's 2.0-liter, DOHC, turbocharged four-cylinder. In the Tiguan it makes 200 hp, and 207 lb-ft of torque. Both a 6-speed manual or automatic is available, and the Tiguan may be ordered with front-wheel-drive or 4Motion all-wheel-drive.
I always seem to have trouble getting used to driving a Volkswagen and the Tiguan was no different. The problem is the throttle, it is not very linear. You push down gently, to ease away from a stop, and nothing happens. So you push a little harder, still nothing. Then you push just a bit more and "Whoa Nellie!" you're away to the races. It does not help that the
Tiguan's engine is turbocharged too, so the turbo lag just adds to the problem. The turbo does help a whole bunch in mid-range driving, like passing. The power is right there when you need it.
I drove an automatic transmission version of the Tiguan and I have no complaints about the transmission. It is amazing that 6-speed automatic transmissions are so common place now; it was not that long ago that a four-speed was a rarity.
One aspect of European vehicles that I like is the comfortable ride, and the Tiguan is no exception. I am not sure how they combine precise handling with enough give to smooth out rough roads, but it works.
There are three basic Tiguan trim levels, S, SE, and SEL. They all seem to be well equipped with each level having more standard equipment than the previous. Standard on the S is 215/65RH all season tires, ABS with front and rear disc brakes, 8-speaker sound system with MP3 compatible in-dash CD player, cloth interior, manual climate control, cruise control, head curtain airbags, front and front side thorax airbags, and more. The top of the line SEL has huge 235/50R18 tires and the full zoot interior. A great feature on all Tiguans is the "steerable" headlights that turn up to 15 degrees into a corner, so no more wonder as to what is just around the bend in the road.
The automatic transmission 4Motion Tiguan is rated at 18-city and 24-highway; the manual transmission 2WD is rated 19-city and 26-highway.
Prices for the Tiguan start at $23,200 for the S with a manual transmission. A Tiguan SEL with 4Motion hits $32,940. There are some options such as navigation system, tow package, and a huge, panoramic sliding sunroof that could drive the price up another $3,000 plus.
I like this class of SUVs, they are relatively fuel efficient, easy to drive, and roomy enough for all but Sarah Palin's family. The Tiguan is a worthy addition to this ever-expanding compact SUV segment
By Bruce Hotchkiss © AutoWire.Net - San Francisco
Byline: Compact SUV Review provided by Tony Leopardo © AutoWire.Net

Column Name: The Tiguan is VW's entry into the compact SUV segment
Topic: The 2008 VW Tiguan
Word Count: 869
Photo Caption: The 2008 VW Tiguan
Photo Credits: VW Tiguan Internet Media
Series #: 2008 - 62
Download the Microsoft Word version here: 2008 VW Tiguan
Download the Original Image File here: 2008 VW Tiguan