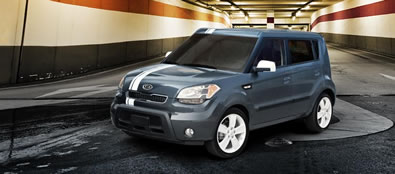 Kia Soul Exclaim Review: If you want a car that's fun, spunky and stylish enough to turn heads, you're probably not thinking about checking out the local Kia new car lot. But maybe you should.
While Hyundai, Kia's Korean rival, has successfully moved its cars upmarket in recent years, with better engineering and gorgeous styling,
Kia still builds cars that get more attention for their price than anything else. They're good economy cars, but not just exactly memorable. Now the new Soul is trying to change that image.
This new boxy Kia follows in the hip footsteps of other square cars like the Honda Element and Scion xB, but it has sportier lines. And it's not just about right angles either.
It's an interesting car to look at from any angle. Up front it's got a rounded hood, exaggerated wheel arches and blacked-out pillars by the windshield. In back there are the vertical taillights that stretch up to the sky, and from the side there's a straight roofline that slopes backward.
It's a pretty car, in a weird sort of way. You will find a bit of spunky styling inside, but the materials are just like you'd expect in a low-priced car. The seats come with fabric that has an interesting houndstooth pattern, and a two-tone dash tries to make it look more upscale than chintzy.
Beyond the cool styling, the Soul doesn't do much else to stand out.
Its performance is only mediocre, with your choice of a whiny 1.6-lilter four-cylinder engine or a 2.0-liter version, making 122 and 142 horsepower respectively. Handling, steering and braking are all bland and subdued, not quite as snappy as in the Scion xB or as refined as the Honda Element.
On the positive side, the Soul's boxy shape is incredibly practical. It's a small car for sure, but the head and shoulder room in the cabin makes it feel a lot bigger than it actually is. The front seats are spacious; the back seat is tolerable for adults; and the cargo area in back is more generous than most cars in this class.
Perhaps best of all is that this new Kia continues what the brand is known for best: a very low price. It starts at just $13,300 in base model trim and peaks at only $17,900 with every single option on the list, plus the delivery charge.
As a total value, considering the practicality and style for every dollar you spend, few cars can match the Kia Soul. Finally, it's a Kia that demands your attention.
What was tested? The 2009 Kia Soul Exclaim model with a base price of $17,900. Options on the test car: none. The total MSRP price as tested including the $695 destination charge is $18,595.
Why avoid it? It's not as refined as the economy cars from Honda and Toyota, and the engine has a grating whine under hard acceleration.
Why buy it? It's a great value with a starting price of $13,300, especially considering how stylish it is. Its boxy shape makes it surprisingly roomy inside, despite its small dimensions.
The Bottom Line: Kia's new Soul, a five-passenger car with a stylish boxy shape, is far more expressive than most cars from Kia. A new two-tone dash is unique in the Soul, making it look way more upscale than its low MSRP price would suggest.
By Derek Price © AutoWire.Net - San Francisco
Bottom Line Review provided by Tony Leopardo © AutoWire.Net

Column Name: Kia injects style with new Soul
Topic: The 2009 Kia Soul Exclaim
Word Count: 629
Photo Caption: The 2009 Kia Soul Exclaim
Photo Credits: Kia Soul Internet Media
Series #: 2009 - 59
Download the Microsoft Word version here: 2009 Kia Soul
Download the Original Image File here: 2009 Kia Soul