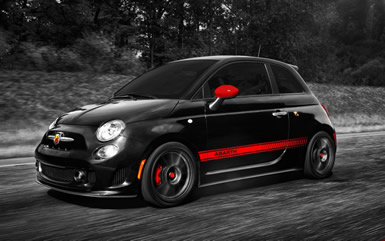 The 2013 Fiat 500 Abarth Review: People define joy in different ways. Major parts of philosophy, religion and social science are all centered around probing what makes people truly happy. For me, I think I've figured out the epitome of joy. It involves a Fiat 500 driving through the countryside with the windows rolled down and Italian opera blasting from the sound system. It's hard to find cars that generate smiles as easily as the little 500.
I do own one of them, a Mazda Miata, but it's wildly impractical. At least the Fiat has a back seat. In fact, its closest competitor here in America is the MINI Cooper, a car that's just as good at bringing grins to your face. But the MINI is mainly designed by Germans, and no matter how illogical it seems, driving a German car is just not as cool as driving an Italian car like the Fiat 500.
Italian cars always carry the coolness trump card. It's like written in the
Italian Car Owner's Bible, or something. To make it even cooler, Fiat didn't send me an ordinary 500 to try out. They sent the Abarth version, a ridiculous, but incredibly lovable car, that's tuned to go faster, be louder and ride rougher than the regular ol' 500.
Granted, you've got to be the right kind of person to enjoy a car like this. It's a small car with a powerful, turbocharged engine and very firm suspension setup that makes it ideal for flinging around corners. But the most controversial part is its exhaust note: a blistering, roaring, throaty burble, something almost funny to hear because you don't expect such a loud noise to come from such a cute little car.
Driving the Abarth is predictably fun, given its 160-horsepower engine in an extremely lightweight body. It feels very much like driving a go-kart. At the same time, it's livable as an everyday car. One of the best things about the Abarth's roaring exhaust is that, while it sounds like a beast under hard acceleration, it calms down dramatically at highway speeds.
It's also interesting that when you opt for the Abarth version, virtually nothing on your car will say Fiat. Instead, it's covered inside and out with the scorpion-crest logo of Abarth, the tuning and racing outfit started by Karl Abarth in the 1960s.
Abarth's cars were always known as being "small but wicked," and that certainly rings true with this modern-day version. The 2013 Abarth is not just a mildly tweaked commuter car, but a thoroughly aggressive, some would say overly aggressive, overhaul of the look and driving feel of the 500.
To me, that's refreshing. Virtually every car today tries to pass itself off as being "sporty," from seven-passenger crossover vehicles to ordinary Honda Accords and Toyota Camrys. I even once drove a minivan called the Caravan Sport, with a little spoiler on the back and everything.
If you want a car that's really designed to be sporty, and doesn't just call itself so, this is one of a very select group that pulls it off correctly. It's even quite affordable, starting at a base price of only $22,000.
It's definitely not for everyone, but for drivers like me, this noisy, raucous, insane little Italian car is the very definition of joy. It's like alchemists at Fiat bottled up pure happiness and transformed it into a pile of metal, plastic, oil and gasoline that we call the 500 Abarth.
What was tested? The 2013 Fiat 500 Abarth Hatchback with a base price of $22,000. Options on the test car: Performance leather seats for $1,000, Beats Audio for $700, The Comfort and Convenience Group for $650, red mirror caps for $350, TomTom Navigation for $500 and 17-inch wheels for $1,200. The total MSRP price as tested including the $700 destination charge came to $27,100.
Why hesitate? Some people will see the Abarth's aggressive sound and ride as a bit too harsh.
Why buy it? It's pure fun: a tiny Italian car with cute styling, a loud exhaust and a go-kart suspension.
By Derek Price © AutoWire.Net - San Francisco
The 2013 Fiat 500 Abarth Bottom Line Review provided by:
Tony Leopardo © AutoWire.Net
The Bottom Line: The 2013 Fiat 500 is pure Italian fun and the aggressive Abarth is a joy for drivers. The Abarth model is an aggressively tuned version of the Fiat 500 and its loud exhaust note and firm suspension are a step above what most cars would call "sporty." Abarth's scorpion logo is plastered all over this car, including on the 160-horsepower turbocharger engine's valve covers. This is a factory tuner car that's priced so low that anyone can afford to buy one, and you can't go faster for the money than in an Abarth 500 Sport Coupe, so you should "Drive one, Buy one, Today ©" Bottom Line Review provided by: Tony Leopardo © AutoWire.Net
"Tony the Car Guy" is an automotive writer, editor and publisher in the San Francisco Bay Area. If you have a question or comment for Tony send it to TonyLeo@pacbell.net or visit AutoWire.Net at www.autowire.net - And remember: " You Are What You Drive © "

Column Name: Pure Italian fun
Topic: The 2013 Fiat 500 Abarth
Word Count: 909
Photo Caption: The 2013 Fiat 500 Abarth
Photo Credits: Fiat 500 Internet Media
Series #: 2013- 01
Download the Microsoft Word version here: 2013 FIAT Abarth
Download the Original Image File here: 2013 FIAT Abarth