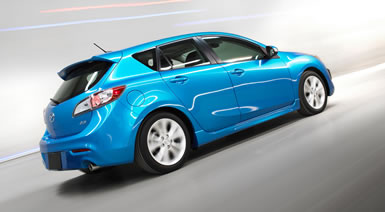 2010 Mazda3 5-Door Review: The redesigned Mazda3 looks very happy with its grinning face, the way Mazdaís people must feel over the success of the previous generation model. In 2008, the Mazda3 represented 44 percent of the Mazdaís sold in North America. Combining the right size and features with an affordable price and plenty of driving fun, it seems just about perfect.
That doesnít mean it should, or can, remain the same. After five successful years, the 2010 model is significantly improved in many ways, from styling, to safety to driving dynamics. Now thereís even more to love.
The 103.9-inch wheelbase remains the same, but length is up by three inches. The highly efficient and useful proportions remain. Americans are rediscovering the joy of the 5-door hatchback, room for stuff, but no more car than you need. With the dramatic restyling of this generation 3, based on its stunning 2006 Nagare concept car, utility is not the focus, just a benefit.
The first thing youíll notice about the 2010 is that smiley face. This isnít just happy, but a full-on grin. Is it pleasure or a little bit wicked? My first thought was of Batmanís Joker, especially in the Crystal White Pearl Mica paint my tester wore.
"Mazda has never been afraid of taking design risks," says Carlos Salaff, a senior designer at Mazda North American Operations. ďWe wanted the MAZDA3's dominant grille design to be bold because that will separate this car further from the blasť competitors and, by leaping ahead of the crowd, keep us looking fresh even late in this product's life."
The overall body shape remains, but numerous enhancements give the car an aggressive look, like itís about to pounce. Flow lines from the Nagare shimmer on the hood and sides. This is both for looks and to reduce aerodynamic drag and lower wind noise.
A Harley motorcyclist admired my test car as we sat at a traffic light. It turns out he owns a 2005 model, and he really liked the upgrade.
Mazda3s come in four-door and five-door versions, in i or s levels, with two engine choices, and manual or automatic transmissions. The five-doors are available as s levels only, in Sport or Grand Touring models, and feature the larger of two four-cylinder powerplants. It boasts 2.5 liters of displacement, up from a 2.3 in the previous model, and puts out 167 horsepower and 168 lb.-ft. of torque. Thatís sufficient to move the 3,000-pound car along with plenty of the famous ďzoom zoom.Ē
California vehicles, with a partial zero emission vehicle status (PZEV), lose two horsepower and 1 lb.-ft of torque, but come up with exemplary EPA Green Vehicle Guide numbers, 9.5 on the Air Pollution score and 7 on the Greenhouse Gas score. Fuel economy is 22 City, 29 Highway with the automatic and, surprisingly, 21/29 with the six-speed manual. I averaged 20.9 mpg with the automatic.
Sitting behind the wheel you feel like youíre ready to rock. Large gauges front and center give you the details, while the sweep of the console and dash have you feeling like youíre in motion before you release the parking brake.
Mazda aims for a mix of serious driving attitude with a hint of a luxury thatís a level above where the car sells in the marketplace. Thereís some of the intentional design language of a BMW in there, in serious black with silver accents.
This is a clever, fascinating car, with things like the flickering blue line of light at dash center when you make changes to the radio. While driving information lives in the two large gauges, a slim strip along the dash top contains other information, including the optional navigation system screen. Although small, itís up where you can see it without looking away from the road, something Honda has introduced in its recent vehicles as well.
Driving the Mazda3 is as enjoyable as in the previous version, with only some minor tweaks to an already fine platform. For example, thereís a third mounting point for the rack-and-pinion steering to improve precision and feel (which was already great). The rubber-isolated front and the rigidly mounted rear subframes were enhanced to improve rigidity while saving weight. A new weld bonding process for the unibody improves torsional rigidity. It all adds up to a very satisfying driving experience.
Pricing for the Mazda3 5-door starts at just $19,980 for the Sport with manual transmission, including shipping charges. The Grand Touring, like my tester, lists at $23,050 with the automatic, also including shipping. The base Mazda3i 4-door sedan retails at just $15,795, as this is Mazdaís entry vehicle in America.
I have enjoyed and recommended the Mazda3 for years and this new one remains on my short list. Appropriately sized and prized, highly reliable, and a blast to drive, it should remain a hit for Mazda.
By Steve Schaefer © AutoWire.Net - San Francisco
Byline: Routan Review provided by Tony Leopardo © AutoWire.Net

Column Name: Now thereís even more to love
Topic: The 2010 Mazda3 5-Door
Word Count: 873
Photo Caption: The 2010 Mazda3 5-Door
Photo Credits: Mazda3 Internet Media
Series #: 2009 - 55
Download the Microsoft Word version here: 2010 Mazda3 5-Door
Download the Original Image File here: 2010 Mazda3 5-Door