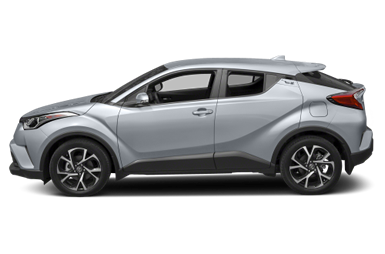 The 2018 Toyota C-HR Review: Remember Scion? The junior, fun brand in the Toyota family that was supposed to be where young people made their connection with Toyota. It was born because back in 2003, some folks at Toyota believed that the youth of America saw Toyota as too old and stodgy. In 2017, Scion is gone. The brand died when it received too little exciting new product, and, more importantly, when Toyota's leadership figured out that young people were buying Toyotas after all.
You can acquire three former Scions rebadged as Toyotas, the Corolla iM, Mazda-sourced Yaris iA, and the 86 sports coupe (formerly FR-S). And the car that was originally meant to be the new Scion compact crossover has become the Toyota C-HR.
The design theme is called "Distinctive Diamond," and indeed there are many edges and surfaces all over the multifaceted body, especially looking at the side profile. Numerous diamond shapes appear inside the car, too, on the dual-zone climate controls, speaker surrounds, and the black headliner. However, the overall effect of the body design is more stimulating to the eye than the more restrained interior.
Standard features include a leather-wrapped steering wheel, electric parking brake (takes up less room), and "Sport Fabric-trimmed" bucket seats with "sport bolsters," which are adjustable six ways.
This "urban-dwelling crossover" borrows some of the street style of the Nissan Juke, which is itself slated for an update, having spent the last several years shaking up traditional car design. C-HR stands for "Coupe-High Rider." Make of that what you will.
My sample vehicle sported the two-tone paint you get when you order the R-Code option. The Radiant Green color, mixed with Iceberg (white) on the roof and mirrors, keeps things lively, and is only available as a two-tone.
My tester was the XLE model. There's also a Premium version that gets additional safety and styling updates, along with illuminated vanity mirrors and more seat adjustment choices. You enjoy the safety of Blind Spot Monitor and Rear Cross Traffic Alert, two features that are increasingly available standard on modern cars. In the Premium version the front seats are power adjustable and heated, and you get smart key with push-button start.
Whichever model you pick, it's a 3,300-pound car motivated by a 2.0-liter four-cylinder engine driving the front wheels. It churns out 144 horsepower and 139 lb.-ft. of torque through a continuously-variable transmission (CVT). CVTs aren't designed for sportiness, but this one, called a CVTi-S, lets you select Sport mode and use paddle shifters to pick seven preselected "ratios." That mitigates some of the oddness of the CVT sound, as it searches for the ideal ratio, but it may lower the efficiency. At least it's more fun.
EPA numbers are 27 City, 31 Highway, and 29 Combined. I accumulated 26.3 mpg. Green scores are only a 3 for Smog and a better 6 for Greenhouse Gas.
The C-HR receives two Toyota-first features: Driver Distraction Secure Audio and Brake Hold Function. The first limits the menus you can view on the screen while moving, complying with driver distraction guidelines issued by the National Highway Traffic Safety Administration (NHTSA). Brake Hold keeps the brakes on slightly when the car is still, even if you reduce pressure on the pedal. That keeps you from rolling inadvertently, I guess. A full-electric car can do that already.
The driving experience is what you'd hope for and expect from a smaller, tauter vehicle. I wouldn't call it memorable, but it is based on the new TNGA C platform. This fresh chassis design combines a low center of gravity with high strength and low weight, so it makes for a better handling car. In fact, Toyota tested this car on the famous Nürburgring Nordschliefe, where companies take their supercars. No information on its score, but it does give the C-HR some bragging rights.
Things like variable electronic power steering can make a difference. It changes the amount of assist depending on your speed, so you can park easily while getting more feedback out on the highway. A new double-wishbone, multi-link rear suspension isn't the kind of thing you'd necessarily find on such an affordable car.
Pricing starts at $23,460 for the XLE and jumps to $25,310 for the Premium. My XLE tester ran $24,969 with a few options, including the two-tone paint.
By Steve Schaefer © AutoWire.Net - San Francisco
The 2018 Toyota C-HR Bottom Line Review provided by: Tony Leopardo © AutoWire.Net
The Bottom Line: The 2018 Toyota C-HR would-be Scion C-HR is aimed at customers who want to have some fun, stand out a little bit in traffic, and don't have lots of money to spend. The C-HR is not big, but with a rear hatch and 36.4 cubic feet of rear cargo room with the split rear seats folded, you can do a lot with it. That means the car is playing its new role right now, regardless of the brand or the badge it wears, and doing a very good job of being an entry level, fun to drive, value priced Toyota. And maybe, just for those reasons alone, you should "Drive one, Buy one, Today ©".
This Bottom Line Review is provided by: Tony Leopardo © AutoWire.Net
"Tony the Car Guy" is an automotive writer, editor and publisher in the San Francisco Bay Area. If you have a question or comment for Tony send it to TonyLeo@pacbell.net or visit AutoWire.Net at www.autowire.net - And remember: "You Are What You Drive ©"

Column Name: Toyota's value priced car
Topic: The 2018 Toyota C-HR
Word Count: 958
Photo Caption: The 2018 Toyota C-HR
Photo Credits: Toyota Internet Media
Series #: 2018 - 06
Download the Microsoft Word version here: 2018 Toyota C-HR
Download the Original Image File here: 2018 Toyota C-HR