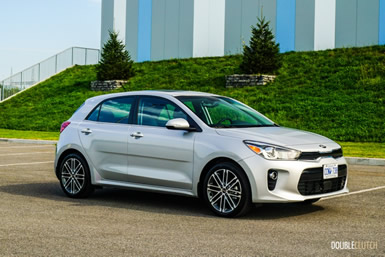 The 2018 Kia Rio 5-Door LX Review: High-priced dream cars may get all the attention, but it's cars like this, the affordably priced Kia Rio, that matter to a lot more Americans.
Heck, with a starting price under $14,000, a brand-new Rio is cheaper than a lot of the vehicles on used-car lots. The question, then, is how much drivers have to give up when they choose a new car off the bargain rack. After a complete redesign for 2018, the answer for the Rio is "not much."
Let's start with a low point: the regrettable use of hard plastics throughout the interior.
While vehicles such as the Kia Soul ($16,100) and the Kia Forte ($16,700) are slightly higher priced in Kia's lineup, they have done a better job transitioning to soft-touch materials in their cabins, but the Rio continues along with its Little Tykes theme. Construction feels tight and precise, but you can feel the couple of grand in cost savings everywhere you touch.
Aside from that quibble, one weakness a lot of cars in this price class share, to be honest, there's not a lot to complain about. Kia's engineers did a good job massaging the new Rio into something that feels more supple and engaging over the road.
Its drivetrain is a clear high point. Its direct-injected gasoline engine is enhanced this year to improve the fuel economy, pushing it up to 37 mpg on the highway, and respond quicker to throttle input at the same time.
With a six-speed automatic on my tester, the 130-horsepower engine accelerated better than I was expecting, particularly at low speeds when leaving stoplights. I imagine the six-speed manual would feel even better.
I also loved the technology in my tester. Its UVO3 entertainment system with a seven-inch touchscreen reminded me of the kind of digital toys I expect in pricier luxury cars like the $45,000 Kia Cadenza I drove earlier this year. Yeah, the Cadenza costs more than twice as much as a well-equipped Rio and targets a completely different, more upscale market, but their high-tech bells and whistles seem substantially identical.
A big reason for that is the introduction of Apple CarPlay, which makes interacting with my iPhone a breeze. A similar technology is available for Android phone users.
Anyone who's driven subcompact cars in the past knows they can be noisy and feel rough on the highway, but the Rio's fresh design continues the trend of making loud cars a thing of the past. It's been getting more refined, quiet and comfortable with each generation, and this new one takes another big leap forward.
A major reason for that is the material it's built from, using more high-strength steel blends to make the body more rigid and stiff, something that improves everything from crash-test results to the highway ride and handling in corners.
Kia also says "the Rio uses body sealing and bonding adhesives to dampen sound pathways throughout its construction," something I noticed on my test drive. The noise and vibration at highway speed are dramatically reduced.
While the Rio's dimensions keep it squarely in the subcompact category, the cabin feels roomier than most thanks to thoughtful sculpting of the dash, seat backs and door panels to create more interior volume. There's more leg and shoulder room in both the front and back seats now.
The front seats also get an ingenious redesign this year that makes them thinner, contributing to the voluminous feeling in the cabin, but also with more cushioning and padding than before to make them more comfortable.
Pricing starts at $13,900 for the LX with a manual transmission and ranges to $18,400 for the more upscale EX trim.
What was tested? The 2018 Kia Rio 5-Door LX model with a base price of $14,200. Options on the test car: The automatic transmission for $1,090. Total MSRP price as tested including the $895 destination charge came to: $16,185
Wheelbase: 101.6 in.
Length: 172.6 in.
Width: 67.9 in.
Height: 57.1 in.
Engine: 1.6-liter four cylinder (130 hp, 119 lbs.-ft.)
Transmission: Six-speed automatic
Fuel economy: 29 city, 37 highway
Why buy it? It gets a complete redesign for 2018. The new generation Rio looks better, has a roomier cabin and a quieter, more refined ride, while still delivering a bargain price.
By Derek Price © AutoWire.Net - San Francisco
The 2018 Kia Rio 5-Door Bottom Line Review provided by: Tony Leopardo © AutoWire.Net
The Bottom Line: The affordably priced Kia Rio gets a new design for 2018 that makes it look sportier, including a European-inspired hatchback model. The Rio's cabin was carefully redesigned to create more volume inside and have a more contemporary look. Plus the new front seats have added padding to make them more comfortable too.
The subcompact Kia enters a new generation for 2018 with a quieter ride and more interior space combined with the lowest entry price of any compact car sold in the USA.
And maybe, just for those reasons alone, you should "Drive one, Buy one, Today ©".
This Bottom Line Review is provided by: Tony Leopardo © AutoWire.Net
"Tony the Car Guy" is an automotive writer, editor and publisher in the San Francisco Bay Area. If you have a question or comment for Tony send it to TonyLeo@pacbell.net or visit AutoWire.Net at www.autowire.net - And remember: "You Are What You Drive ©"

Column Name: A New Rio makes its Début
Topic: The 2018 Kia Rio 5-Door LX
Word Count: 946
Photo Caption: The 2018 Kia Rio 5-Door LX
Photo Credits: Kia Internet Media
Series #: 2018 - 04
Download the Microsoft Word version here: 2018 Kia Rio 5-Door LX
Download the Original Image File here: 2018 Kia Rio 5-Door LX