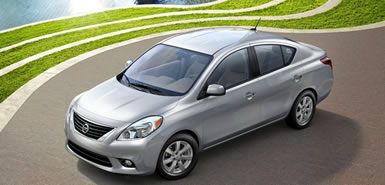 The 2012 Nissan Versa Sedan Review: The new Nissan Versa sedan offers solid, reliable transportation for less than $15,000. In that market, the Versa is surprisingly big inside, with remarkably accommodating legroom for rear seat passengers, and generous trunk capacity. In fact, I saw a Versa taxicab a few days ago.
The Versa sits at the bottom of the Nissan food chain, in America. Europeans and Asians get smaller cars like the Micra, but in the U.S., this is where the Nissan buying experience begins. I put lots of miles on my Versa driving to see my son and daughter-in-law, and my little 3-year-old granddaughter.
The thing is, without luxury or fanfare, the Versa just goes out and gets the job done. With a mere 1.6 liters of engine and 109 horsepower, it is no powerhouse, but other than sounding busy on some sustained grades, where the revs climbed, it was a quiet and pleasant ride.
To add smiles to the picture, I averaged a genuine 35 miles per gallon, which is higher than the EPA average of 33 (30 City, 38 Highway). That could be a result of all of that freeway driving. EPA Green Vehicle numbers are 6 for Air Pollution and a strong 8 for Greenhouse Gas, putting it in the SmartWay category.
For being a basic car, the Versa has some genuine high tech features under the hood. For example, the updated 1.6-liter engine has a dual injector system that allows a wider injection of fuel, with smaller nozzles, delivering a finer spray to help achieve stable combustion. And like the flagship Nissan Maxima, the Versa gets a twin Continuously Variable Timing Control
(CVTC) system mounted on both intake and exhaust ports. Conventional systems are mounted only on the intake port.
The Versa sedan receives an all-new look this year, while the hatchback keeps the old. It's pleasant, but not especially distinctive, with a rising window line in back leading to a triangular point and oddly fanciful taillights that sit below one of the most recent evocations of the 2004 BMW 7 Series butt attributed to former Chief Designer Chris Bangle.
The inside is rounded and not much like the chunky, old-fashioned, somewhat French-looking, older car. The door panels are solid, hard plastic, styled to look like something more elaborate. The seat cushions are short and cloth-covered. There's no mirror on the driver's sunvisor. And most odd, the windshield wipers are both hinged in front of the driver, so you see both of them going across the glass when it's rainy. My only explanation is that the Japanese market car on which it's based is set up for right-hand drive, and those lucky folks see NO wiper blades.
There are three levels. The S is the base car and starts at a mere $11,770 including shipping. The mid-range SV, like my tester, adds cruise control, chrome grille accents, body-color dual power remote-controlled rearview mirrors, upgraded cloth seats, power windows and more.
My Metallic Blue test car was an SV with the Convenience Package for $350, with Bluetooth phone connection (easy to set up), steering wheel mounted audio controls and an iPod interface (in the console, thanks).
The top-level SL models add 15-inch alloy wheels, fog lights, variable intermittent wipers, chromed inside door handles, 60/40-split fold-down rear seat, the Convenience Package stuff standard, an upgraded audio system, and more stuff. If you want a manual transmission, you'll have to go with the base-level S car. Few are expected to make that choice.
Just because it's modestly proportioned doesn't mean the Versa isn't a safe place to transport your family. It comes with six standard air bags, an Anti-lock Braking System (ABS) with Electronic Brake force Distribution, Brake Assist and Vehicle Dynamic Control with Traction Control System, the stuff you expect from today's cars.
Last month the Insurance Institute for Highway Safety (IIHS) awarded the 2012 Nissan Versa Sedan a "Top Safety Pick" rating. The rating goes to vehicles that achieve the Institute's highest rating of "Good" for front, rear and side impact protection, earn a "Good" rating in the roof strength test and are equipped with electronic stability control.
My tester had a base price of $14,560, and with the Convenience, floor mats and shipping, came to $15,840. The Versa is not a fancy car, and the new sedan actually feels a little less plush than the model it replaces, but there's really nothing to complain about either, as you really do get your money's worth. By Steve Schaefer © AutoWire.Net - San Francisco
The Bottom Line: The 2012 Versa Sedan is the entry level vehicle into the Nissan lineup. And with a base price of under $15K the Versa is the least expensive vehicle for sale in America. But just because it's cheap doesn't mean it's tiny. If you want to pay more, you can buy a new Fiat 500 and get more gadgets and driving amusement, but you'll run short when you try to stuff your friends and your gear inside. It's a great basic 4 door car with a trunk for the price, with enough power, room and comfort, and it gets 30 MPG plus all day long. You should really "Drive one, Buy one, Today ©"
Bottom Line Review provided by: Tony Leopardo © AutoWire.Net
The 2012 Nissan Versa Sedan Bottom Line Review provided by: Tony Leopardo © AutoWire.Net - "Tony the Car Guy" is an automotive writer, editor and publisher in the San Francisco Bay Area. If you have a question or comment for Tony send it to TonyLeo@pacbell.net or visit AutoWire.Net at www.autowire.net - And remember: " You Are What You Drive © "

Column Name: The best entry level car under $15K in the USA
Topic: The 2012 Nissan Versa Sedan
Word Count: 1,002
Photo Caption: The 2012 Nissan Versa Sedan
Photo Credits: Nissan Versa Internet Media
Series #: 2012 - 24
Download the Microsoft Word version here: 2012 Nissan Versa
Download the Original Image File here: 2012 Nissan Versa