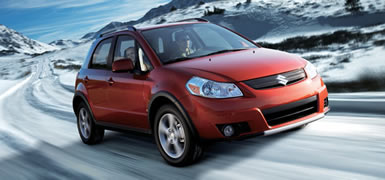 San Francisco:
SUVs were once the hot new thing, but their sales have cooled off dramatically now that everyone knows high gas prices are here to stay. It's a problem, though, because families' tastes haven't changed. People still want lots of space, a high ride height, G.I. Joe styling and the stability of four-wheel drive, only without an eye-popping bill at the pump. Suzuki thinks it's found a solution.
Called the SX4, this new car is essentially an all-wheel-drive hatchback that rides up high. It has the good forward visibility and all-weather traction of an SUV, but it's smaller, lighter, and gets much better gas mileage.
The SX4 makes up for its small size with an efficient interior. It's not a big, cavernous space like you'd find in a Ford Explorer, but it also doesn't feel too cramped for family trips.
The back seat is cozy for three, and the front is downright spacious. And if you need to haul big boxes, you can fold the back seat flat to reveal a giant cargo area.
It also comes at a great price. Our test car rang up at just $15,999, a figure so low that you'd usually have to add a couple of thousand dollars worth of options to make it comfortable. But that wasn't the case with the SX4.
For that low price, it came with air conditioning, side airbags, front and rear curtain airbags, a CD player that could also read MP3 files, and even keyless entry. It's a lot of car for the money.
Performance wise, the SX4 drives how you'd expect an economy car to drive. It's nothing exceptional, but it can scoot you along without much of a fuss. Its 2.0-liter four-cylinder engine makes 143 horsepower and gets 30 miles per gallon on the highway, which isn't bad considering its all-wheel-drive system that slightly increases fuel consumption.
In fact, the only downside to this car is its refinement. It's a cheap car that feels like a cheap car, with chintzy materials and more squeaks and rattles than you're likely to get from a Honda or Toyota.
Still, I can't help but think this car is a bargain. It offers a lot of the same features that made SUVs so popular a few years ago, but it gets much better gas mileage and comes with a cut-rate price tag.
What was tested? The 2007 Suzuki SX4 AWD with a base price of $15,999. Options on vehicle: None. Price as tested: $15,999. It's like an SUV for penny-pinchers who don't need to tow.
Why avoid it? It's not as refined as some other cars in its class, and its fairly high ride height hurts it's handling. The SX4 has a small but efficient cabin that's surprisingly comfortable and roomy, but the cheap-feeling interior is a constant reminder that you're driving an economy car.
Why buy it? With all-wheel drive, a solid chassis and efficient interior, it's a lot of car for the money. The Suzuki SX4 is an all-wheel-drive hatchback that rides up high like an SUV, giving you good forward visibility in traffic and extra traction in the rain and ice. By Derek Price © AutoWire.Net - San Francisco

Byline: Syndicated content provided by Tony Leopardo © AutoWire.Net
Column Name: SX4 blazes a new trail for Suzuki
Topic: The 2007 Suzuki SX4 AWD
Word Count: 594
Photo Caption: The 2007 Suzuki SX4 AWD
Photo Credits: Suzuki Internet Media
Series #: 2007 - 04
Download the Microsoft Word version here: 2007 Suzuki SX4 AWD
Download the Original Image File here: 2007 Suzuki SX4 AWD