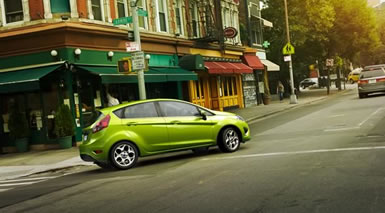 Ford Fiesta Review: A longtime favorite in Europe, the Fiesta finally returns to the States after a 30-year hiatus. The 1978-81 Fiesta was cute, zippy and, sadly, never sold well enough to justify it's continued importation. Ford instead gave us the Escort, a competent, slightly larger small car. Now the Focus, which replaced the Escort in 2000, gets dramatically redone next year. This year it's all about the 2011 Fiesta.
You can order a Fiesta as a European style five-door hatchback or a U.S.-specific four-door model. Lingering suspicion of hatchbacks has made America a tough market for them, so we get a four-door sedan, and that's what I tested.
Americans prefer automatic transmissions too; my tester had one. The Power Shift 5-speed works fine, although it lingers in the lower gears longer than I like. That's because the standard (and only) engine is a 120-horsepower four, which needs some prodding to propel the car rapidly uphill. The upside is that my test Fiesta delivered an average of 34.8 miles per gallon. That's about as good as it gets outside of a hybrid or diesel car these days.
The EPA Green Vehicle Guide gives the manual-equipped car fuel economy ratings of 28 City and 37 Highway, and a 6 for Air Pollution and a 7 for Greenhouse Gas, just good enough for aSmartWay designation. Ford claims 30 / 40 mpg for the automatic model.
Despite a modest price tag, my Cuautitlán Izcalli, Mexico-sourced tester looked solid and well finished, inside and out. In Blaze Yellow, it reminded Chris at my vet's office of Hubbard squash. The design is fresh and contemporary, with lots of swoops and surface interest. This is no econobox.
Inside, the stimulating design flow continues, in matte black with silvery accents. The dash center wears a display that resembles a silvery mask, with the controls angled up at their outer edges. Ford's designers are aiming for fun more than low-key subtlety with the Fiesta.
The beveled-edge gauge needles, wacky tone-on-tone seat fabric and red illuminated cupholders are three of many little entertaining touches. The controls are easy to use once you familiarize yourself with them. The large center climate control knob, with cogs around its circumference, was especially handy for adjusting where the warm or cool air flowed.
There were a couple of quirks in the interior. The chrome rectangular bezel around the auto shifter looked like it came from another car, perhaps the larger Ford Fusion, and seemed out of place. There were no coat hooks in the rear either, a minor irritation and likely a cost cutting move.
Ford needs small cars to bring up its corporate fuel economy (CAFE) score. The current Focus does a pretty good job, but the Fiesta is smaller and more efficient. The two cars, at least until the 2012 Focus appears next year, are almost the same in length, width, height and weight. The wheelbase and engine size are the Fiesta's advantages, besides the lower sales price, of course.
The 2011 Ford Fiesta vs. The 2011 Ford Focus
Engine size / horsepower / torque:
1.6 liter / 120 hp / 112 lb.-ft. vs.
2.0 liter /140 hp / 136 (133 PZEV)
Wheelbase: 98.0 inches vs. 102.9 inches
Total Passenger Volume / Cargo Volume:
85.1 cubic inches / 12.8 sedan vs. 93.4 cubic inches / 13.8 cubic inches
Fuel Economy: 28 / 37 (manual); 30 / 40 (auto) vs.
25 / 34 (auto); 25 / 35 (manual)
Base price: 2011 Fiesta S model including destination charge $13,995 vs.
the 2011 Focus $17,365

Despite its compact dimensions, the Fiesta feels spacious out on the highway. My daily commutes were surprisingly quiet, with little wind or road noise. The suspension keeps the car on an even keel and curving two-lanes are fairly entertaining. The manual transmission would be more sporting, of course, but most Fiestas in the U.S. will not have them.
Fiesta sedans come in S, SE and SEL models, starting at $13,995 for the S model, including destination charges. Add another $1,000 for the SE and $2,000 on top of that for the SEL. My SEL tester included Sirius satellite radio, the SYNC in-car connectivity system (for iPods, etc.) nicer wheels, a chrome grille, and more goodies. It also featured package 301A, which includes heated front seats, keyless entry, start button, a decklid molding and an alarm system.
This may be a small car, but it can become a premium priced one if you order the SEL and fill it up. My tester came to $19,160 as equipped. Configure the one you want online at www.ford.com
With its youthful design and palette of eye-popping shades, the Fiesta is aimed at first-time buyers. So, I asked the young woman at the KFC drive-thru window what she thought. She liked the (squash) color, but not the shape. The market will soon show whether the Fiesta will be more successful in America on its second time around.
By Steve Schaefer © AutoWire.Net - San Francisco
The Bottom Line: The 2011 Ford Fiesta is a great smart car choice for today's smart buyers. This is a nice car, with good looks, that gets great gas mileage. Factor in the low entry price of under $14 Grand and the Fiesta has a price point to fit everyone's budget. Drive off in a hatchback, or a sedan model, and you will be cruising in a good looking ride that gets upward of 40 MPG. It just doesn't get much better than this, in this size car market.
Drive one, Buy one, Today©.
Bottom Line Review provided by: Tony Leopardo © AutoWire.Net
The 2011 Ford Fiesta Review provided by: Tony Leopardo © AutoWire.Net
"Tony the Car Guy" is an automotive writer, editor and publisher in the San Francisco Bay Area. If you have a question or comment for Tony send it to TonyLeo@pacbell.net or visit AutoWire.Net at www.autowire.net - And remember: " You Are What You Drive "

Column Name: This is one of the best cars in this size car market
Topic: 2011 Ford Fiesta 4-Door
Word Count: 1,051
Photo Caption: The 2011 Ford Fiesta 4-Door
Photo Credits: Ford Fiesta Internet Media
Series #: 2010 - 48
Download the Microsoft Word version here: 2011 Ford Fiesta

Download the Original Image File here: 2011 Ford Fiesta