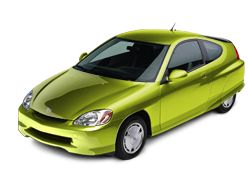 SAN FRANCISCO: With automobile clean burning engine laws already in effect, car manufacturers are scurrying to produce workable, mass-produced electric cars. Well, somewhat.
Several companies have rolled out electric prototypes, but only two manufacturers have successfully brought to market viable entities, namely Toyota and Honda. Toyota is selling its four-passenger Prius, while Honda concentrates on its Insight, a sportier two-seater vehicle and the subject of this week's test drive.
Since we have yet to drive the Toyota Prius, reliable sources inform us that the car is less powerful and not as nimble as Honda's Insight. Both, however, rely on a combination of electric and internal combustion for power and are worthy of praise from environmentally conscious consumers.
Electric cars: Always the car of the future?
Before we give our test drive impressions, some background on electric car manufacturing and its inherent problems are in order. Engineers know that consumers are intent on keeping what they already have, namely, air conditioning, CD/Tape stereo systems, power windows, doors and locks, great air conditioning and heat systems, rear defoggers and all of the other automotive amenities that make driving in this modern age both fun and relaxing.
Electric car manufacturers, meanwhile, struggle with the demands of building cars that satisfy the consumer need for power and are still able to travel hundreds of miles without battery recharging. They've found the task is possible, but indeed dubious. Simply put, an electric car's batteries need to be recharged too soon to please the everyday consumer.
The speed ability of the car is also a major stumbling block, as electric cars that travel more than 60-mph eat battery power quicker than those that don't. Granted, electric cars that accelerate like turtles may offer "positive battery-life," but who would want to own one?
All of these certainties, especially the need for constant re-charging, led one respected executive to quip in a previous electric car column: "The car of the future will always be the electric car." Seven years later, this executive may be more wrong than right.
2000 Honda Insight: The concept:
Honda's 2000 Insight is an aluminum and plastic bodied 1850-pound vehicle that combines the best of electric technology with the efficiency of a 67-horsepower,
3-cylinder internal combustion engine. Insight is officially the first gasoline-electric hybrid vehicle to be sold in the United States, with the engine's nucleus centered on what Honda calls its Integrated Motor Assist (IMA) system.
The IMA system couples the 1.0-liter gasoline engine with an ultra-thin, high power electric motor that results in outstanding efficiency. This new technology allows Insight to average from 61 to 70 mpg on the freeways while still offering all the powers and comforts we've come to enjoy in our small, compact cars.
The most impressive feature of Honda's hybrid car is that Insight never, ever, needs to have its batteries recharged. The 3-cylinder gas engine acts as an on-board power plant for the powerful, hydride batteries, continually charging the battery system when not being used to give power assists during passing, merging and scaling hills.
Honda has successfully built a car that not only meets the stringent Ultra-Low Emission Vehicle (ULEV) standards; it also is the world's cleanest, most fuel-efficient gas powered vehicle in the world.
Insight on the road
Insight is similar to other cars on the road. Matter of fact, the car drives so well, driver and passenger are not aware of the battery powered electric motor assist. The advanced power control system efficiently manages the power of the engine, assist motor, charging system and 144-volt nickel-plated hydride batteries. A 5-speed manual transmission (the only transmission available at this time) transfers the power to the front-drive transfer case, with low rolling resistance 14-inch tires mating car and road.
During our weeklong test, in which we dished up a variety of road conditions from steep hills to freeways, the Insight performed admirably, even in situations where we felt the car would struggle. However, Insight passed all tests, including the steep grade hills, with acceptable results.
The car accelerates quite well, and automatically utilizes the power of the gas engine when more power is needed. We timed our full throttle run to 60-mph in a tad over 10-seconds, and ran as high as 80-mph on a closed course, with a bit more pedal to go. Bumpy roads, meanwhile, can be are a bit harsh, but not to the point of being overly uncomfortable.
Another noteworthy gas saving feature comes at a stoplight or a stop sign. If you do not put the gearshift into first gear, the gas engine shuts off, saving more fuel. Put the shift lever into first, and the engine starts up again immediately aiding the initial take off.
Aesthetically speaking
Insight's aerodynamic design drew raves from some and jeers from others, depending on personal aesthetic inclinations. Most onlookers, however, were fully mesmerized by the car's futuristic looks. The Insight also boasts one of the lowest coefficients of drag (.025) of any mass-produced car in the world, making for better gas mileage via wind-tunnel design. The end result is a car that requires 30-percent less power to operate at the same speed as a similar sized car like Honda's Civic. The aluminum body, too, is 40-percent lighter, which equates to less force to move forward.
Engineers designed the Insight to meet the latest U.S., Japanese and European safety standards. Dual airbags and 3-point safety belts are standard, and the complete interior meets the year 2003 norms for side impact and head injury protection.
Insight's cabin is functional and comfortable, with a large amount of space for the two front occupants. There's not much frills or extra luxuries, but overall, the interior passes on all counts. The digital gauges are easy to read, and all controls are within easy reach for both sound and climate controls. The air conditioner works very well, as does the heater. A three-spoke steering wheel, identical to Honda's S2000 sports car, finishes of the interior's nice finish. The only negatives are a somewhat blocked rear view, which is alleviated by a smaller window on the lower side of the rear hatch area, and some body wind buffeting when large trucks pass or crosswinds occur.
All of the comforts and conveniences you'd expect in a modern car are built into the Insight as standard equipment. Included are power steering, anti-lock power brakes, power mirrors and door locks, AM/FM Stereo cassette with clock, map lights, vanity mirror and a 12-volt accessory outlet. (The air conditioning is optional). The security features include theft deterrent system, remote keyless entry and power rear hatch.
The front independent suspension is the common McPherson strut design, while the chassis is composed of special lightweight design components. Most of the pieces are lightweight aluminum, including front disc brake calipers and rear brake drums.
The rear suspension boasts a compact twist-beam design that sits completely below the insights cargo floor, along with a plastic lightweight resin 10.6-gallon fuel tank. There are five feet of cargo space and additional 1.5-cubic feet hidden into the flow of the cargo area under the security blanket.
Summary
Honda's Insight is built to operate in harmony with the environment and modern day society. Honda also impacts successfully areas that were thought to be mutually exclusive: i.e.: safe cars usually meant big, heavy cars; electric power means constant recharging; and acceleration means internal combustion.
Granted, Insight will not accelerate like a Honda Accord V-6, but it is no slouch by any means. As for safety and recharging, the Insight seems to be fully capable of driving on and on without worry. Honda is poised to take this market by storm, especially if a four-passenger model joins the Honda's hybrid lineup.
The Extra Mile highly recommends Honda's Insight as the premier, albeit not fully battery powered, "electric car" of the present. Best of all, you can park an Insight in your driveway for about $20,000, so those on budgets take serious note. With today's gas prices escalating to $1.85 per gallon, Insight could well be the most influential and timeliest car to come along in years. By Greg Zyla © AutoWire.Net – San Francisco
Greg Zyla is publisher of the News-Item and a syndicated automotive columnist. He writes weekly, and welcomes reader questions on anything automotive from dead batteries to the Daytona 500. You can reach Greg at AutoWire@PacBell.Net.
Sidebar Data:
Honda Insight Specifications:
Engine: 67-hp., 1.0-liter 3-cyl, 10-kw electric motor
EPA fuel economy: 61-mpg city, 70 hwy.
Curb weight: 1,856 pounds
Wheelbase: 94.5 inches
Length: 155.1 inches
Width: 66.7 inches
Height: 53.3 inches
Assembly Point: Japan

Byline: By Greg Zyla © AutoWire.Net - San Francisco
Column Name: "The Extra Mile"
Topic: 2000 Honda Insight
Word Count: 1391
Photo Caption: 2000 Honda Insight
Photo Credits: Honda Internet Media
Series #: 2000 - 22
Download the Microsoft Word version here: 2000 Honda Insight
Download the original image file here: 2000 Honda Insight 8k