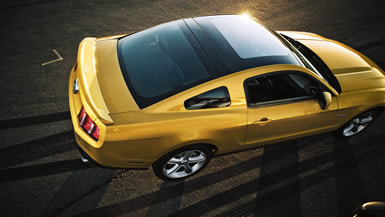 The 2011 Ford Mustang Review: The Mustang, Ford's iconic sports car, is significantly improved this year. After a major redesign for 2010, the 2011 model adds what buyers of the V6 model really wanted, more power! In place of last year's 4-liter 210-horsepower V6, the new model's 3.7-liter V6 jumps to 305!
There are good reasons for this big improvement, but the main one is spelled C-A-M-A-R-O. The old "pony car" rivalry is alive and well since Chevy resurrected their Mustang foe. The Camaro offers its 3.6-liter V6 with 312 horsepower, so Ford really had no choice.
Besides its strong performance, the new engine is more efficient than the less powerful one it replaced. My Sterling Gray Metallic test car, with a new for 2011 six-speed manual transmission (replacing a five-speed), got fuel economy numbers of 19 City, 29 Highway, and I averaged 21.4 mpg. The 2010 V6 Mustang I tested got only 19.6 mpg. You can opt for a six-speed automatic that delivers 31 mpg on the highway. Considering what this 3,450-pound car can do, that's nothing less than phenomenal.
The EPA Green Vehicle Guide gives the car a 6 for Air Pollution and 5 for Greenhouse Gas. Average scores, but good for a car of this size and power.
How did Ford pull off all this improvement? They made lots of small changes that added up.
Switching from a five-speed to a six-speed manual helps, by adding a higher gear for cruising. The engine makes extensive use of aluminum to keep it relatively lightweight. Twin Independent Variable Camshaft Timing (Ti-VCT) adjusts the valve train to maximize performance across all levels of the rev range. Specially tuned composite upper and lower intake manifolds provide efficient air delivery and weigh less.
Another weight reducer is the switch to Electric Power Assist Steering (EPAS). It eliminates the drag of an engine-operated hydraulic power steering pump, so it's actually quieter, too. Steering effort is nice and light when you're parking and firm and sporty out on the highway.
The engineers made some suspension changes as well. They revised the tuning of the dampers and spring rates for a smooth highway ride, while stiffening the platform by altering the rear lower control arms and stabilizer bar bushings to improve handling and cornering response.
There are some subtle changes to the body, including a new front fascia, rear wheel tire spats, modified underbody shields, a taller air dam and an added rear decklid seal.
To cap it all off, the engineers added some extra lightweight sound insulation to minimize the kind of noise you don't want, road, tire and wind, and allowed the kind you do want, racy engine sounds. So, when you step on it, you hear the howl that drives Mustang enthusiasts to open their checkbooks.
Inside, the twin cowl dash is updated for 2011. The quality of the materials and assembly is especially nice. The new seamless soft-touch TPO (Thermoplastic Olefin) surfaces look great and the metallic accents provide an unexpected richness. There's a 160-mph speedometer and a tach that goes to 8,000, thanks to the potent new engine. The bucket seats look like the early Mustang designs but adjust like 21st century seats.
The base V6 car starts at just $22,995, including shipping. The Premium V6 model, like my tester, pushes the tab to $26,915. My tester, with the Electronics package, V6 Performance Package, and rear video camera, came to $31,960.
The $1,995 Performance Package adds enthusiast goodies, such as a 3.31 rear axle ratio for quicker off-the-line acceleration, the firmer suspension from the GT level cars, 19-inch alloys, and some changes to the electronic stability control.
If you want to step up to the V8-equipped GT Mustang, prices begin at $29,995 and head upward. The Shelby GT will run you nearly $50,000, and will surely be worth it if that's what you desire.
The Ford Sync system accepts your iPod. The navigation system in my car was especially friendly and easy to program. The sharp screen graphics depict multiple features at a time, so you can view a map, your iPod selection and the climate control settings at a glance.
Today's Mustang has become a very pleasant vehicle to live with. I found it delightful on curving rural highways, which I got to enjoy in the Monterey area, as well as a friendly vehicle for city driving. The upcoming 50th Anniversary should be a major automotive milestone.
By Steve Schaefer © AutoWire.Net - San Francisco
The Bottom Line: The 2010 Mustang carefully and successfully updated the previous generation's retro-themed exterior with tauter lines and slimmer nose and tail. The hunkered down look of the grille and headlamps evokes the 1969-70 models, as do the side proportions and triple taillamps. The sequential turn signals revive a late sixties phenomenon, and looks cool too.
With the combined good looks, added to more power, the 2011 Mustangs are the best Mustangs ever, plus the Boss 302 & Shelby GT350 models are on the showroom floors right now. You should - "Drive one, Buy one, Today ©" Bottom Line Review provided by: Tony Leopardo © AutoWire.Net
The 2011 Ford Mustang Bottom Line Review provided by: Tony Leopardo © AutoWire.Net "Tony the Car Guy" is an automotive writer, editor and publisher in the San Francisco Bay Area. If you have a question or comment for Tony send it to TonyLeo@pacbell.net or visit AutoWire.Net at www.autowire.net - And remember: " You Are What You Drive © "

Column Name: The new Mustangs are the best Mustangs ever
Topic: The 2011 Ford Mustang
Word Count: 963
Photo Caption The 2011 Ford Mustang
Photo Credits: Ford Mustang Internet Media
Series #: 2011- 16
Download the Microsoft Word version here: 2011 Ford Mustang
Download the Original Image File here: 2011 Ford Mustang