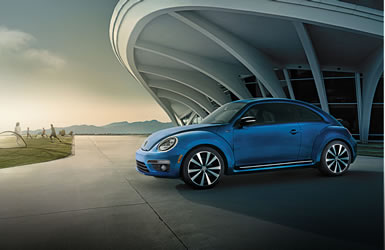 The 2014 Volkswagen Beetle Review: Fifty years ago, Volkswagen built my first car, a 1964 Beetle. It was the classic model, with narrow 15-inch wheels and tires, a painted metal dashboard below a flat glass windshield, and a noisy, 1.2-liter, 40-horsepower, air-cooled four-cylinder engine. It weighed just 1,629 pounds. In 2014, you can still buy a Beetle, but other than the styling and the name, it shares little with the old car.
In 1998, the New Beetle debuted, based on the Golf. It was a radical, but loving reinterpretation of the classic car, complete with the separate fenders, round "eyes" up front, and, harkening back to the very early cars, a bud vase on the dash.
For 2012, the New Beetle was completely redesigned, and became the "new New Beetle" so it's now just called the Beetle. By the way, it doesn't have the word "Beetle" on it, no Beetle ever has.
I tested a Reflex Silver Metallic 2014 R-Line, an upper-level model. This new "Super Beetle" puts out, with its turbocharged 2.0-liter four, 210 horsepower and 207 lb.-ft. of torque, through a six-speed manual or DSG automatic transmission.
The DSG uses dual clutches, one for the odd-numbered gears and the other for the evens. It selects the next gear in advance, so you can shift very quickly, which is why it's used in racing today. It isn't as much fun as using an old-fashioned clutch, but the car surges ahead in a way that's nothing like my old '64.
The EPA gives these models ratings of 24 City, 30 Highway and 26 overall. The fuel economy for 42 hours and 16 minutes of driving (including previous journalists) came to 24.4 mpg. My last one-hour commute trip netted 30.4 miles per gallon, so, as they say, "your mileage may vary."
The Smog rating is 5 and Greenhouse Gas number is 7, reasonable if not outstanding numbers.
The Beetle comes with three engine choices now, all in the front and water-cooled. The standard powerplant used to be a 2.5-liter normally aspirated inline five-cylinder, but now, it's replaced by a 1.8-liter turbo four, which puts out the same 170 horsepower, but adds 7 lb.-ft. of torque (184), and improves fuel economy and performance. This change to a turbo explains why the cars with the larger engines got the R-Line designation.
The third choice is a 2.0-liter TDI Clean Diesel engine. It chugs out 140 horsepower, much less than the R-Line's gasoline mill, but its 236 lb.-ft of torque give it some real muscle on the highway, where EPA mileage is 39 mpg. When I tested a bright yellow 2013 Beetle TDI with manual transmission, I averaged 41.8 mpg.
The R-Line gets sportier looks, with new bumpers, kick plates, and R-Line badging. The top levels include eye-popping 19-inch chrome aluminum-alloy wheels and a sophisticated metallic dash pad topped with a row with oil pressure and temperature gauges and a timer/clock. It also featured sumptuous leather-topped seating and a remarkably large glass sunroof.
As a former Beetle owner, I recognized something in the engine note of this new turbo Beetle. And it seemed like there was some engine sound emanating from the trunk! It turns out that VW has pumped some extra engine music into the passenger compartment.
The original Beetle, with its rear engine, was not good at carrying much. The front trunk was shallow, irregularly shaped, and not much protection if you ran into anything. Today's car, like the New Beetle, is a hatchback, opening with a push on the top of the chrome VW logo. I folded down the rear seats (not completely flat, but usable) and put my upright bass right in.
The new car has all of the crush zones, safety cages, and airbags of a modern car. VW's Intelligent Crash Response System shuts off the fuel pump, unlocks the doors and turns on the hazard lights in certain types of collisions. The Overall Vehicle Score is a top-level 5 stars in the Government's safety ratings.
Pricing for the third-generation Beetle starts at $21,115 for the 1.8T with manual transmission. The R-Line begins at $25,815. All three series have option packages, and my test car, with the top-level Sunroof, Sound & Navigation package, came to $32,030.
Between 1965 and 1973, Volkswagen built more than 1,000,000 Beetles a year. Today, Volkswagen sells many more cars than that worldwide, and the Beetle is just a tiny fraction of that total. But it's the living icon of the company. By Steve Schaefer © AutoWire.Net - San Francisco
The Bottom Line: Driving the new 2014 Beetle is fast & fun and without any sacrifices. This new one flies along with its 2.0-liter turbocharged four-cylinder engine with 210 horsepower and 207 lb.-ft. of torque running through a six-speed manual or a DSG automatic transmission. Handling for the 3,100-pound R-Line edition Beetle was linear, smooth, and the cornering felt flat. A nice package of power and speed that make the new Beetle look retro, but is really all new and high tech. And maybe, just for that reason alone, you should "Drive one, and Buy one, Today ©"
Bottom Line Review provided by: Tony Leopardo © AutoWire.Net
The 2014 Volkswagen Beetle Bottom Line Review provided by: Tony Leopardo © AutoWire.Net - "Tony the Car Guy" is an automotive writer, editor and publisher in the San Francisco Bay Area. If you have a question or comment for Tony send it to TonyLeo@pacbell.net or visit AutoWire.Net at www.autowire.net - And remember: " You Are What You Drive©"

Column Name: The new Beetle looks retro, but is all new and high tech
Topic: The 2014 Volkswagen Beetle
Word Count: 983
Photo Caption: The 2014 Volkswagen Beetle
Photo Credits: The Volkswagen Beetle Internet Media
Series #: 2014 - 15
Download the Microsoft Word version here: 2014 VW Beetle
Download the Original Image File here: 2014 VW Beetle