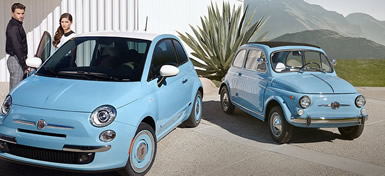 The 2014 FIAT 500 1957 Edition Review: Ever since it was introduced to America in 2010, the FIAT 500 has been a throwback car designed to evoke fond memories of yesterday's Italian coupes. It's easy to imagine zipping past the Coliseum on your way to a quaint cafe in Rome with opera music playing on the radio in this little car. Well, FIAT is cranking the retro knob up to 11 this year. There's a new version of the 500 called the 1957 Edition, and it's one of the most nostalgic cars for sale today, complete with two-tone pastel paint and old-school FIAT logos peppered all over it.
If you feel sentimental about classic Italian cars but don't want to deal with the headaches they inevitably bring, something I know from experience as the owner of a lovely Alfa Romeo that ate through fuel pumps like a 12-year-old baseball team eats through a pizza buffet, then here's your chance to own one that actually starts every morning.
This 1957 Edition FIAT is a spectacularly charming car, adding to the appeal of the fun-to-drive 500 with lots of evocative styling touches.
Outside, in addition to the choice of three nifty-fifties color schemes, it comes with unique wheels that look like they were pulled straight from the "I Love Lucy" set. They're painted to match the body color and easily catch your eye with a wide chrome ring and minimalist center cap.
The retro look continues on the inside with lots of ivory colored trim and special brown leather seats, along with more of those old-fashioned FIAT badges to set the tone. The ivory trim color is unusual in today's cars, and I'm a big fan of it, if for no other reason than because it's refreshingly different from the boring "black or tan" checkboxes that most car companies are offering these days on their option sheets. I wish more cars were this creative with their special editions, if not their regular editions, too.
While the last time I drove a 500 I came away with the impression that the cabin was too cheap and plasticky, I didn't get that same feeling in this 1957 Edition. Maybe it was the cool-looking ivory trim. Maybe it was all the contrasting stitching that luxury cars have long used to great effect. Maybe FIAT is improving their build quality this year. Whatever the cause, the interior seemed more like a custom Italian handbag than an affordable commuter car.
The driving feel is delightfully firm and fun, even if its 1.4-liter engine lacks the oomph of its competitors. The newest Ford Fiesta, for example, can wring 123 horsepower out of a turbocharged 1.0-liter engine, so I can't help but wish the FIAT engine, with 40 percent more displacement, could produce more than its 101 horses.
Still, that's not too bad for a car this small and light, and its 40-mpg highway rating keeps things frugal.
The 500 comes standard with a five-speed manual transmission. You can get it with a six-speed automatic, too, but you shouldn't do that because putting an automatic in a little Italian car makes you a horrible human being.
Pricing for the FIAT 500 1957 Edition starts at $20,400, which is $1,900 more than the base model called the 500 Lounge.
What was tested? The 2014 FIAT 500 1957 Edition with a base price of $20,400. Options on the test car: None. Total MSRP price as tested including the $850 destination charge came to: $21,250
Engine: 1.4-liter SOHC I4 (101 horsepower, 98 lbs.-ft.)
Transmission: Five-speed manual
Estimated Mileage: 31mpg city, 40 mpg highway
Why buy it? It's perfect for someone who likes the look of classic Italian cars but doesn't want the headaches that come with owning an old one. The retro color schemes, wheels and badging make it a truly special edition.
By Derek Price © AutoWire.Net - San Francisco
The 2014 FIAT 500 1957 Edition Bottom Line Review provided by: Tony Leopardo © AutoWire.Net
The Bottom Line: The 2014 FIAT 1957 Edition gives the 500 a classic Italian makeover. Two pastel paint colors, green or blue, combine beautifully with a white roof and mirror caps to give the 1957 Edition an old-fashioned flair that mimics its original Italian ancestors. The Ivory trim contrasts nicely with the brown leather seats and it's a nice change from most of today's cars that force you to choose between just tan or black cabins. With a reasonable price of around $21K this is a super fun car that looks great and gets 40 mpg on the highway all day long. And maybe, just for that reason alone, you should "Drive one, Buy one, Today ©"
Bottom Line Review provided by: Tony Leopardo © AutoWire.Net
"Tony the Car Guy" is an automotive writer, editor and publisher in the San Francisco Bay Area. If you have a question or comment for Tony send it to TonyLeo@pacbell.net or visit AutoWire.Net at www.autowire.net - And remember: " You Are What You Drive © "

Column Name: FIAT ups the retro factor
Topic: The 2014 FIAT 500 1957 Edition
Word Count: 887
Photo Caption: The 2014 FIAT 500 1957 Edition
Photo Credits: FIAT 500 Internet Media
Series #: 2014- 27
Download the Microsoft Word version here: 2014 Fiat 500 1957 Edition
Download the Original Image File here: 2014 Fiat 500 1957 Edition